In this post, I review Wargames Atlantic's Bulldogs Miniatures for Death Fields. They are 28mm in scale and we will take a look at what is in the box and how you can arm these cool sci-fi minis.
A Little Bit About the Miniatures
One of my favorite of Wargames Atlantic's lines is their series of Death Fields miniatures. These figures are inspired by historical armies but set in a sci-fi world. There is no official rule set for these figures right now, but you can use them for whatever gaming system you want. I built my most recent Death Fields armies, including my Bulldogs, with the intention to use them in Grim Dark Future by One Page Rules.
Death Fields
There is a bit of a back story about Death Fields – historical armies from earth were taken to an Alien world where they compete in arena death matches. You can use that as a jumping-off point for creating an army if you'd like. For me, their sci-fi weapons are standard enough that you can just plop them into another gaming world without issue.
So if you are looking for proxy figures for Warhammer 40,000 or other games, this box may be for you!
Here is the description of the product on the back of the box.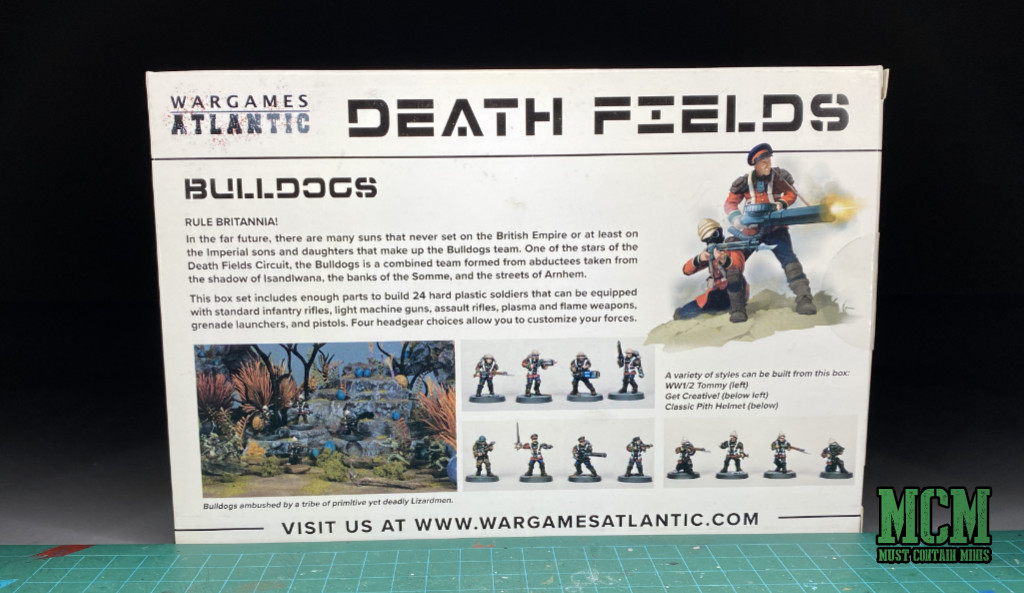 Warning!!! Bring Your Own Bases
One thing to be forewarned about is that the box does not come with bases. You will need to get your own bases to fit whatever game you play. Wargames Atlantic also has some really handy looking 25mm round bases that I haven't tried yet. I based mine on 25mm MDF round bases from Six Squared Studios I had on hand.
The Sprue Contents – Bulldogs
Now, let's take a quick look at what is in there.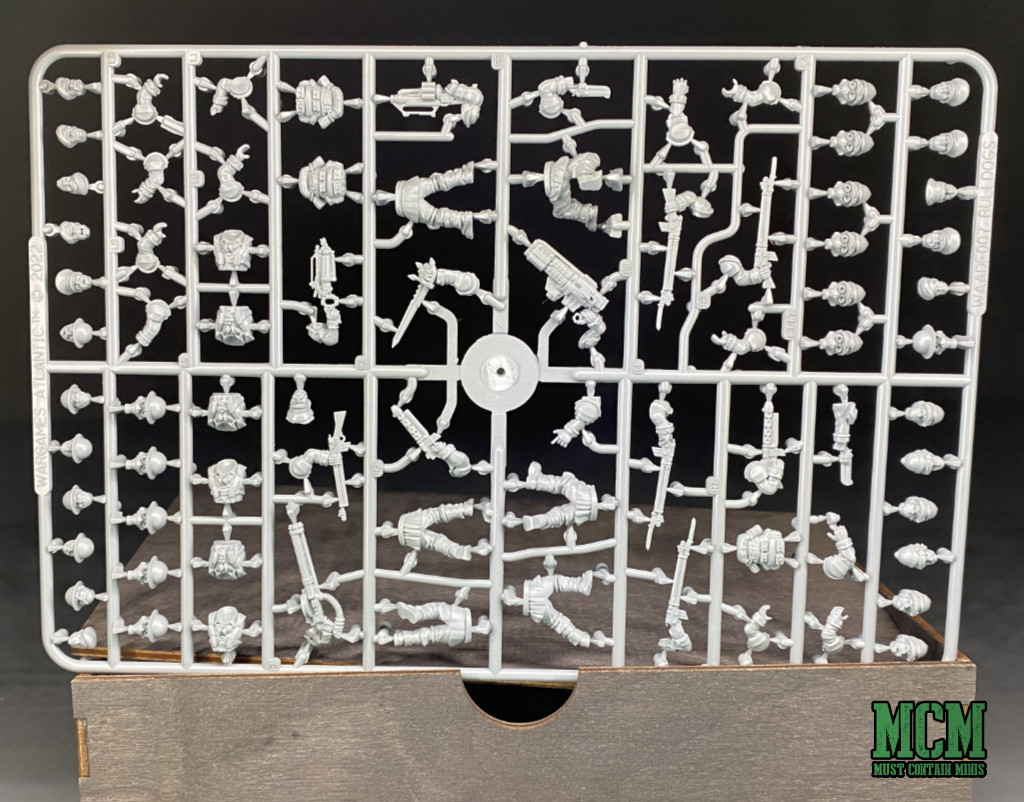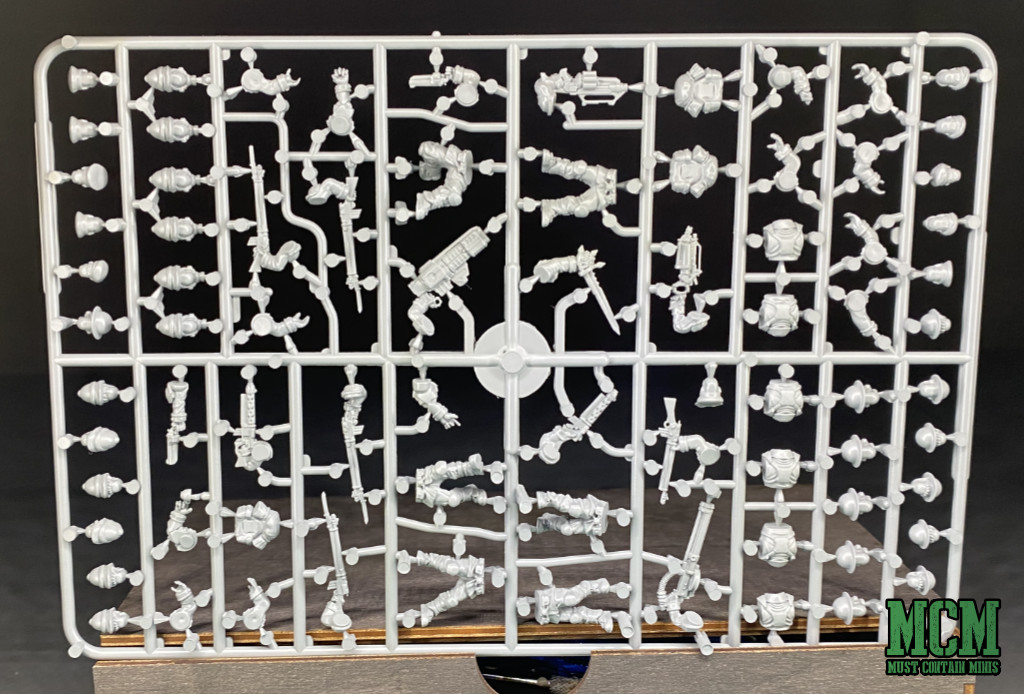 You get four of these frames. There are plenty of options here. Quickly looking at the sprue, I came up with the following counts.
6 bodies
36 head options
5 rifles
2 SMGs
2 pistols
1 sword
1 light machine gun
1 plasma gun
1 flame thrower
1 grenade launcher
There are a few other items on the sprue that I didn't mention in the list above, such as a teacup and a backpack. With the four sprues in the box set, and they can make 24 figures. You can get these for $34.95 a box with discounts for multiple boxes. That's a lot for a great price!
Two Boxes Equals a 1000-Point Army for Grim Dark Future
I built up a small army of 48 figures from two boxes for One Page Rules' game Grim Dark Future.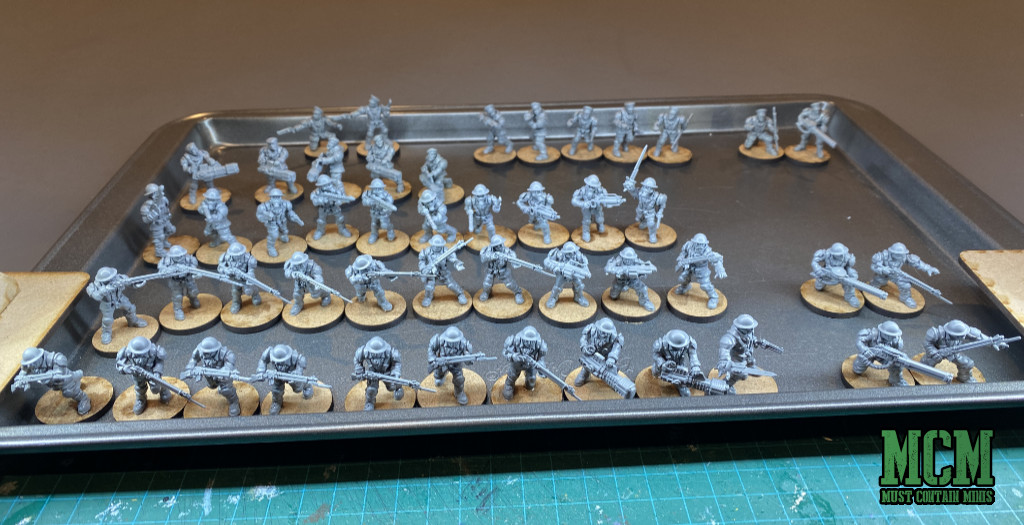 The army I constructed with just two boxes of Wargames Atlantic Bulldog miniatures amounts to 995 points, which is perfect for asking a friend for a 1000-point game.
Army Built using the Human Defense Force Army List on Army Forge.
1 Company Leader with Battle Drills and Shred Pistols
1 Company Leader with Double Time and a Power Fist
A Special Weapons Team with Plasma Guns
An infantry Squad with 2 Plasma Guns in it
An Infantry Squad with 2 Grenade launchers in it
Two Storm Trooper Squads with 1 Flamer Each (used the SMGs to represent heavy rifles)
A group of three Weapons Teams (LMG counting as a Heavy Machine Gun)
I was left with two extra figures. I armed them with Plasma rifles because a previous list I used needed 5 plasma troops instead of three in a Special Weapons Team. For roughly $70, that's really good!
Building the Minis and Pictures of Some Finished Figures
I really enjoy building miniatures by Wargames Atlantic. These were very straightforward – glue the legs to the body, then arms and weapons to the torso. Finish it off by adding a head. Here are my two "Leader" models for the army. The one with two pistols I am saying counts as Shred Pistols, and the one with a clenched fist I am saying, counts as a Power Fist.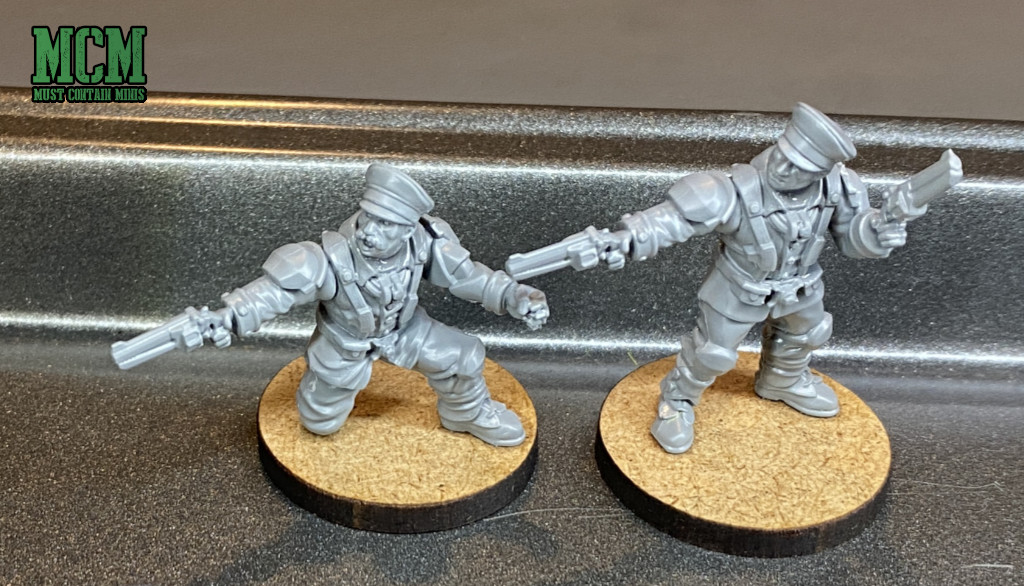 Here is one of the gun teams. Again, you can call the weapons whatever you want as long as you keep it consistent with your army and your opponent is okay with it. For us, these are Heavy Machine Gun Teams.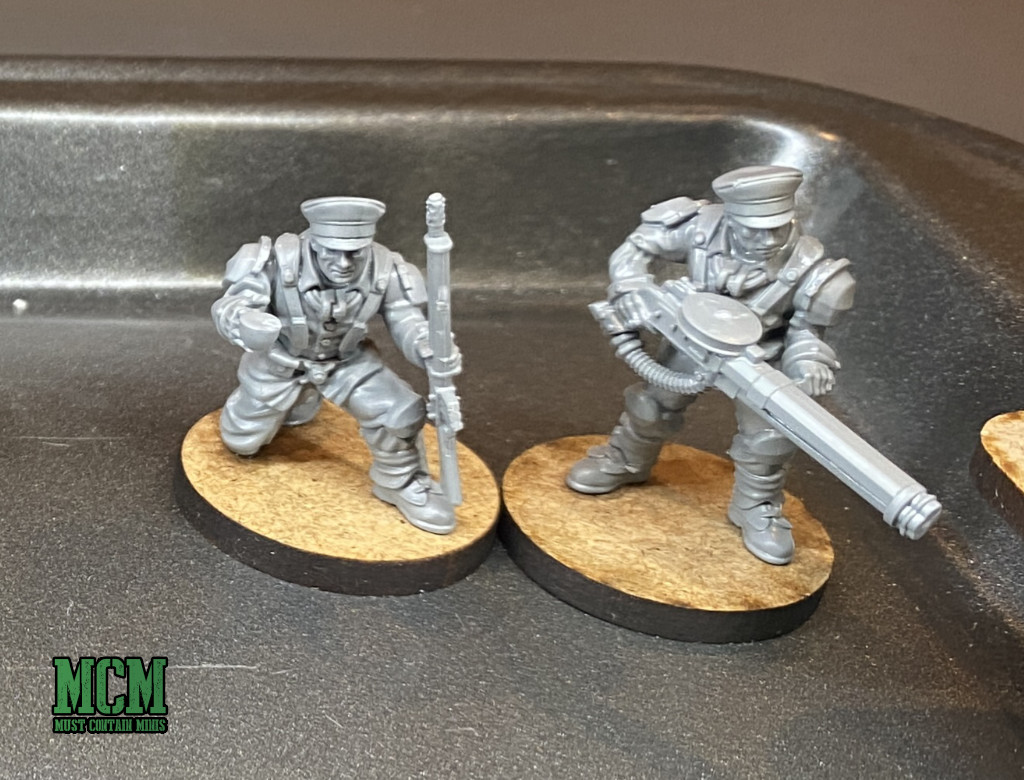 There are some really nice details in the face and uniform. The chest has a tapering in towards the waist that I have only seen in these models. This gives them a bit of a unique look. Each sprue comes with a teacup for a bit of British flare, which you see the mini on the left sporting.
The figures below are carrying some plasma guns. They could likely count as heavy plasmas if you wish. One of the lists I looked at earlier needed five of these guys in a squad, but the one I am using for today's article calls for just three in a squad. Still a powerful team.

Below is a shot of one of my Infantry Squads (front row) and my two teams of Storm Troopers (second row). The Infantry Squad has grenade launchers and the Storm Troopers are carrying some flamers with them.

My Comments on The Grenade Launcher
This may come down to personal taste, but the only complaint that I have about this kit is the grenade launcher. I found two plausible poses to use with them, but neither worked out perfectly. I built four fo these figures, and I found just one way to make the pose that made me happy.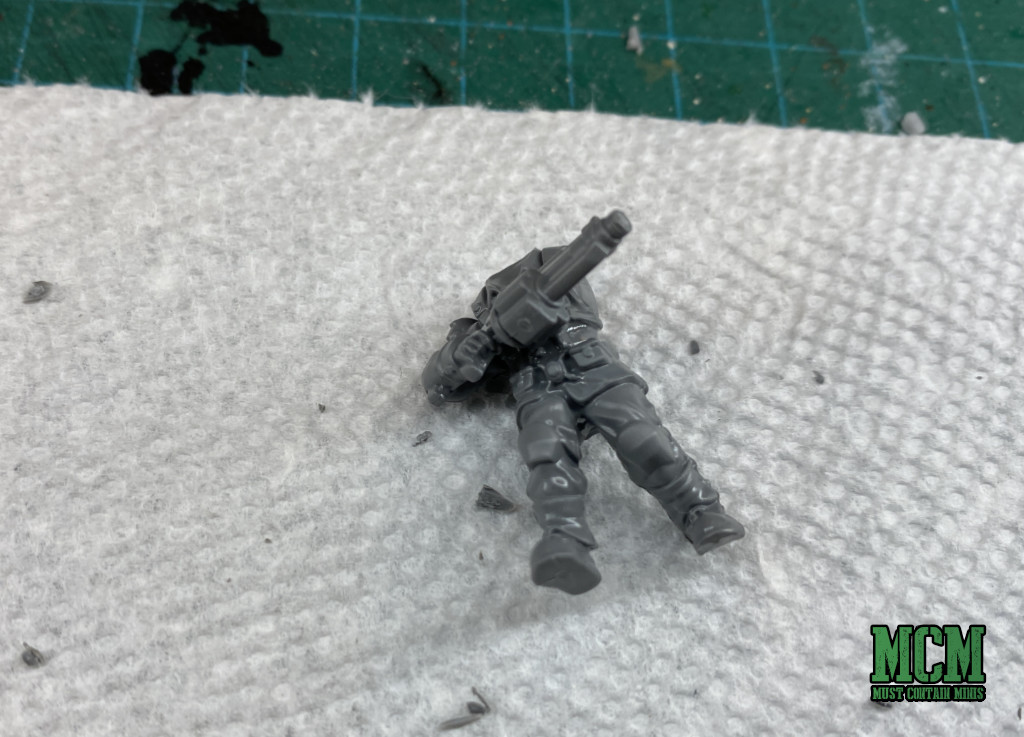 Above is one of those grenade launcher soldiers as I built it. I had no issue building the body, but attaching that gun to the torso was not so easy. I might be missing something, but it didn't fit together very well for me. If you are looking at it from a distance, it is fine, but I wasn't 100% happy with this gun.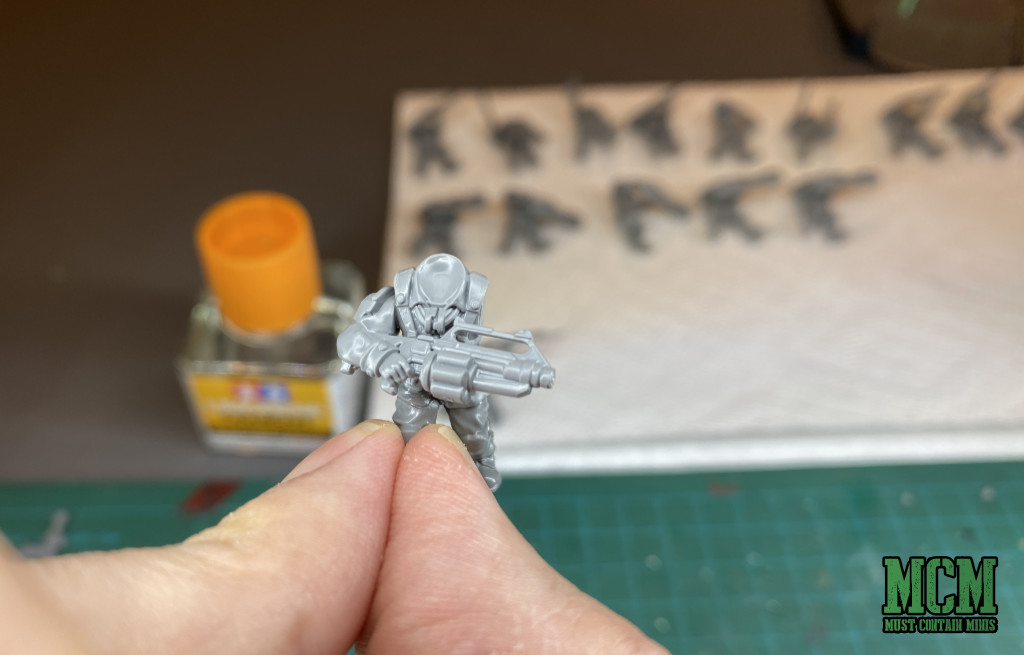 The way you see the gun in the picture above is how I wanted to make all four models. As you can see, there is a gap. The picture below shows you how I dealt with that gap.
The grenade launcher on the left I didn't get fitting right, so I put a wedge of plastic I cut from the sprue and melted it a bit with plastic cement to cover up the hole. It works, but I wasn't happy with filling gaps so I experiment with another pose. The one on the right worked out well, and I think this might be the easiest pose to get with this gun without modifying anything.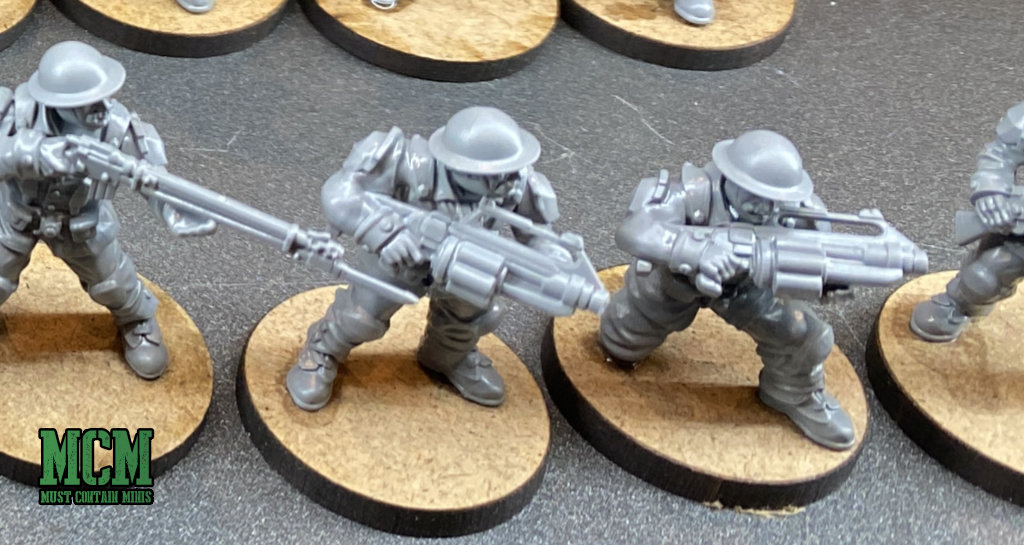 For the next two grenade launcher models, I went the easy route and repeated the pose that worked without modifying the model. I didn't like the top handle of the gun, so I cut it off for the Veteran Squad Grenade Launcher troops. See the figures on the leftmost side of the image below. I like this look better than the one that I got on my regular troops in the earlier image.
This might be me just being picky, but I thought that the grenade launcher should fit on the bodies better than they do. That said, they do fit in the pose below.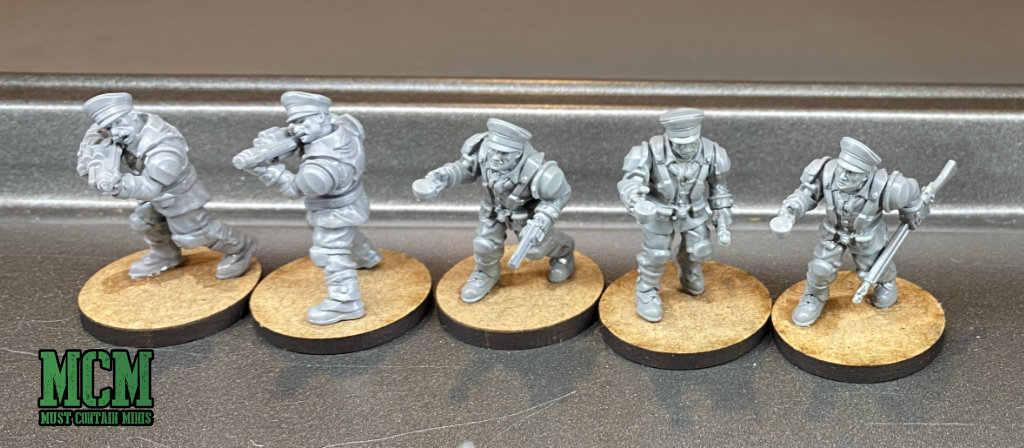 Now I hear you asking, how do these line up versus other brands of miniatures. Let's take a look at that.
Scale Comparison of Wargames Atlantic Death Fields Bulldogs to Other Miniatures
Below I took a photograph of the Bulldogs alongside other miniatures. This should give you an idea of their size and how they scale versus other brands.
WGA = Wargames Atlantic
GW = Games Workshop

For more on the figures above, I have reviews of the Einsenkern Stormtroopers for Iron Core and a Review of the Les Grognard Heavy Weapons Teams available on this site.
Wrapping it up…
Overall, the Bulldogs miniatures box set by Wargames Atlantic for Death Fields is a great value product that is fun to build and looks really good on the table. The price is amazing and you can build tons of these guys quickly. There are a plethora of head options and I am very happy with the mix of weapons in the set. In terms of value, I don't think Wargames Atlantic can be beaten, unless if you are 3D printing things yourself. If you are 3D printing, Wargames Atlantic is also on MyMiniFactory, so you can buy their designs there, too.
For me, I like Death Fields miniatures because I find them an easy way to build up big armies quickly.
In terms of criticisms, I have a few, but nothing is deal-breaking, especially at the price at which they are sold. As mentioned earlier, I am not a fan of the fit of the Grenade launcher. It would also be nice if there were a couple more left-hand options for the figures other than a weapon or teacup. Yes, you could modify the teacup hand into something else, but out of the box there are not a lot of options.
Overall, this box has fantastic value and the minis are of great quality – I recommend picking it up!
Until next time, Happy Gaming Everyone!!!