Welcome to this 28mm train station review. Things from the Basement is on Kickstarter now with this piece of terrain. I was lucky enough to get a copy for review.
Things from the Basement is a company that I knew of before, but I hadn't yet tried their products. They are an American company that make wargame terrain.
I am pretty sure that I saw an airship of theirs before at a convention. Looking at their products in their "buildings on a budget" section, I recognize their buildings from their Russian village and this train station is in the same vein as that. Perfect for 28mm WW2 gaming.
They themed the train station to fit into the Soviet Union of WW2, but really, you could use it wherever you want. This kit I previewed in my last post, now, let's review the product.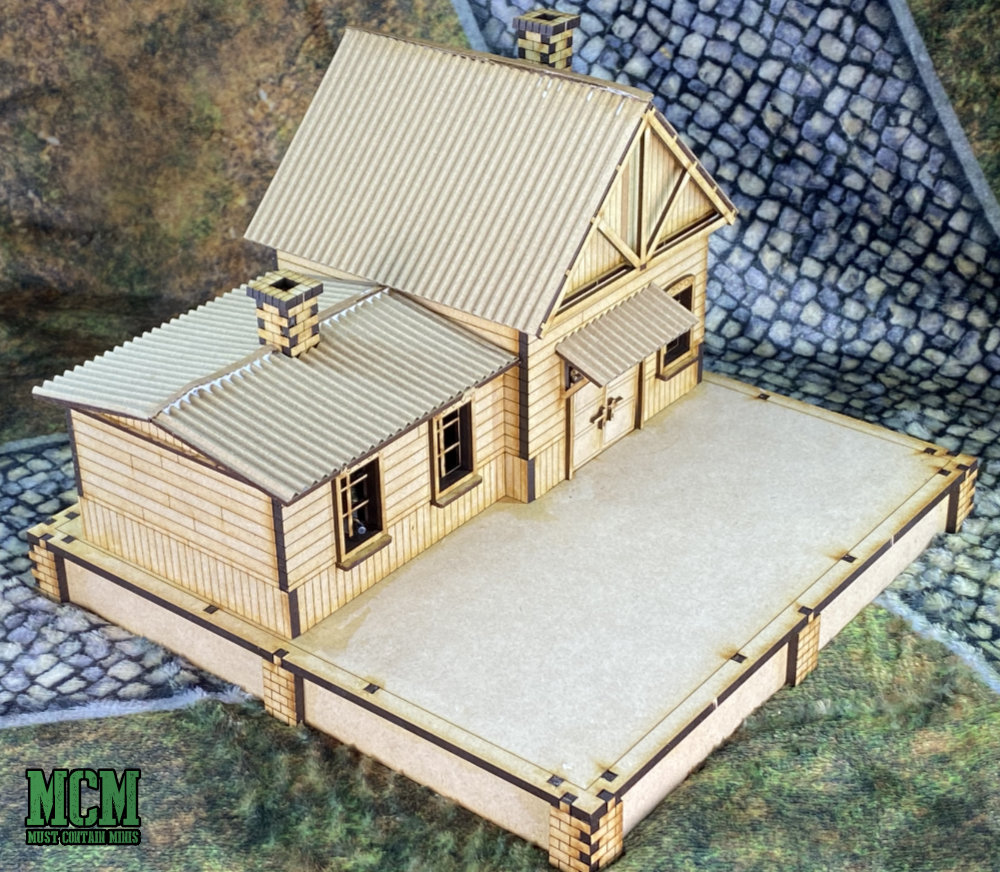 If you prefer to watch reviews instead of read them, there is a YouTube video for you down below.
Building the World War II Soviet Railroad Train Station
The first thing that I noticed about this kit is that it goes together really easily. Of the MDF kits that I built so far, this one goes into the upper tier of them for not having to shave down any parts or make trims to the pieces as I build the model. The model that they sent me is precise. While this is a pre-release copy of the product, I anticipate it will be as easy for you to put together too.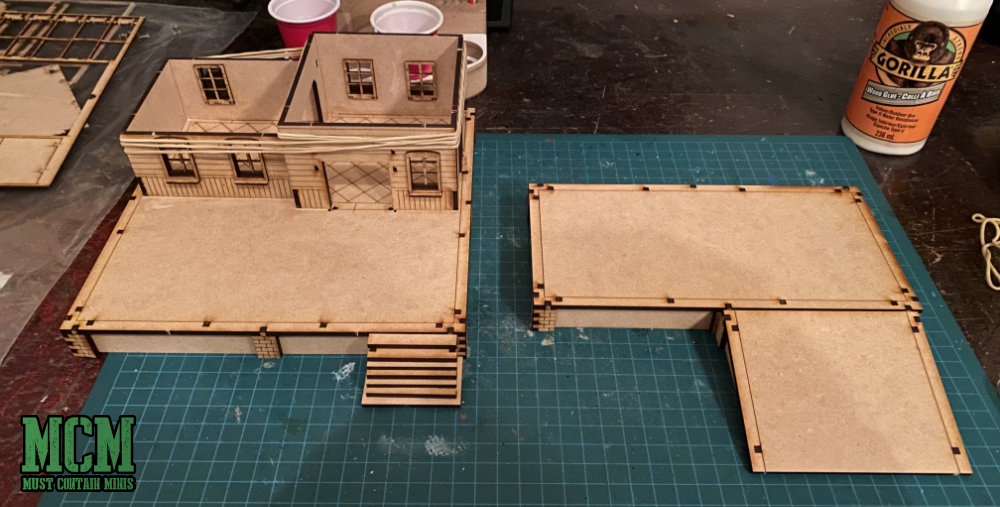 That said, this product failed Mrs. Must Contain Minis' "scents" test. She could smell the laser cut wood as soon as I opened the pack. I got relegated to the garage to build this kit. Normally not a problem, but in the Canadian winter, it is cold out there!!!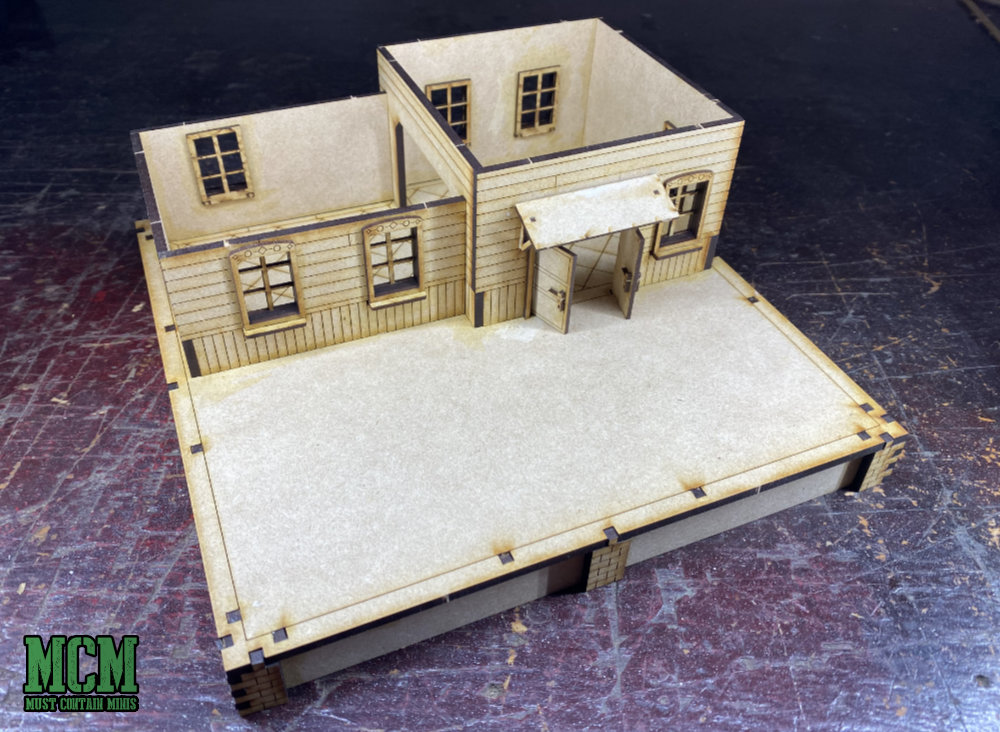 To be honest though, she is right. This kit smells of burnt wood more so than many of the other MDF kits I put together in the past. Maybe it is because this is fresh off the lasers or maybe they do something different than other companies, I am not sure.
I am told that smell will go away over time or if you leave it out in a well ventilated area. Now that it has been built for a while, I can confirm that the scent does reduce over time. The scent will likely be gone by the time that I hit it with a coat of Shellac or Spray Paint. 
Looking at the Details
You can see the detailing of the roof here. When I saw all of the knobs that fit into the wood, I was half prepared for a fight. Instead, it just fit together well without much fiddling at all. The pieces are just precise.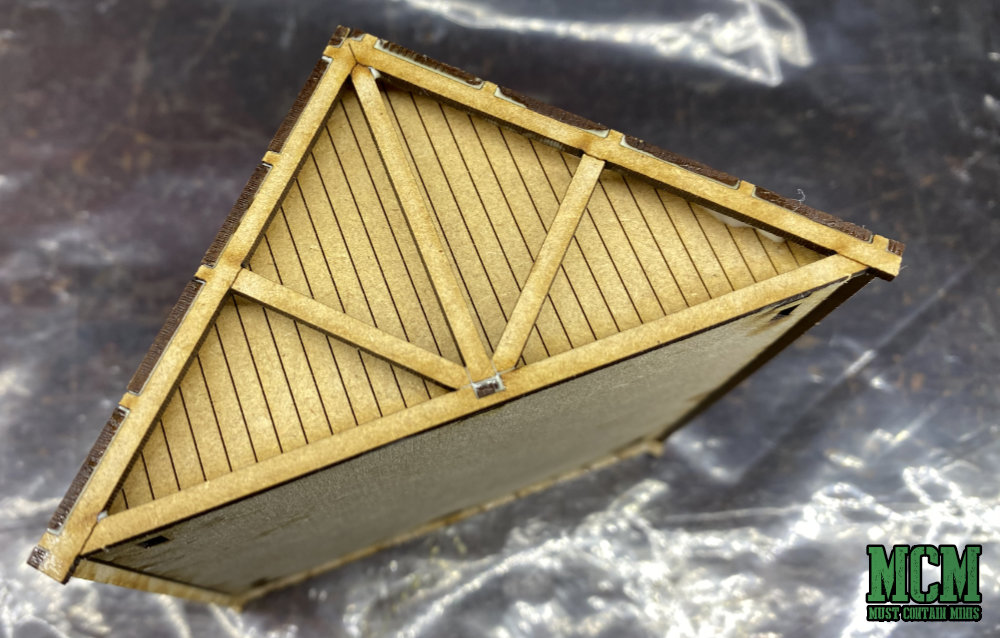 When building MDF kits, I use watered down wood glue with a brush. This helps me put the glue exactly where I want it. When I first started years ago, I would just squeeze the glue onto the model straight out of the bottle. Using the brush prevents a goopy mess.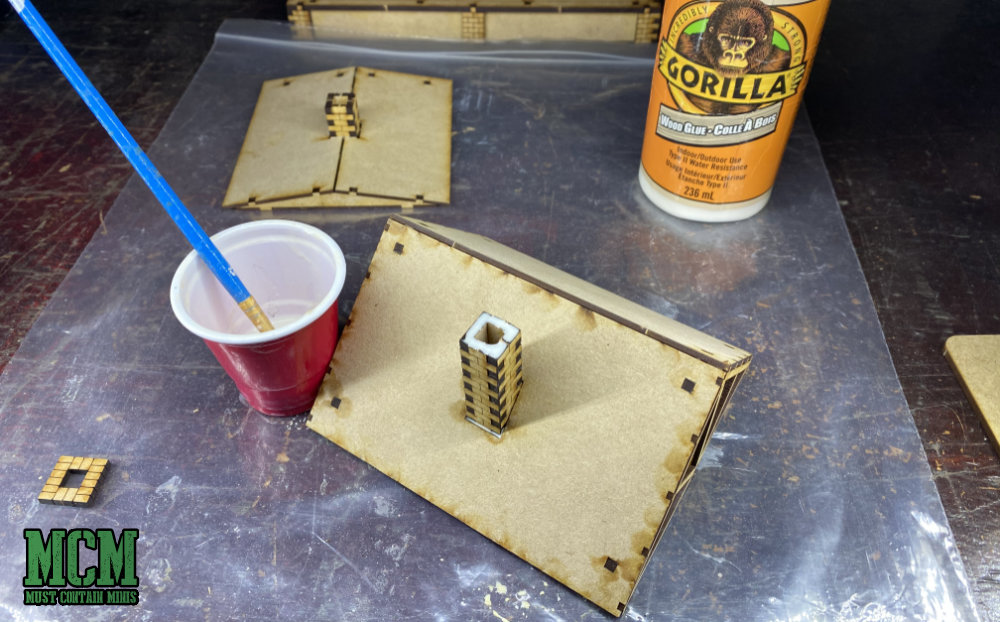 This instruction sheet the sent me to go along with the product was in PDF format and really well done. Their first instruction was "Please read the instructions before starting construction." I did not do that and threw away a part that I needed to join together the two halves of the roof. Later I made it right with some substitutions, but it would have been easier to have followed the instructions correctly in the first place.
The Completed Model
Now, let's go back to the model that I built.
With the raised platforms, the WW2 Soviet train station ends up taking up a good amount of space. Those are 28mm Bolt Action figures on the Platform.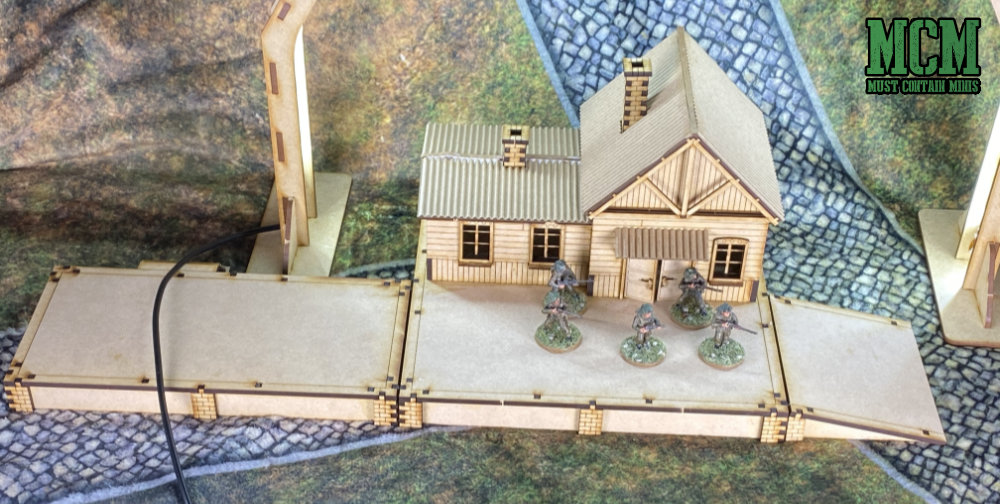 The Corrugated card looks pleasant on the roof. You can see that I found a suitable replacement to complete the roofs. I just used some cardboard, but it would have been easier if I kept the original pieces.
Another shot showing the full model kit. Here I am revealing some of the magic of the photos. That is a Game Craft Miniatures LED Lamp that you see me using a top and back light. You can watch a video review of that lamp too if you wish.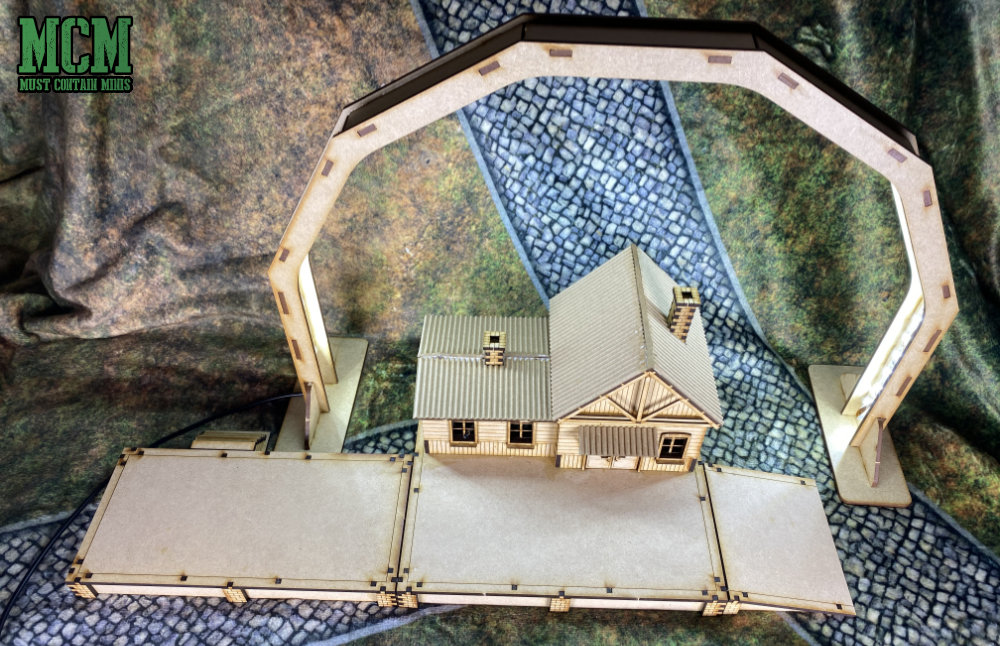 Using the Model in Bolt Action
For scale purposes, I placed 10 and then 20 bolt action miniatures in the building. These are 28mm miniatures on 25mm round bases.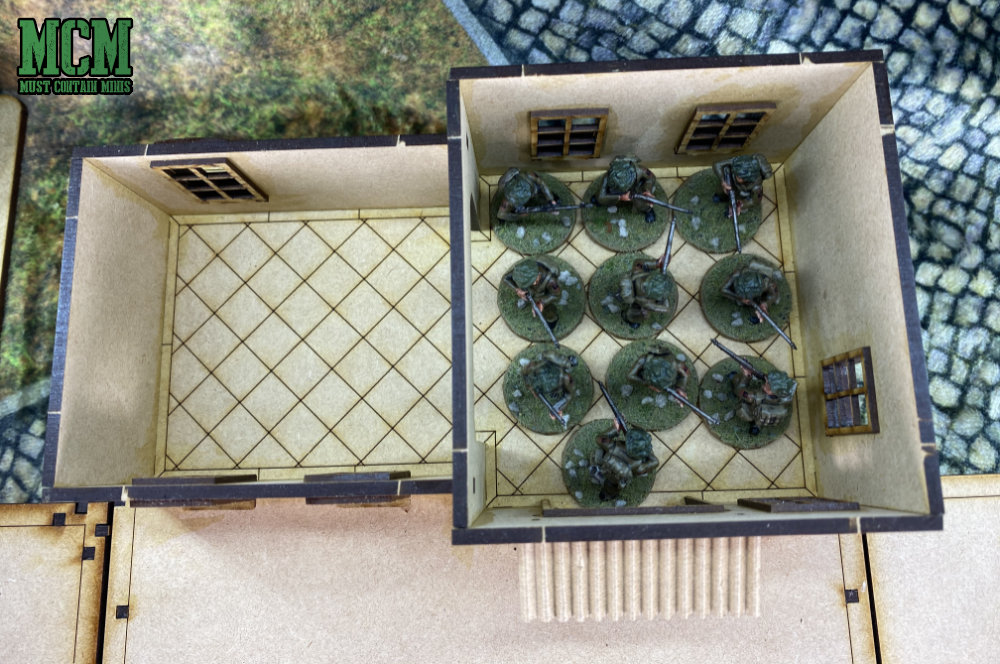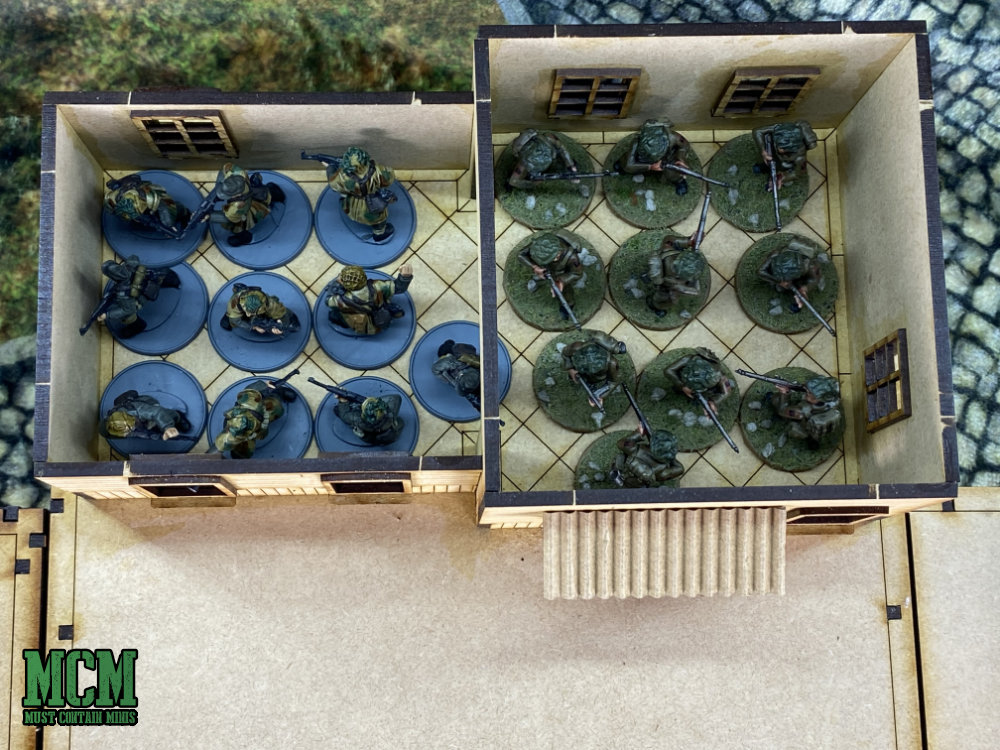 The roof goes on and off the completed building. And Things from the Basement uses this peg system to keep the roofs in place while on the building.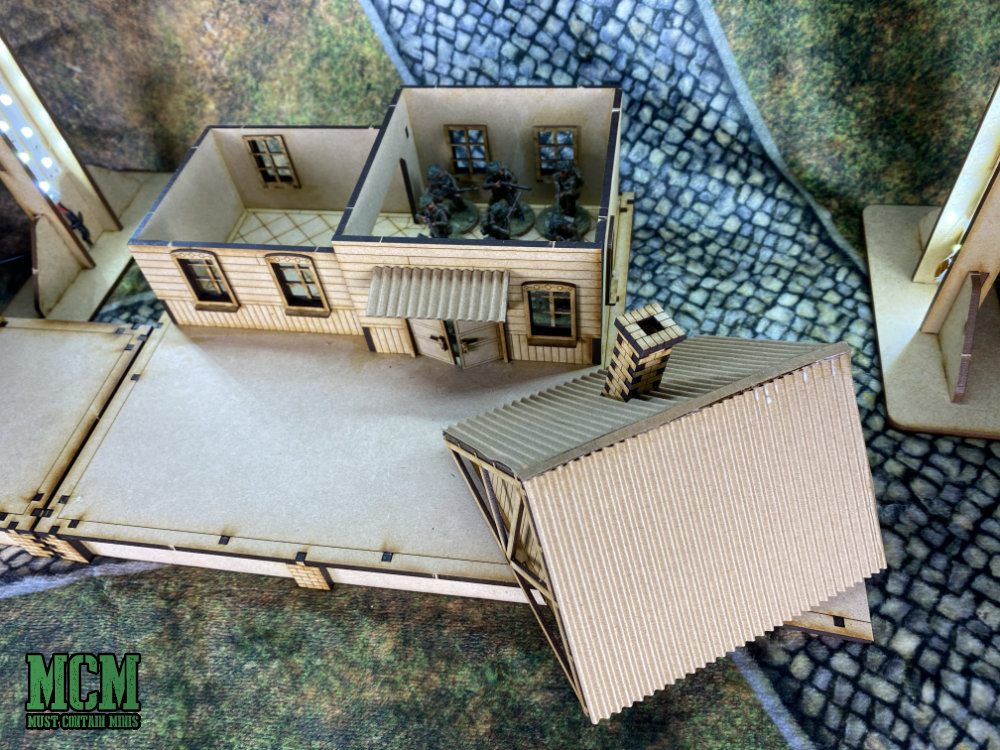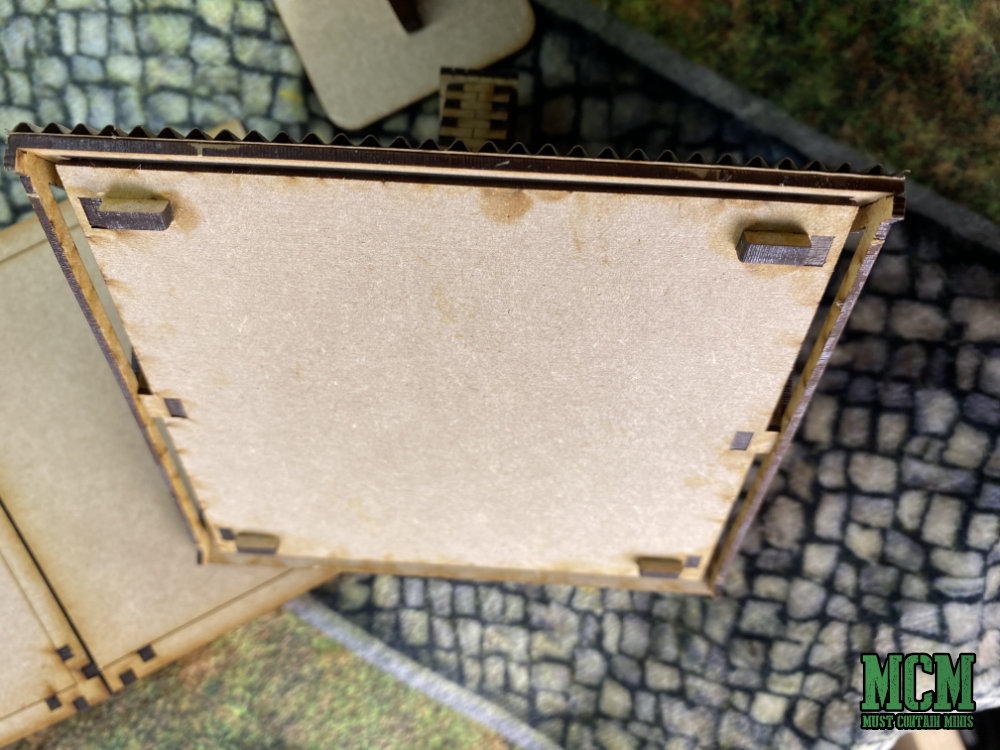 Oh, by the way, those doors work.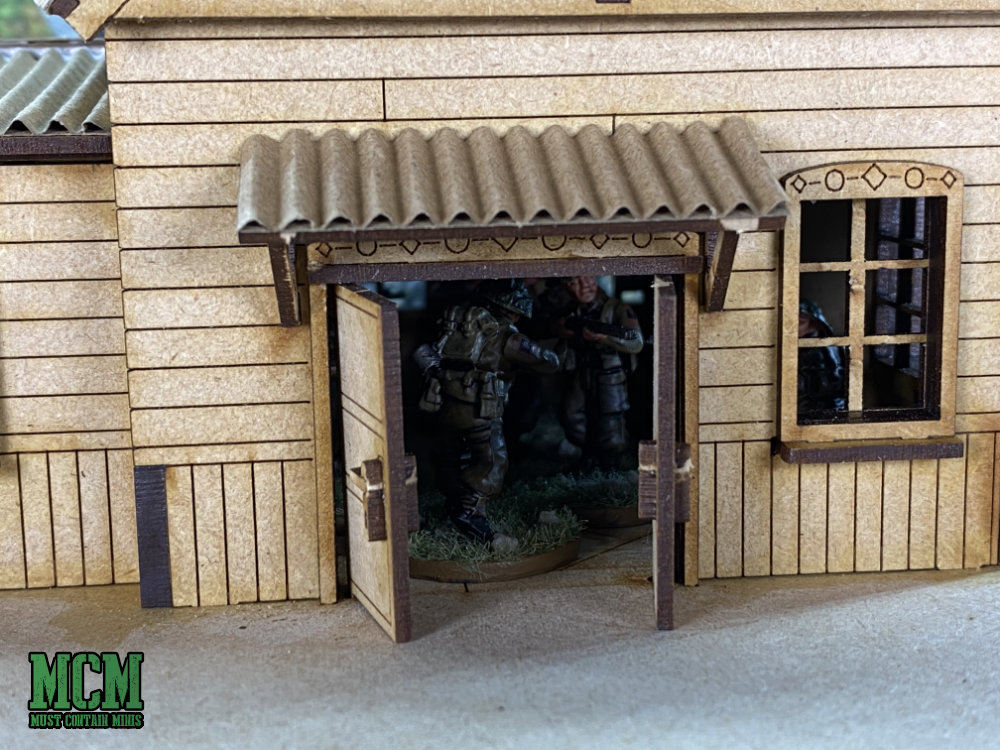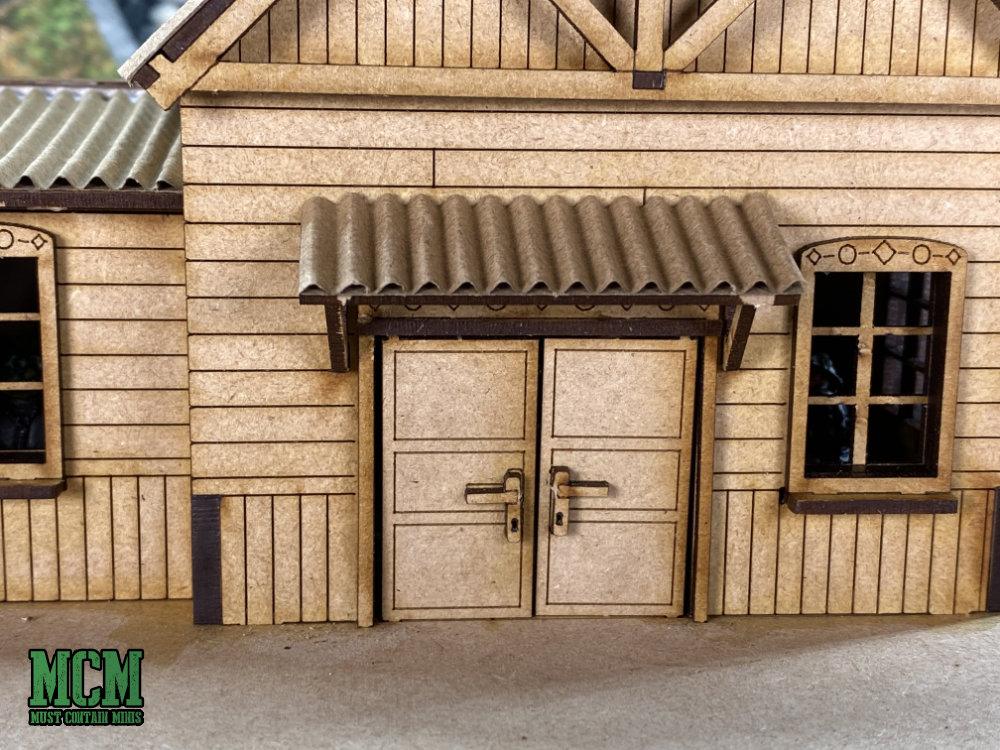 Working doors and accessible interiors are always nice features for a terrain piece to have.
28mm Train Station Review Summary
This WW2 Soviet Railroad station is a really nice HDF Model Set.
The only negative thing that I have to say of this kit is that Mrs. Must Contain Minis does not like the smell of laser burnt wood that you get when you first open the product. Aside from that, all I have to say about the kit is positive.
It goes together extremely easily. I had to do no sanding, no trimming and now filing. The whole model had a feel of being made with a high degree of precision.
Tricky parts included the chimney and the roofs as the chimney's are fairly small components to squeeze together with elastics. I had to retry a couple of times with each. And the corrugated cardboard for the roof. I had to dry fit those pieces on first to make sure they were oriented the right way.
That being the tricky parts means that I had a great deal of success with this model. I like that the Soviet Railroad has built in platforms, and as a reminder, be sure to read the instructions before building the kit so you don't throw out anything you will regret later.
WW2 28mm Train Station Review on YouTube
Prefer to watch videos instead of read. Must Contain Minis has you covered there too. Let me know what you think of the video.
Wrapping it up…
Overall, this is a great looking kit that went together extremely easily. Special thanks goes out to Things from the Basement for sending me this kit for review. Now, lets wrap things up with my final thoughts on the model.
Thank you for joining me in this 28mm train station review for a piece of terrain that you can use in your Bolt Action and other WW2 games. If you haven't already checked out the product on Kickstarter, make sure to have a quick look.
Until next time, Happy Gaming Everyone!!!