In this post, I talk about Painting New40K Space Marines. This article acts as both a second part of a review and also as a tutorial for the Space Marines: Assault Intercessors + Paints Set by Games Workshop. As this is a continuation of my earlier unboxing and review of the box set, be sure to check out that post too.
For this article, I decided to paint the miniatures with just the paints in the box. Without buying anything else, you can easily paint these miniatures up to the same "Battle Ready" standard.
In some ways, the tutorial part of this post is for beginner painters. That said, if you aren't a beginner, you may still get enjoyment out of the article. If you prefer videos, there is a video version of this post here, and embedded at the end of the article.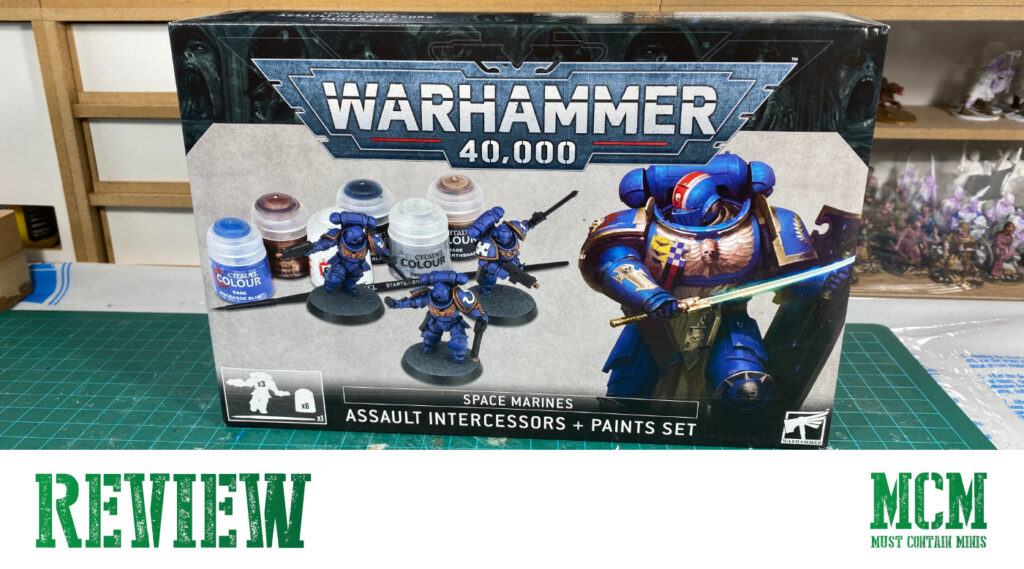 If you want to see exactly what is in the box, check the link to the first part of the review. If you want to see how the miniatures paint up, keep reading! Keep in mind that I will be using only the paints and colours that come in this boxed set.
Now, let's get into it.
Step One – Prime the Miniatures
The Space Marines: Assault Intercessors + Paints Set does not come with spray primer. That said, if you go to the Citadel Colour Website, then they have your answer. If you either don't have primer, or can't use it, they recommend that you "undercoat by hand." This primes the model.
The box actually recommends you go to that website for painting instructions. I outlined my process here to help beginners.
To start, you use one of their base paints directly on the plastic. They recommend Abaddon Black or Corax White for the "Classic Style" of painting. Your Space Marines: Assault Intercessors + Paints Set comes with both of those paint pots. The box set also steers you towards painting the figures in the Classic method.
The other way to paint them is by using their "Contrast Paints Style." That method requires different colours to "hand base" the miniatures.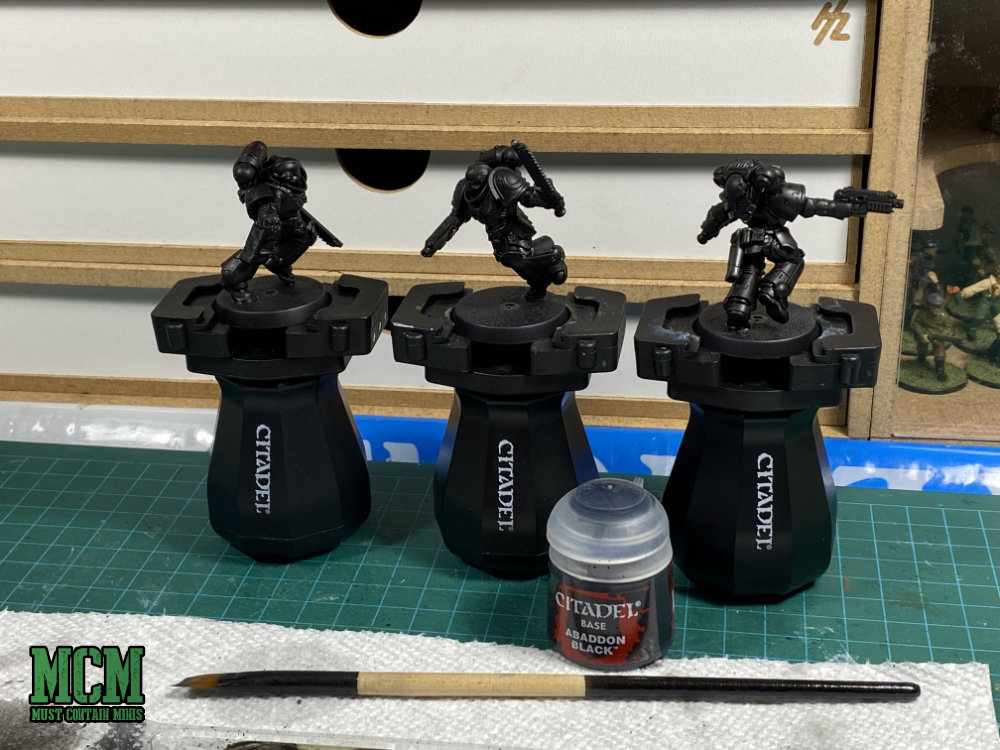 Step Two – Base Coat the Figures
For the next step, I paint up the base colours. In this case, I start with blue and followed up with the gold and white. I left the black parts of the figures unpainted.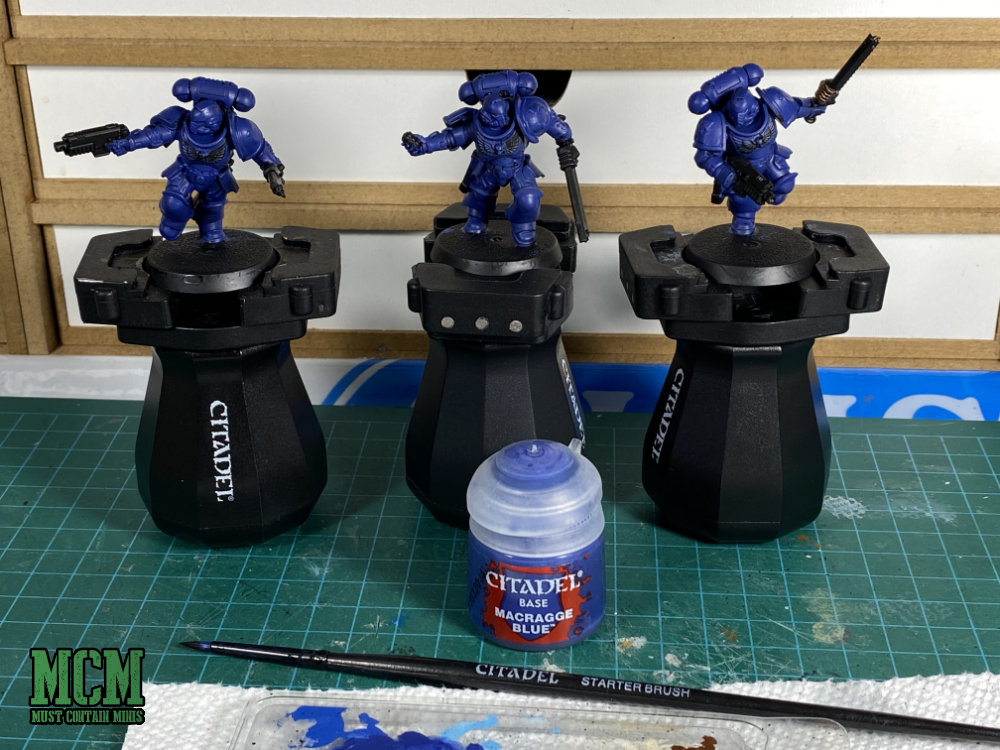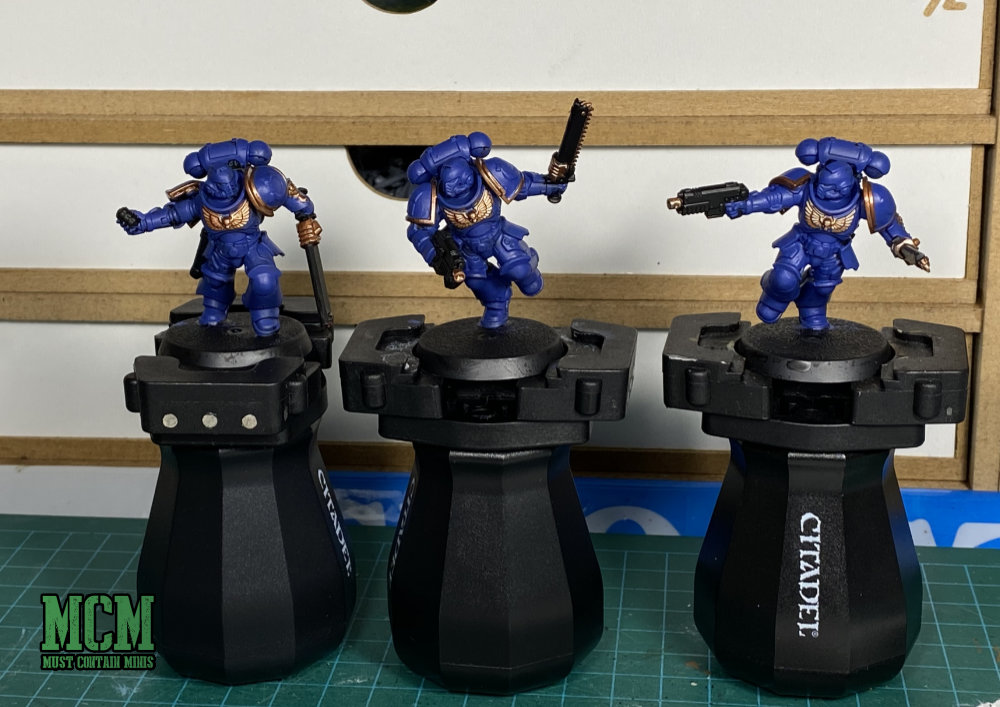 At this point, they look pretty good and years ago, I might of stopped. But… There is another step in painting New40K Space Marines.
Step Three – Apply the Shadding
At this point, we coat the entire model with Agrax Earthshade. This is a shade product that goes into the recesses of the model making the figures look like they have proper shadows.
After applying the shade, the miniatures turn out looking even better than when we started.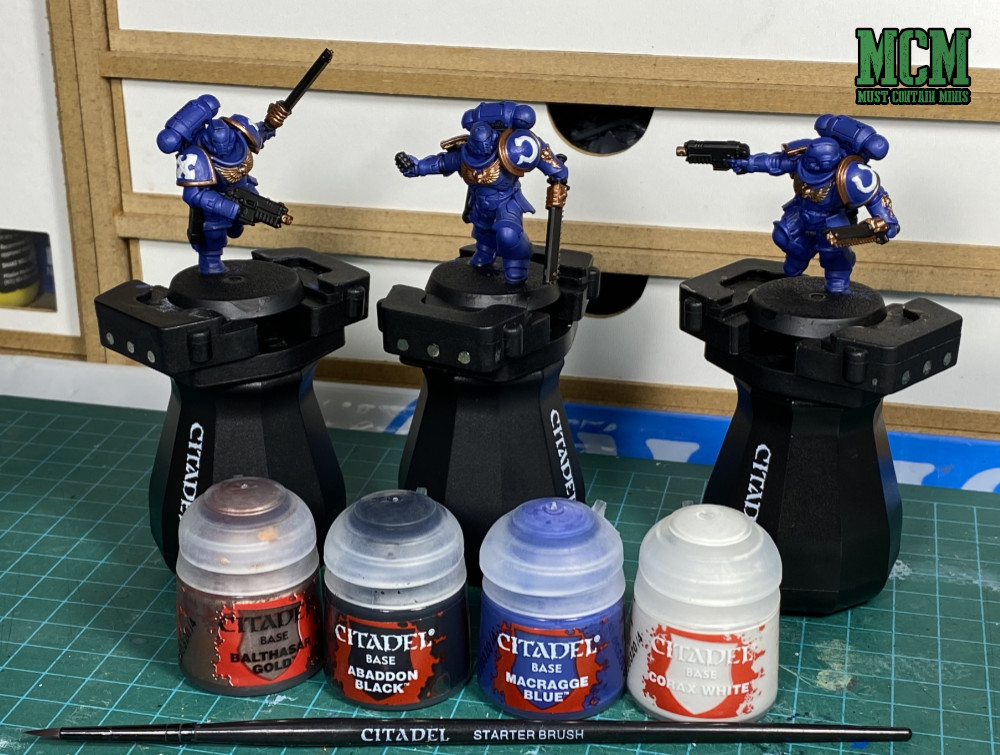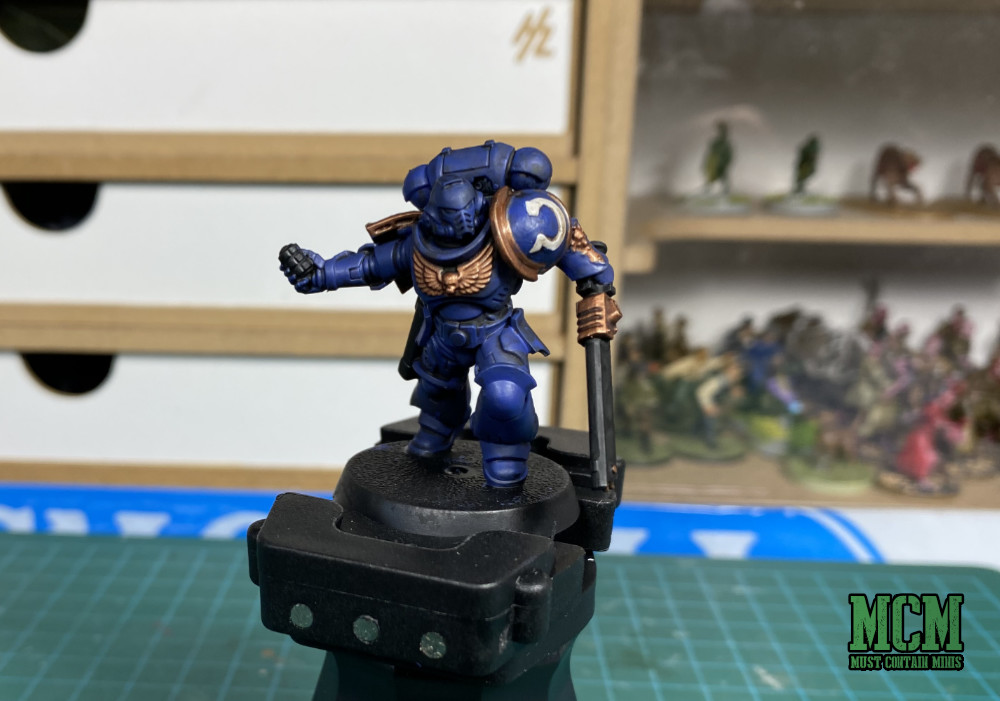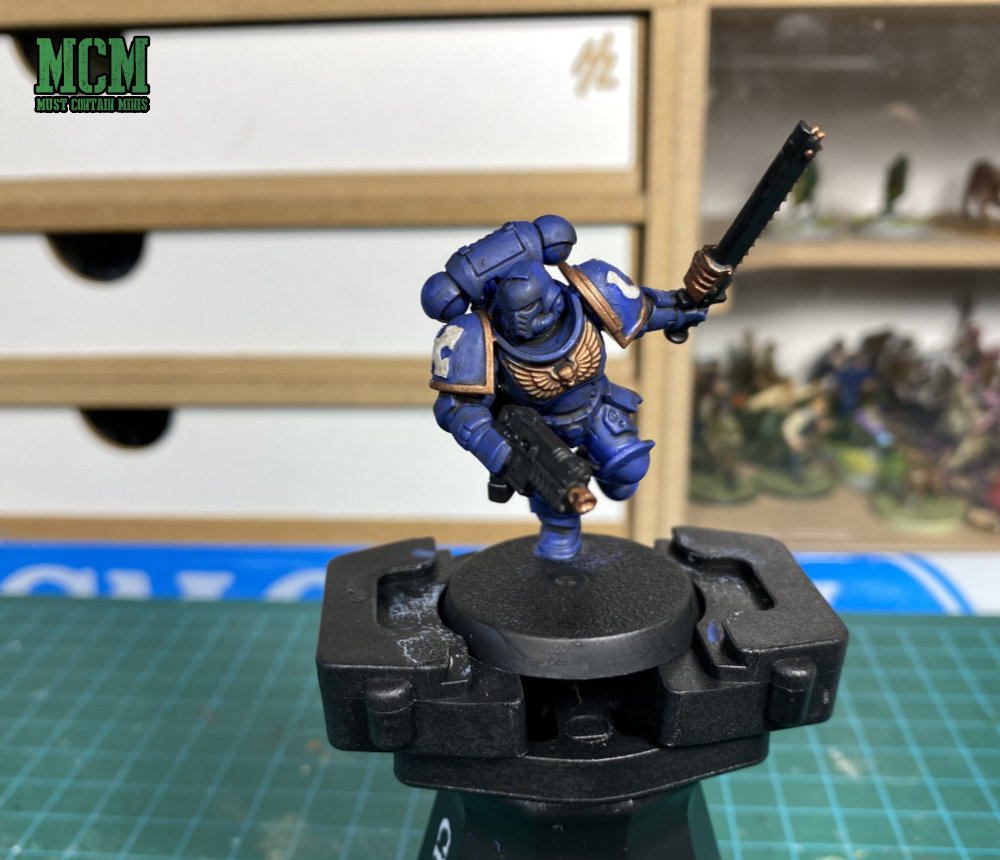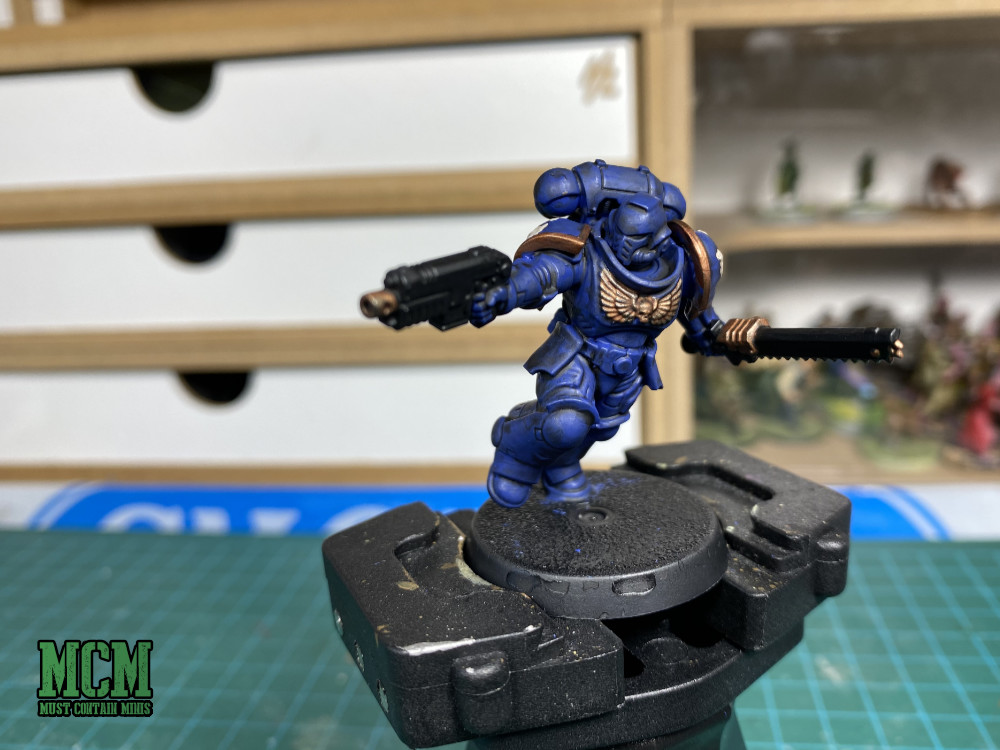 At this point, you can pretty much stop and call your model "Battle Ready." If you follow the steps on the Citadel Colour Website for "Battle Ready" miniatures, this is where you end – and it didn't take too long to get here.
All that is left to do to finish painting the #New40K Space Marines is to add your basing materials. The miniature is finished!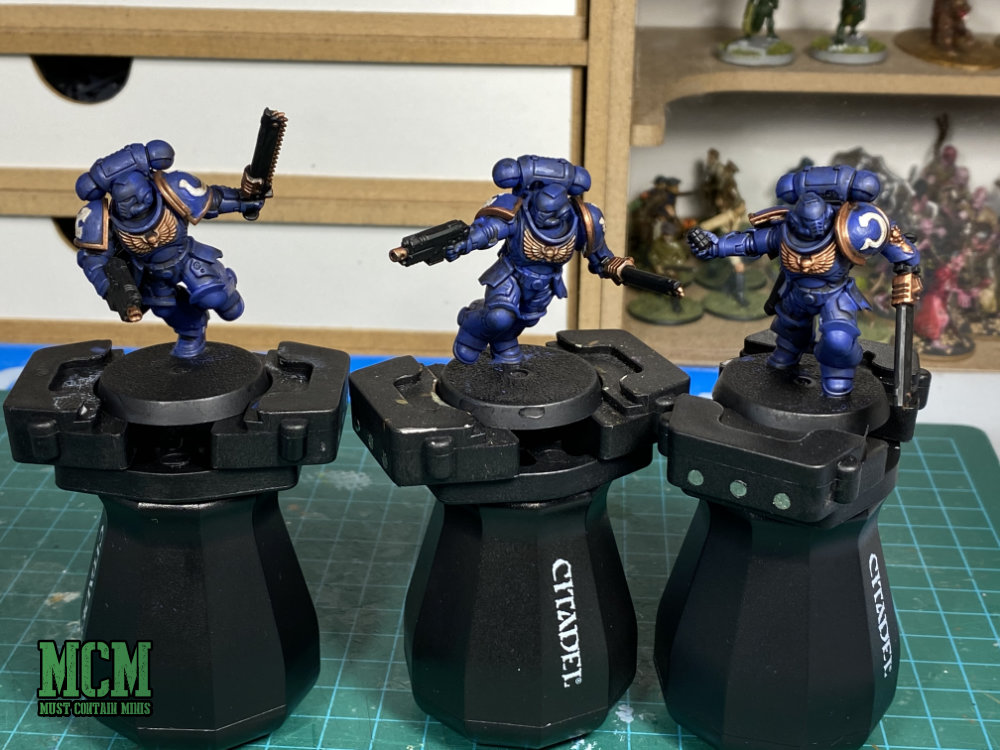 If you want to get them to what they call "Parade Ready," then you would continue enhancing the miniature with what is called highlighting. I took that further step with my Legions of Steel miniature, but for these guys, I am happy to stop here.
Step 4 – Add Basing Materials
Normally I would apply static grass, flock and small rocks to my miniatures' bases at this point. Perhaps even some sand. That said, these miniatures come packed with a special technical paint called "Astrogranite."
Being that I wanted to paint the miniature using just the materials in the box, I used that to finish off my miniatures.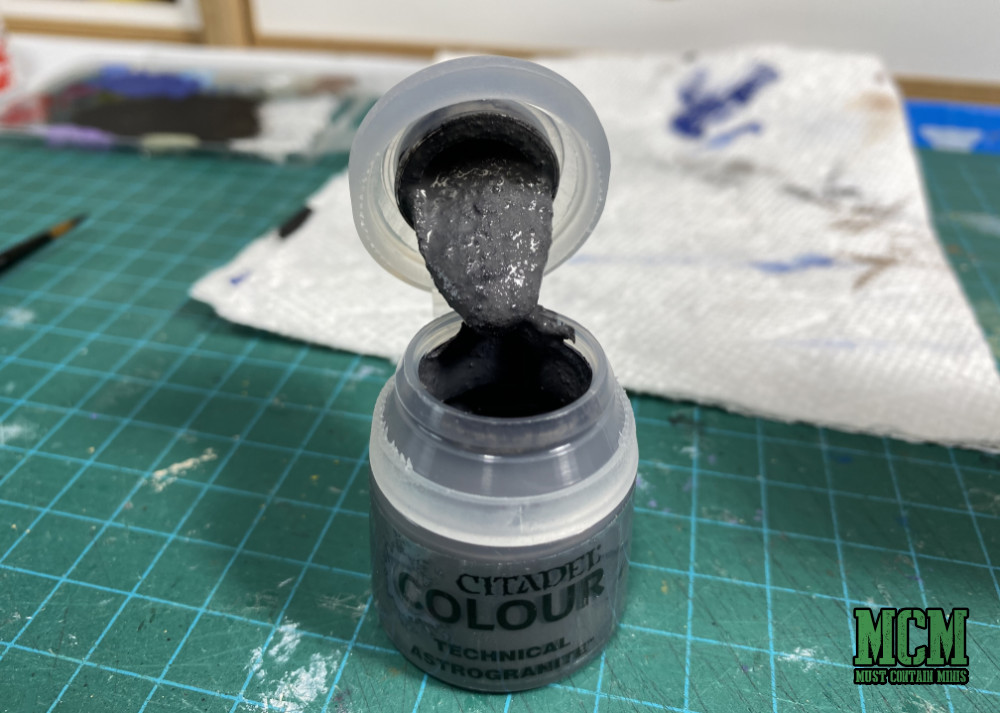 Once you lather this stuff on, you are done! Your miniature is Battle Ready!!
The Video Tutorial on How to Paint Space Marines
Wrapping it up…
There you have it. This is exactly how I painted up my Space Marine Assault Intercessors to a Battle Ready standard using only the paints in the Space Marines: Assault Intercessors + Paints Set by Games Workshop.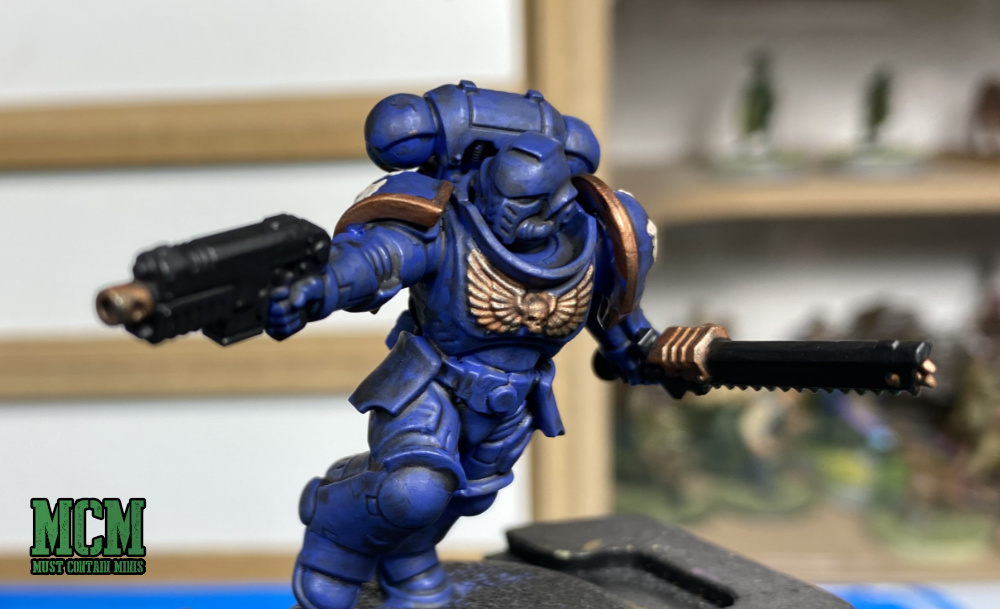 Normally, I would have taken it another step and highlighted all of the base colours again to raise the contrast level, but really, these guys look good to go!!! These guys are "Battle Ready!"
Until next time, Happy Gaming Everyone!!!