Crucible Crush has been very busy over the past week with news of a sale and their new releases. In this post, we take a look at Crucible Crush News.
If you like miniatures related to Cthulhu, the Vietnam War or want to raise money for a charity while buying a miniature, this post is for you. Now, to the news.
First off, Crucible Crush has free shipping for now on sales over $45 USD. Next, they released a number of new figures from their latest Kickstarter – Black Sun.
As a note, all of the pictures in this post are from either Crucible Crush's Facebook Page or their website.
Black Sun Miniatures
Check out these miniatures.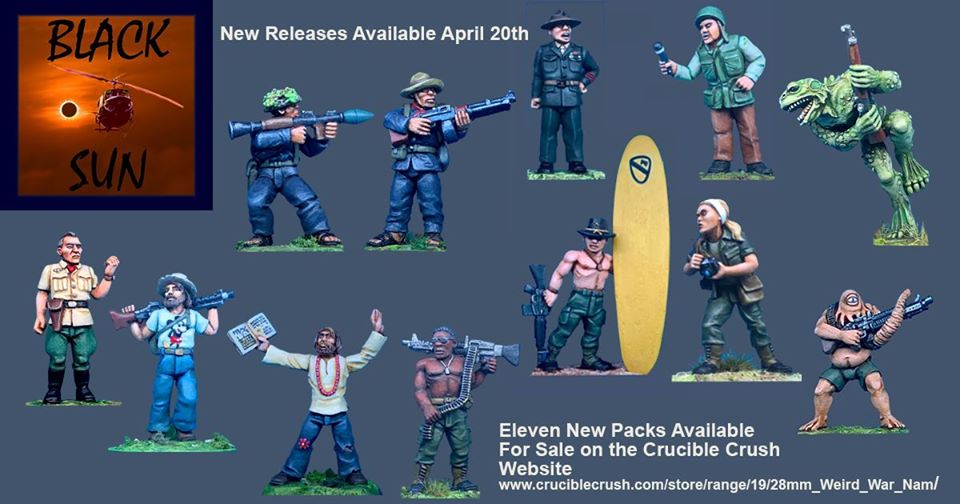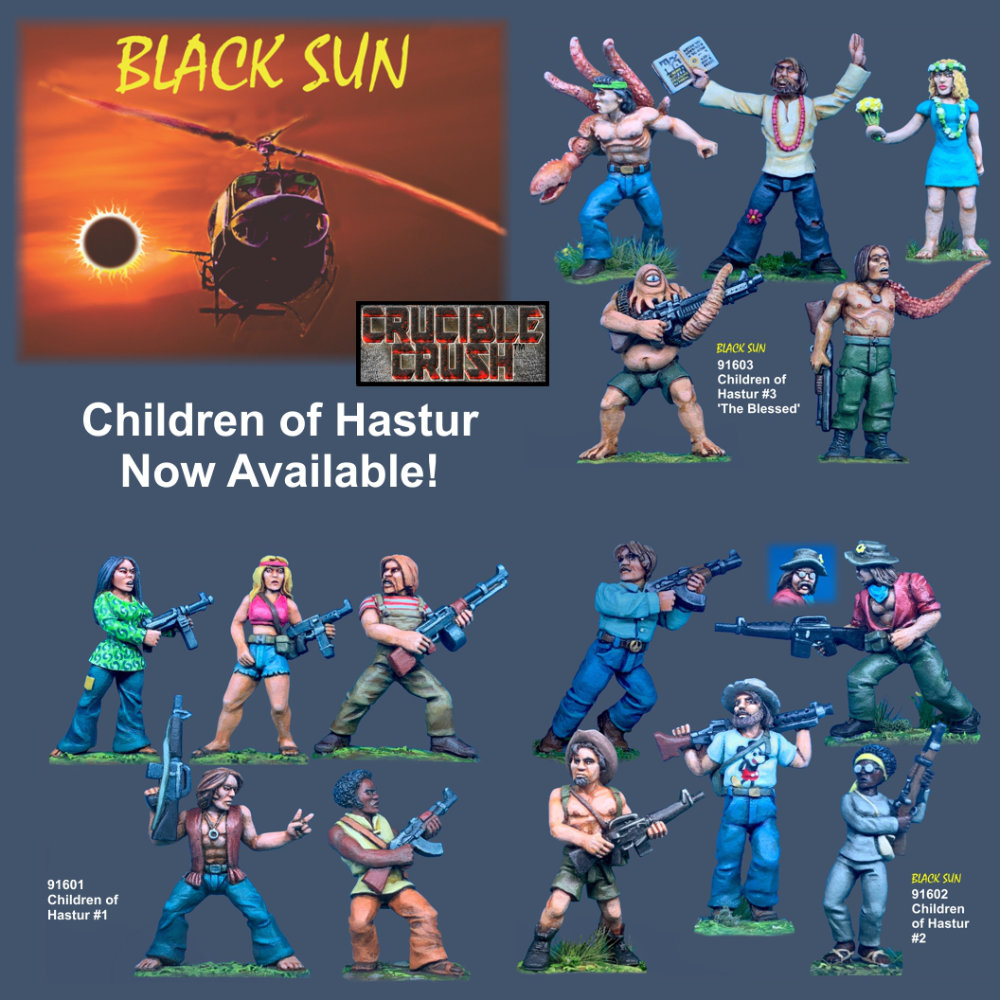 These Black Sun Miniatures are looking great. The final rules are still on their way, but they have the play-tester rules currently posted for free (these rules are no longer available). If you are interested, check them out and maybe start collecting a new line of figures.
Personally I already own some of the US Soldiers and Adaro miniatures. The Adaro are basically Deep Ones from the Cthulhu universe.
Given the factions of the game, you could either choose to play Black Sun somewhat historically as a strange alternatively set Vietnam War Game or something more Sci-Fi. I know my collection would follow the Sci-Fi side of things on this one.
I am really loving the Adaro, American Soldier and Children of Hastur miniatures to date.
A Miniature for Charity
In further news, Crucible Crush aims to help raise money for the Canadian Red Cross with this 28mm miniature of a nurse.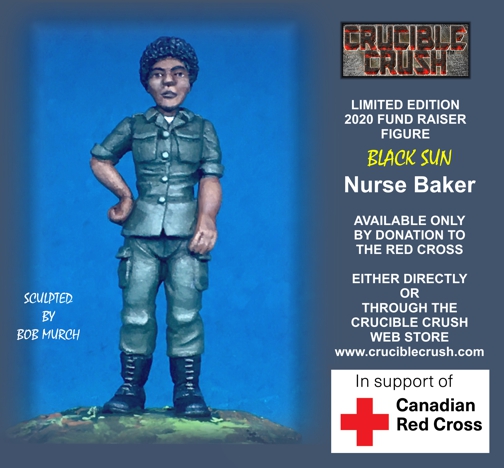 You can get this miniature by donating through Crucible Crush to the Red Cross, or by showing proof of donation to the Canadian Red Cross to Crucible Crush. More details are available on Crucible Crush's COVID-19 Fundraiser webpage (this campaign is now over).
Aside from being active on Facebook this week, the guys from Crucible Crush made an appearance on a podcast yesterday.
Fireside Chat with Crucible Crush
Recently, the Bob and Lee sat down with the folks from Freebooters Network for a virtual fireside chat. Unfortunately, this podcast is no longer available.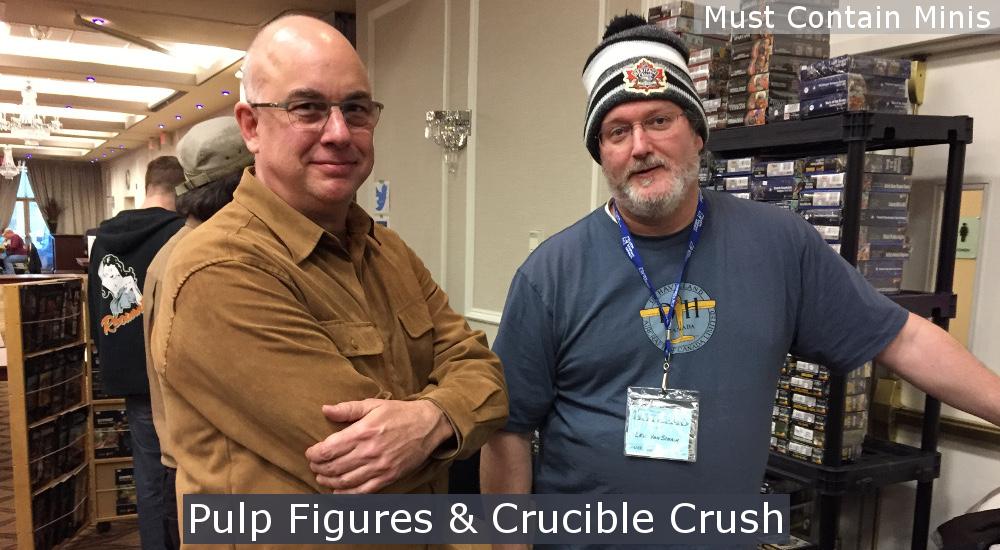 In the podcast, Lee discusses the games of Crucible Crush and their upcoming plans for Black Sun and Flint and Feather. I am especially excited to see Black Sun taking a more sinister feel and hope for more Cthulhu type elements. Bob then takes center stage to talk about the miniatures of both Crucible Crush and Pulp Figures.
Looping Back to the Sale
While this post focuses fairly heavily on Black Sun, Crucible Crush sells many other products too. Those products are also part of their Free Shipping sale.
On the Crucible Crush website, you can find Crazy Lee's Game Emporium. There you will find their own products as well as products by other companies. These other offerings include Frostgrave, Pulp Alley and more.
Wrapping it up…
Today's post was about taking a look at some neat things coming from Crucible Crush for the tail end of April (2020). They have some really cool stuff going on in these strange and uncertain times.
If you have some time, give them a look, maybe download those rules, and…
Until next time, Happy Gaming Everyone!!!
As a note, Crucible Crush is a Canadian company that lists on the Canadian Miniatures Gaming Companies page right here on Must Contain Minis.