Do you have a paper or 3D printer? If so, Fat Dragon Games and DriveThruRPG has a sale going on right now that could help you fill a table with terrain. They are now selling the entire library of 3D Printer STL files and Paper Terrain by Fat Dragon Games for half off!!! That's right, it is a huge Printer Terrain Sale!!!
Update: The sale is now over, but you can still pick up great Fat Dragon Games products on DriveThruRPG.
As you can see above, many of the offerings that Fat Dragon Games has in paper, they also have available for 3D Printers. Most of their terrain models, including both of the models above, have fully accessible interiors. That is a feature that I really look for in my terrain.
Now, this printer terrain sale is really exciting. I have already taken advantage of it and bought a number of files to work with in the future. Today I want to share with my readers news of this sale, as well as a bit about Fat Dragon Games and my dreaming of owning a 3D printer.
Fat Dragon Games
Fat Dragon Games publishes Paper Terrain and 3D Printer STL files for miniatures games and RPGs. Years ago, I bought a lot of their paper terrain when I used to play Role Playing Games. Now that I play predominantly miniatures games, I still see their value in filling a tabletop quickly with terrain at little cost. Over the past few years, Fat Dragon Games has led the way in developing gaming tiles and terrain for 3D printers.
They make terrain for Dungeon Crawls, Starship Crawls, buildings and more. These "kits" are sized for 28mm to 30mm miniatures. Their 3D printer file system is modular and you put together the printed pieces together in a way kind of like Lego. With these tiles, you can make whatever you can imagine.
Lately, I find myself dreaming a lot of owning a 3D printer. In the past, friends printed off models for me to review, but I would really like to print my own. A bit preemptively, I bought myself $160 worth of STL files from Fat Dragon Games during this sale.
Now, I must admit that I put the "cart before the horse" because I do not yet own a 3D printer. That said, this printer terrain sale is really good and I didn't want to pass it up.
What Caught my Eye
I've been a fan of Fat Dragon Games for years. Even back when they were just a company for paper and card-stock terrain. What I am most interested in today is their DRAGONLOCK tile System for 3D printers.
As for what would be best for Wargamers, I think the Village Houses, The Village Defenses and the Castle Starter Set are all good areas to look at first.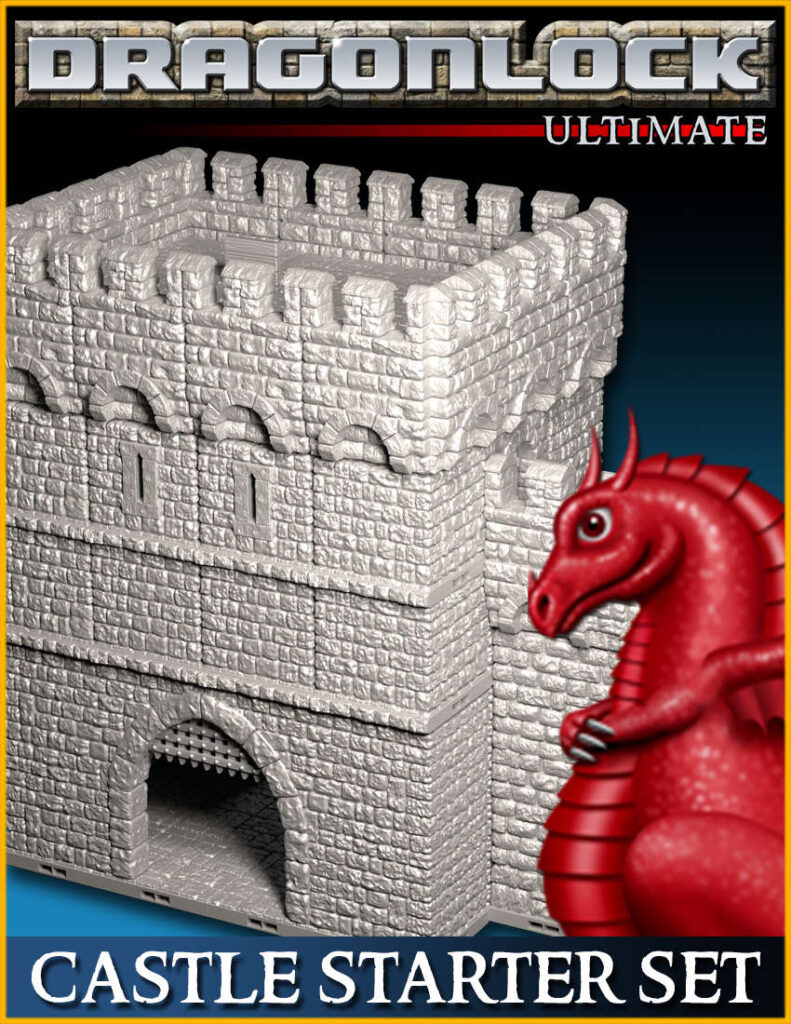 What I Bought
Overall, these are very cool items and I wish I could buy them all.
What I was after for now is terrain to recreate a dungeon delving experience and to recreate an X-Com style "breach the crashed UFO" type scenario. I ended up purchasing the DRAGONLOCK dungeon starter set, a number of expansions for it, the complete Starships collection, and the Tower of Horror pictured at the top of this article.
Buying a 3D Printer
3D Printers are becoming more prevalent today than they once were. You can buy them easily from computer stores and even Amazon.
That said, many of these printers come as kits you might have to build yourself, and there is a lot to learn. I've even read that sometimes the printers end up needing small repairs and replacement parts. I think I will take my time before getting into this, but I am enjoying collecting STL files for now.
For those that just want to get started, Fat Dragon Games tends to endorse the following 3D printers: The Creality Ender 3, the Creality Ender 5, and the Creality CR10. These are low cost 3D printers that apparently do a good job on The DRAGONLOCK models.
Wrapping it up…
Hopefully you enjoyed reading today's article. If you didn't know about Fat Dragon Games' 50% off sale, give it a look. Lots of great Paper Terrain and 3D printer files there all on sale at a great price. In fact, I even took advantage of this printer terrain sale and bought myself some models that I hope to use someday.
As mentioned before, I am a fan of Fat Dragon Games. How about you? How have your experiences been with their products?
The sale is now over, but you can still pick up great Fat Dragon Games products on DriveThruRPG.
Until next time, Happy Gaming Everyone!!!