North Star Military Figures decided to release their supply of Oathmark books early. The reason for this is that they don't know if the government will shut them down due to COVID-19 concerns. As such, they decided to get the product out early before further lock down steps are taken. As such, you can get this book early if you are excited about it like me.
To get the book quick, buy it straight from their website. If you order just the book, North Star Military Figures will give you priority service to send the book out to you as fast as they can.
Originally, they were going to give everyone that bought a book through them a free miniature. To get the books out the door quicker, that deal is not currently going. That said, North Star stated in their Newsletter that they plan to figure out a way to get a free figure out to people that buy the book through them and then place a second order for figures later on.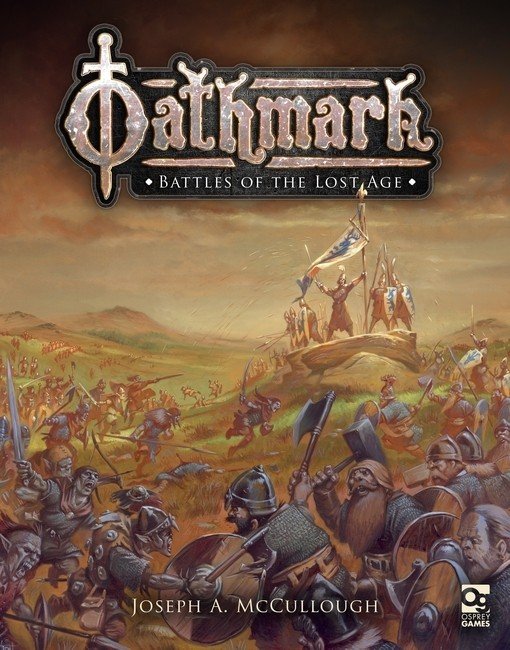 Other Oathmark Posts on MCM
Now, I have written a bit about this game because I am excited about it. To learn a bit more about the game, I have a post discussing the concept of Kingdom building within Oathmark and link Osprey Games' resources.
One of my most searched posts of late is my comprehensive look at all of the basic infantry miniatures currently available for Oathmark. That post is getting a ton of hits lately for a good reason. I gathered all of the preview pictures of the sprues and models by North Star Military Figures to one place for easy viewing.
I also gathered together the preview images for the game's Goblin Riders and Heavy Dwarf Infantry into similar posts.
Check them out to see if you like the look and art of the game.
Wrapping it up…
The point of this article is just to let you know that Oathmark is available now if you order through North Star Military Figures. This post also gathers together some of my other Oathmark posts to one place.
Until next time, Happy Gaming Everyone!!!
Help Support Must Contain Minis
Buying from North Star Military figures has always been a pleasant experience for me. I encourage you to buy from them and to take advantage of getting this book sent out early if you can.
If you want to help support this site though, consider ordering something through Amazon. We use affiliate links to help generate a small income to off set the costs of the website. Anything that comes in is greatly appreciated.
If you use one of the links on this site to Amazon, DriveThruRPG, or the Wargames Vault and make a purchase from there, roughly 5% of the purchase price goes to supporting Must Contain Minis.
Thanks so much for your continued support!!!