In this post, we showcase yet another well painted bust model from the Sword and Brush 2019 painting competition. This time it is of the model called Night's Watch by Nutsplanet. To me, this model really looks like Jon Snow from Game of Thrones.  🙂
Dai Viet Nguyen painted this great looking model. To learn more, I reached out to him to see if he would be willing to do a quick electronic interview. He wrote back…
I'd be more than happy to answer your questions. Thank you for the kind words, your coverage of our event (I'm one of the organizers) is super appreciated in spreading the word to make next year even better.
I did not know that he was one of the organizers when I reached out to him. Very cool. Personally, I really like writing about, and promoting conventions, because I want to see these events grow in my area. Now, let's get into that interview.
What inspired you to paint this model?
Jon Snow was the first bust I had purchased back at Sword & Brush 2017 and it sat on my shelf until I felt inspiration after this year's Game of Thrones series finale. The model is a beautiful sculpt with the artist fully capturing Jon Snow's continuous state of pensive worry.
How long did it take to paint Jon Snow?
I started working on the model Tuesday leading up to Sword and Brush 2019 and finished Thursday evening in time for the show.
To me, three days seems incredibly fast to paint a bust like this. That said, the model still looks fantastic!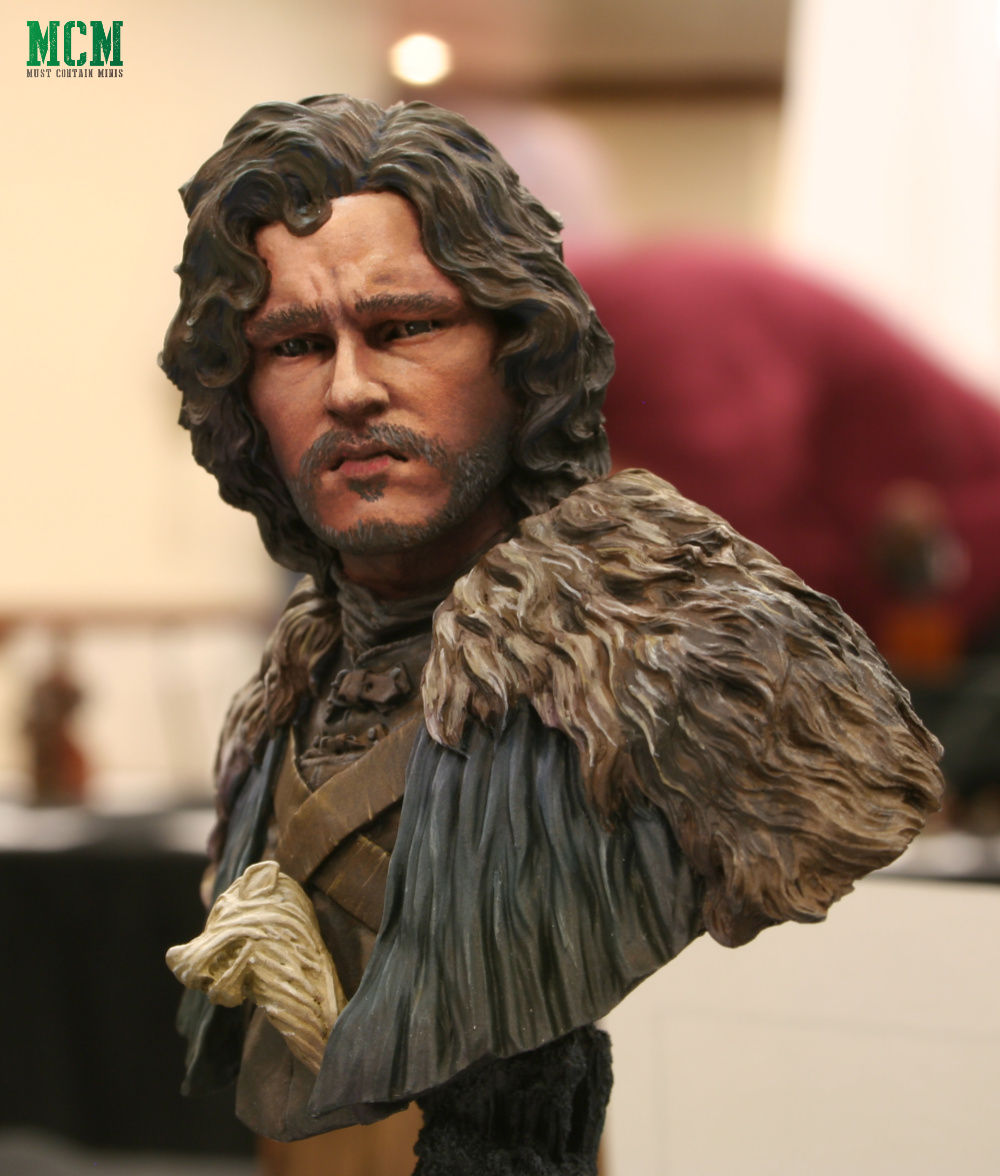 Did you use any techniques on this model that you want to share?
The model was painted using traditional layering, building up from darker colours to lighter colours, with a final touch of glazing via airbrush applied to the shadows. The trick here is the advice no beginner painter wants to hear, that the majority of work was actually studying colour theory, learning how to break down parts of the model into "volumes", and how those volumes are affected by lighting. For example, the colours glazed into the shadows of his face included orange, dark reds, dark purples, browns, and even dark greens.
Jon Snow Bust by Nutsplanet
As noted above, this model that looks like Jon Snow is called the Night's Watch by Nutsplanet. This resin bust comes in four pieces to assemble. They made the bust as a 1/10 scale model.
Wrapping it up…
As painted by Dai Viet Nguyen, the Night's Watch looks absolutely fantastic. I can't believe that he painted the model in just a few short days. Incredible!
If you are into painting, or miniatures gaming, watching for the next Sword and Brush is worth your time. It is currently set to run September 11 to 13, 2020, in Burlington, Ontario, Canada. When I went to this event in 2019 and had a great deal of fun!
To wrap up, I asked Dai Viet Nguyen if wants to share any links with my readers. He sent in two for me to share. One to his personal website, CONGRUYEN and the other his Instagram account.
I must say that he also has some great pictures. Finally, be sure to check out my Wrap Up Article gathering together every single Sword and Brush 2019 article that I wrote.
Until next time, Happy Gaming Everyone!!!