This post is a bit different for Must Contain Minis. In this post, I talk about the Influencers that helped me shape this website. The Influencers I name here either inspired me or helped me in some form. In many ways, I intend this article to be a shout out to those individuals.
Of course, there are plenty of other creators that I follow and interact with, so please don't be offended if you are not in this list.
Now this kind of article often feels dangerous to Bloggers. To be honest, I want you checking back to this site as much as possible. Linking out to potential competitors for my readers can be scary, but I think it is worth giving these sites a shout out.
Modeling Must Contain Minis
In its initial conception, I always wanted Must Contain Minis to be a Review and Battle Report website. In my journey as a gamer, I have gone to and from the Largest Miniatures Company many times. They make great products, but I don't like their prices. To get my gaming fix on a budget, I explored the world of Board Games, Indie Miniatures Games, Historical Miniatures Games and a variety of other alternatives.
In exploring these other titles, I found that there are so many options out there that the public does not necessarily know about. Part of the goal of this website is to share that journey and to let my readers know what else is out there.
The way that I look at is that if you like something, you support it. I don't have a ton of free cash laying around, but I do have a voice. Must Contain Minis helps amplify that voice in sharing what is out there aside from the biggest players on the market. You can read more on that in my post making "obscure" games less obscure.
This goal is why you see so many different games on this site, and why I will continually look into new systems and miniatures. It might be easier to be just a Bolt Action, or Frostgrave page, but I want this site to be different than that. I want this site to be a place for people curious about many different games and for people that want to see what is new and out there.
Influencers on the Look and Feel of MCM
So what sites and personalities helped shape the way Must Contain Minis looks?
Beasts of War (On Table Top)
The first site that ever seriously caught my attention is Beasts of War (now On Table Top). These guys cover a wide range of games and their content is great. My interactions with them is mostly what I can get from YouTube, but they have an entire community that you can access and get deep into.
Personally, I am a big fan of the Weekender (their weekly show on YouTube) and I watch and read their other content too. They have been really successful with their site and I would love to emulate that success on my own. Now, they have a team of full-time guys working on their site. Must Contain Minis is the work of just me (although I do have people that help me generate content, but all of the writing and most of the photographs here are my own). Beasts of War has also been around for years! I would have a lot of work to catch up to anything near the volume of content that they have available on their site.
What their site proves to me is that you can cover a large variety of games outside of what is found in the local FLGS and still have a very successful website. That is exactly what I want to do with my own site and I thank everyone that follows me.

Meeples & Miniatures
Another site that I like the content of is Meeples and Miniatures. I listen to a large number of their pod-casts while painting and enjoy their written content too. Unfortunately, they have decided to slow down the website to enjoy their lives outside of gaming (which is okay), but I have been a long time fan of theirs. What I like about them is, again, the variety of games that they cover.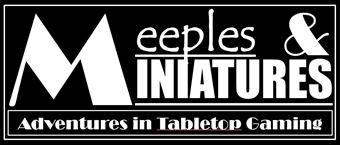 Guerilla Miniature Games
Another site that I absolutely love to follow is Ash Barker on Guerilla Miniature Games. I actually appear on a few of his Frostgrave Battle Reports and his "Widgets and Wonders" series is one of my favourite shows on YouTube! I've watched pretty much all of those episodes so far.
WWPD
The site WWPD (What Would Patton Do) no longer exists, but I followed that site for a very long time. I really enjoyed their Battle Reports, and when I was a tournament Flames of War player, I would follow the site religiously. That is a site that I miss and their coverage of Flames of War and Bolt Action helped form in my mind some of the games that I wanted to cover on my own website.
Sites that I Follow…
Aside from the sites above, there I follow a large number of Miniature Wargame Blogs and YouTube Channels. I don't know about you, but when I paint, I like to put on a YouTube Video or Podcast and play that in the background.
One of those that I like to listen to is Uncle Atom of Tabletop Minions. His videos are pretty general about the hobby, but being general is part of his appeal. What he says tends to apply to more than one system. If you are into GW, he also discusses that company a fair bit. Uncle Atom has had some serious success of late, and if I had his voice, I would be doing YouTube videos too.  🙂
Another guy I really like to watch is Rob's Table Top World. Like Atom, many of his videos are just him talking about games or miniatures related topics. This style of video makes for something easy to put on in the background while you paint. Rob tends to speak from the heart and he tells you exactly what is on his mind. In fact, he is very down to earth and discusses his experience with his channel's content creation, which I like.
The final site I want to mention in this section is The Eccentric Man. I follow this guy with a lot of interest on Twitter and enjoy watching his videos on YouTube too. His taste for games is very similar to mine. He plays lots of Historical Games (especially Bolt Action) and has a sprinkling of Fantasy Games in the mix too.
Of course, there are many other YouTubers, PodCasters and Bloggers that I like to follow, but I am not going to list them all in this article. If I did, this article would go on for ever. 😉
Sites that helped me along the way…
Starting a website is a lot of work. It takes tons of dedication to develop a series of articles large enough to get reliable search results from Google. The three sites listed below have all helped me in one form or another in that journey and all deserve a special shout out.
Wargaming Tradecraft
The first is Wargaming Tradecraft. I found this website when Googling how to better run a miniature gaming blog. His site has some excellent blogging information in his "Articles / Thoughts" section of the website. Look for the heading "Blog-Fu" if you are interested. The Blog-Fu articles really helped me out when I started Must Contain Minis. His other articles mostly focus on tutorials, and he has some absolutely fantastic articles on the site for anyone that wants to up their hobbying game.

Having read through many of the articles on the site, I was very surprised that the man behind Wargaming Tradecraft lives in my local area. How cool is that!!! Small world sometimes.
Creative Twilight
The next site I want to draw attention to is Creative Twilight. Thor, the owner, is a fantastic modeler and painter. He shares many great looking articles on his site. While his content is excellent, the content is not the only reason I want to mention Creative Twilight. I met Thor through the creator of Wargaming Tradecraft on an online group. Thor has been absolutely awesome in supporting other content creators by cheering them on and helping them with technical and blogging related questions. I am very grateful for the help that he has given me.

Bell of Lost Souls
The final site that I want to mention is Bell of Lost Souls. When I started Must Contain Minis, I joined a number of different blog rolls. Generally, I did not have good luck with Blog Rolls generating traffic, but Bell of Lost Souls was different. They gave me an excellent spot within the roll, and from there, I would see reliable traffic to my site whenever a new article went up. For that, I am grateful.
Later, that Blog Roll disappeared. When I contacted them to ask about the Blog Roll, I was told that they were removing it. They then asked if I wanted to write for them in addition to Must Contain Minis. I decided to give it a try and now I have over 40 articles on their site.
Different people have different opinions about the site, but it is extremely popular and they have been very good to me. I view them as a conduit to introducing alternative games to people that would otherwise be focusing on GW Products. The relationship is certainly a win-win for both of us. If you haven't already, be sure to check out my articles there to see more articles by me.
Wrapping it up…
Like I mentioned earlier, I hope that you stay and read my content on Must Contain Minis. That said, I thought that many of my readers might find it interesting to see who I follow and what sites influenced the formation of Must Contain Minis. There are many other creators that I also follow not mentioned in this article, but this article is already running long.
If you want more, I am very active in sharing the content of others on my Facebook and Twitter accounts. Be sure to follow them if you want to see what else I find interesting.
How about you? Who do you follow? Are there any Content Creators that you think I should check out? Please leave a link and comment in the comments section below.
Until next time, Happy Gaming Everyone!!!