Osprey Games surprised me recently by sending me their newest release, 'NAM: The Vietnam War Miniatures Game. What surprises me most about this game is not that they sent it, but rather that the game is produced by Battlefront Miniatures (and Published by Osprey Games). For those that don't know, Battlefront Miniatures are the makers of Flames of War and this is the first of their products published by Osprey Games.
In the interest of full disclosure, I am a long time fan of Flames of War. In fact, I like Flames of War enough that an entire section of this website is dedicated to the system. The fact that Battlefront teamed up with Osprey Games to release this book makes me very happy.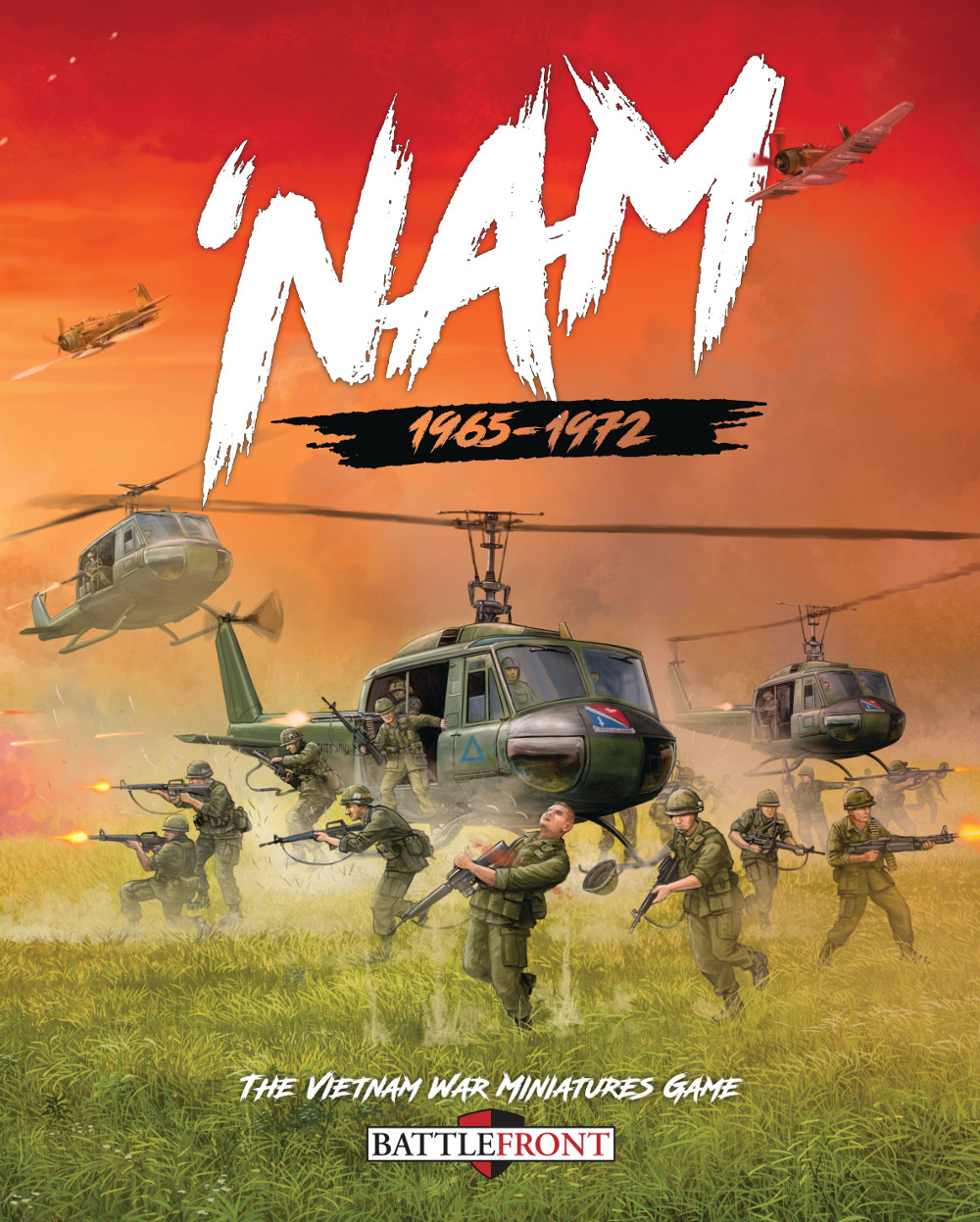 This post is not a "Review" of 'NAM, but rather a "First Impressions" article of the book after flipping through its contents a few times. Not only did I flip through the pages a few times, I also took the book to two of my local gaming stores to get first impressions of other Historical Wargamers.
The first thing that anyone noticed about the book is that this book is pretty. The artwork is great, the pictures of miniatures are awesome and the book is well laid out! Everyone that flipped through the pages walked away with the feeling, "ya… I want to buy this." Whether they actually buy into this game is a different matter, but, if you like the theme, the pictures in this book are very inspiring. One feature that the History Buffs appreciated much more than I is that this book has printed the Billboard top ten charts throughout the Vietnam War. If you want to build a playlist purposely themed to the years of the Vietnam War for your gaming, this book has you covered!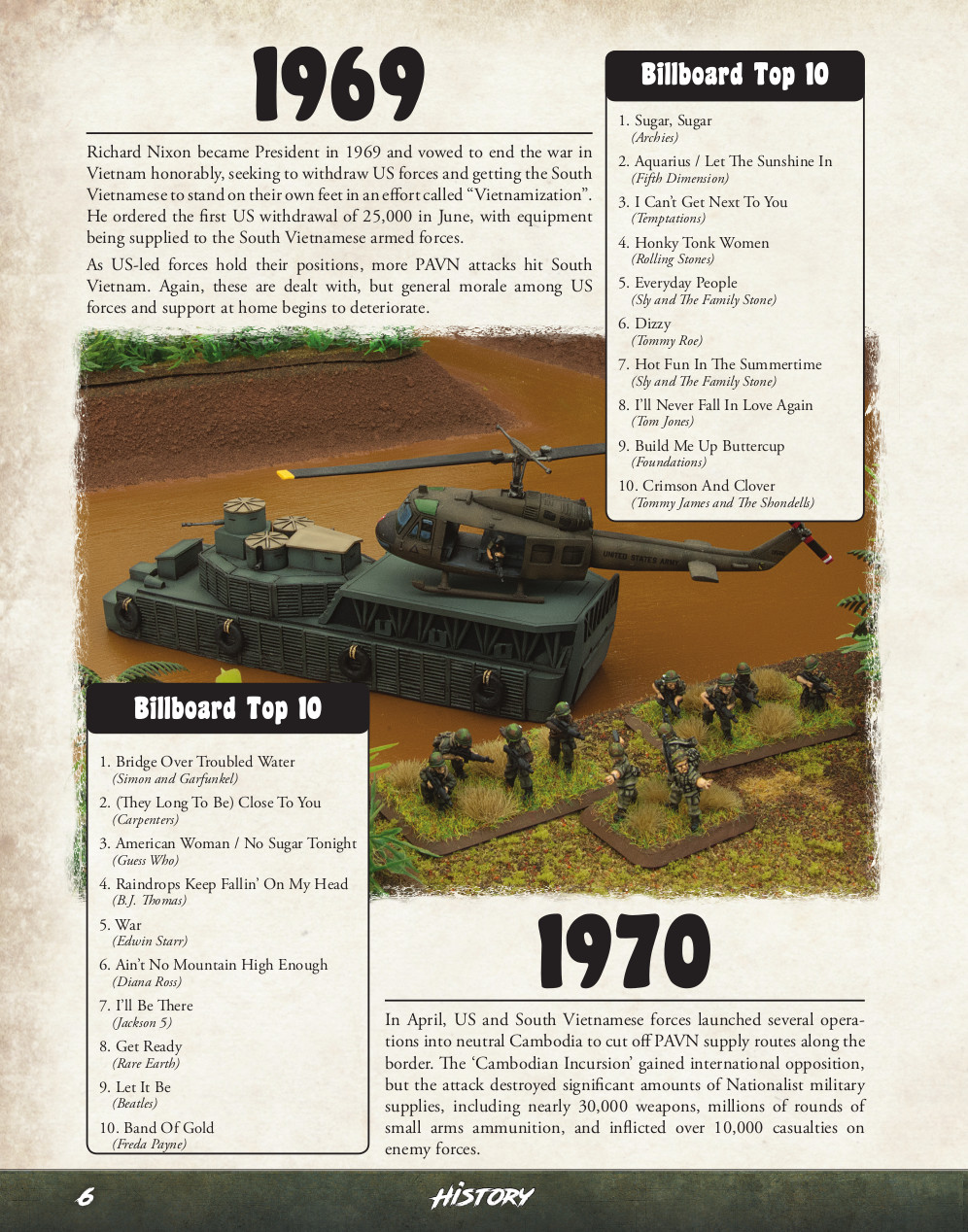 The rules within the book are laid out in a nice and highly graphical manner. Like Battlefront's other games, there are plenty of well illustrated rules in this book. If you have not read through Battlefront's other books before, do not skip over the pictures. They describe important rules that might not be as easily found in the text on the pages.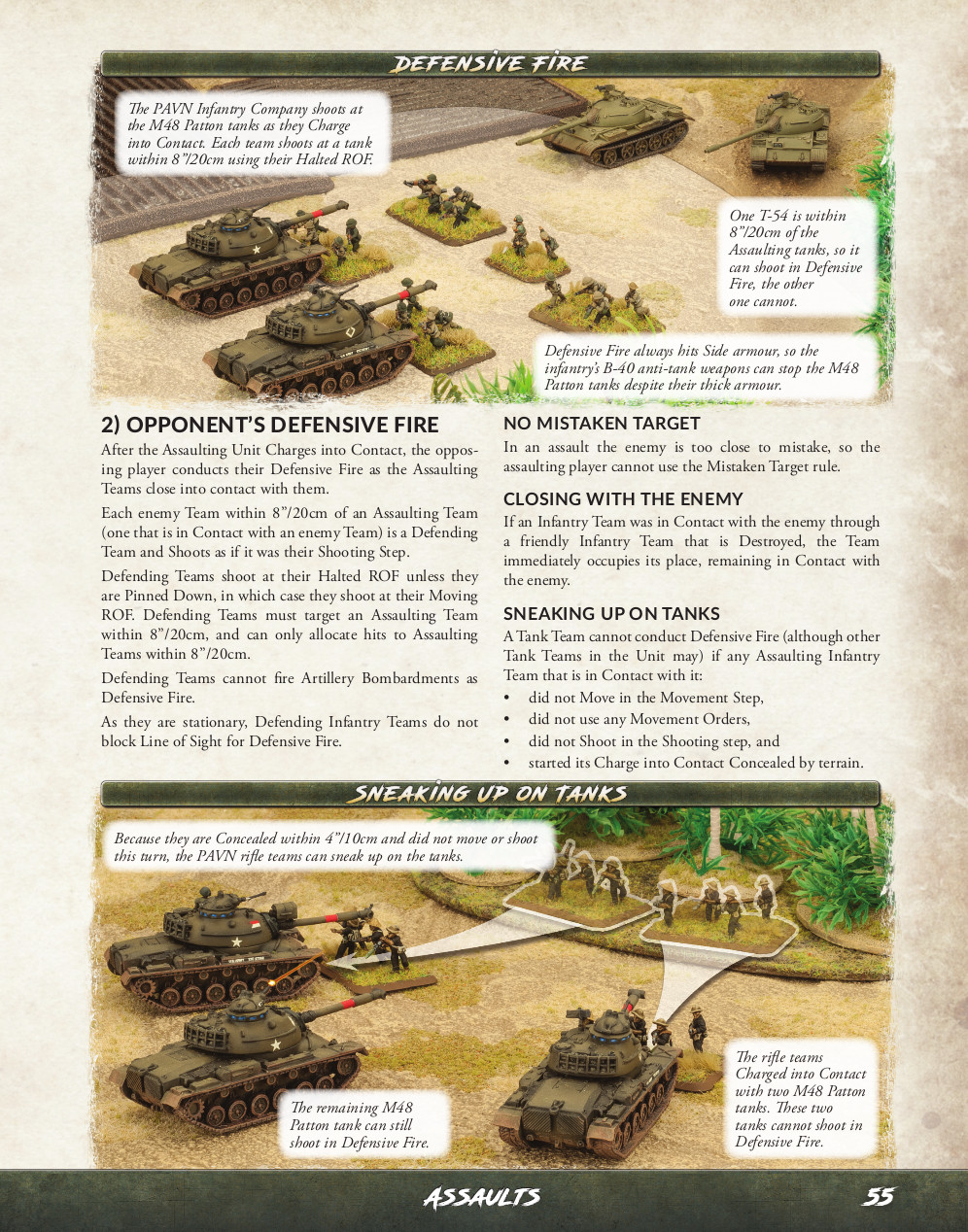 As you can see, the pictures of the miniatures are superb. These pictures also contain useful text and graphics that help describe the rules. The high quality images are maintained throughout the entire book. At the back of the book, there is a painting guide and a showcase of the miniatures that you can buy for the game. Check these pictures out. Those miniatures certainly look good!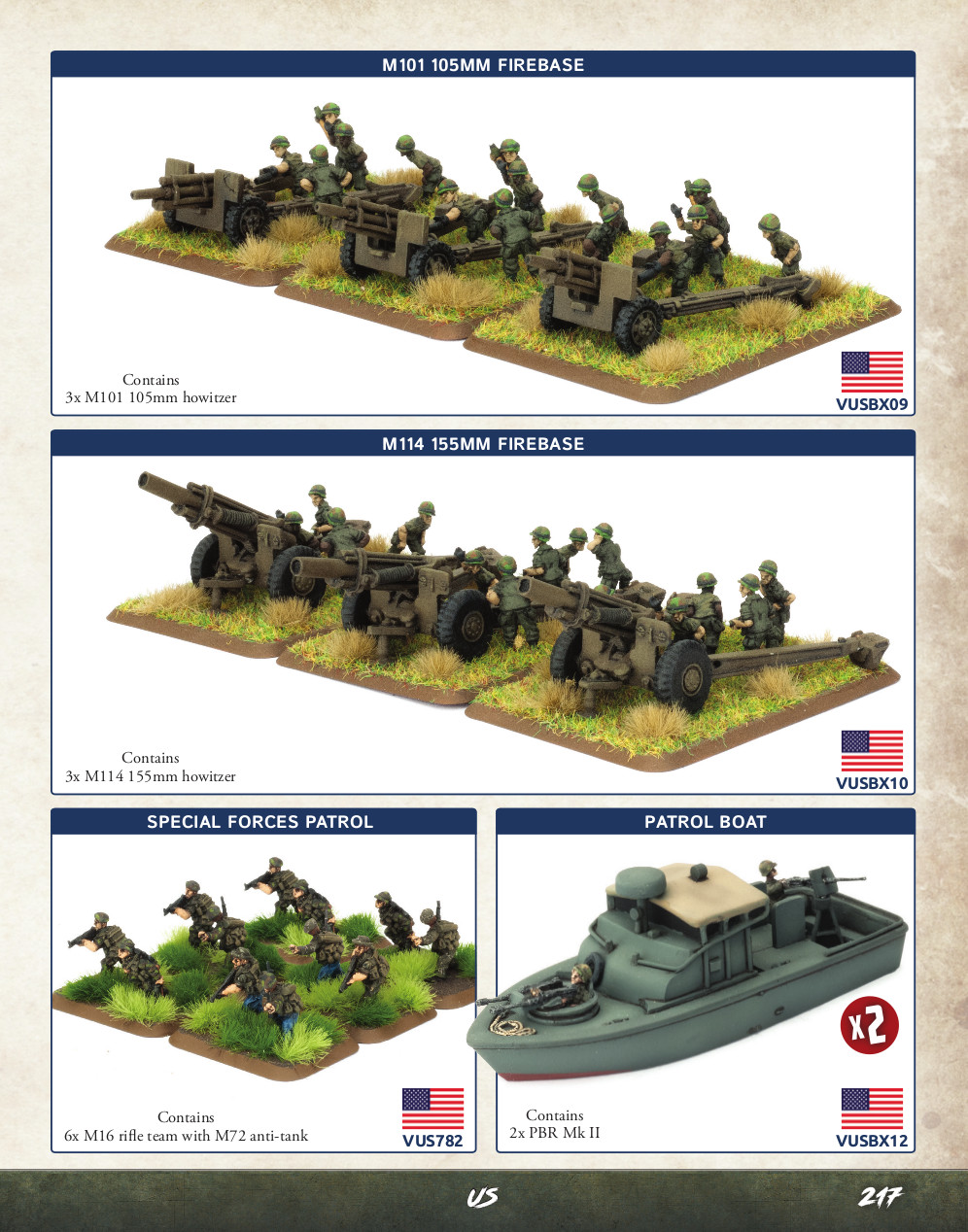 As you can see just from the sample pages above, this is a really pretty book with very inspiring pictures.
While this book presents itself extremely well, let's talk about what this book actually is. 'NAM: The Vietnam War Miniatures Game gives Flames of War: Vietnam the Flames of War 4th Edition treatment. For those not familiar with Flames of War, it changes the rules to bring them from being inline with Flames of War 3rd Edition to the new style of rules introduced in Team Yankee. I will be honest in that I have not read through the 'NAM Rules deeply enough to give a solid opinion of the new rules and I have not yet given Flames of War 4th Edition a try.
Now let's take a look at a breakdown of the pages within the book. Page-counts are approximations.
Introduction and setting the scene (8 pages)
Rules of the Game (57 pages)
Force Selection and General Historical Information (120 pages)
Missions (19 pages)
Painting Guides and Miniatures Showcase (25 pages)
Before ending, I would like to point out the size differences between the Opsrey and Battlefront published books. Personally, I prefer the Osprey Publishing styled books because they are easier to transport. As you can see below, the 'NAM Book has a smaller profile (although it is thicker) than the rule-books Battlefront used to publish.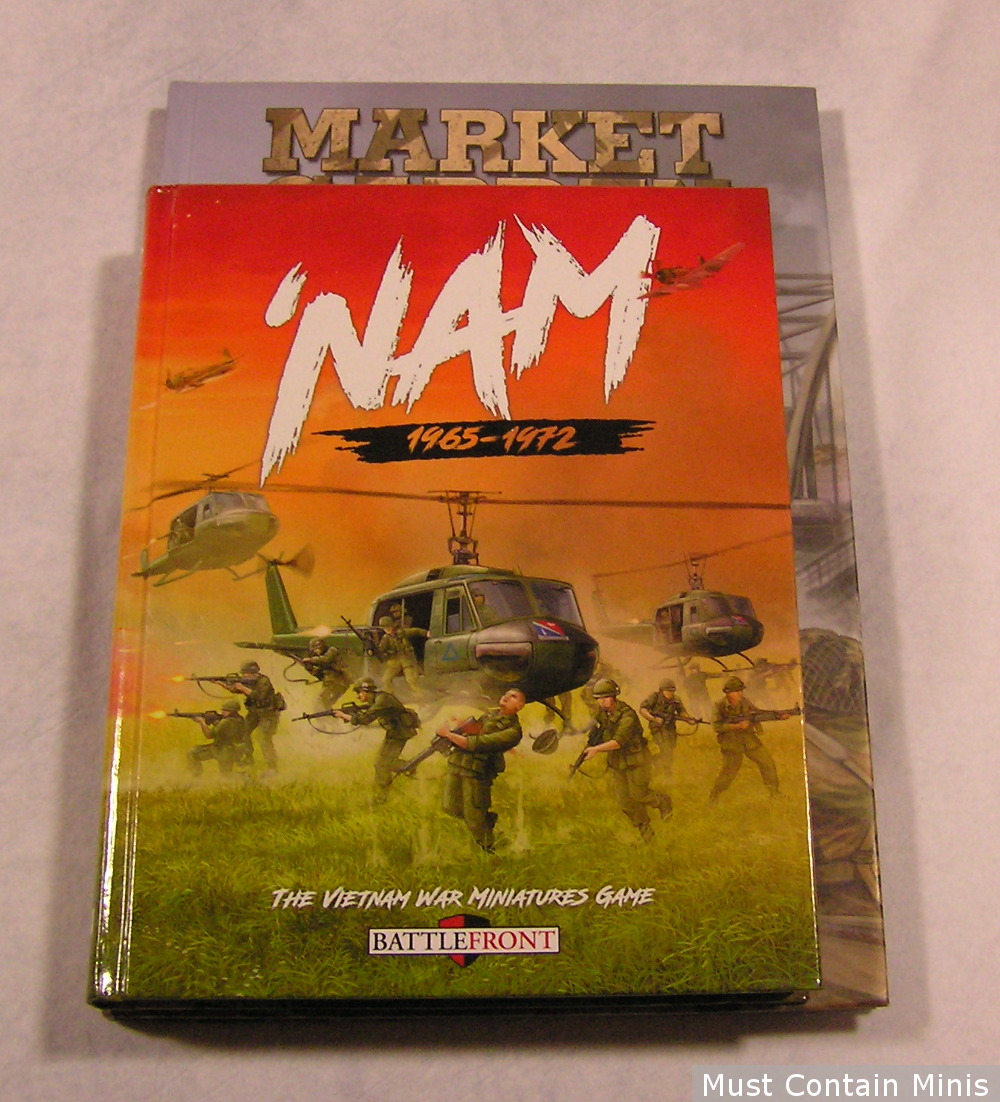 Again, a special thank you goes to Osprey Games for sending me this book. 'NAM is a great looking book with many inspiring pictures. While I do not plan to get into the game at this point, I would love to own an Airmobile Air Cavalry Troop or a Marine River Task Force. Hopefully you enjoyed this quick peek into this new book.
Until next time, Happy Gaming Everyone!!!
Disclosure… Osprey Games sent Must Contain Minis a copy of 'NAM: The Vietnam War Miniatures Game for Review Purposes. Thank you very much for sending this book along. 
Help Support Must Contain Minis…
We have an affiliate sales relationship with Amazon. If you buy from them using one of the links on this site, we get a portion of the profits at no extra cost to you the customer.
[amazon_link asins='1472830245,B07GBWKBXY,B06XJ1725G,B07GLSNVC6,1472818539,1472826698,1472810740,1780965982,1472814916,1472817737′ template='ProductCarousel' store='mustcontainmi-20′ marketplace='US' link_id='a7729e88-d014-11e8-9d91-97446b273d80′]