This is a book I looked forward to reading ever since I saw it first announced by Osrpey Games and Warlord Games! Luck would have it that Osprey Games sent me a copy of Bolt Action: Campaign: Market Garden to review.
That said, I do my best to be fair in my reviews and to let my readers know what to expect in the book.
Market Garden Contents
The layout of the Bolt Action Campaign books differ. This one is written in my preferred style. This style starts with history in the front, new units and force selections next and the missions at the end of the book.
For those wondering, Market Garden contains the following (page counts are approximations)…
General setting history (7 pages)
American force selection and new units (3 pages)
British force selection and new units (13 pages)
German force selection and new units (11 pages)
Market Garden Special Rules (4 pages)
Scenarios (56 pages)
Rules to game solo (1 page)
Heroes / Special Characters (5 pages)
While most of the book follows the format mentioned above, two force selectors are within the scenarios section and historical information is given through out the book.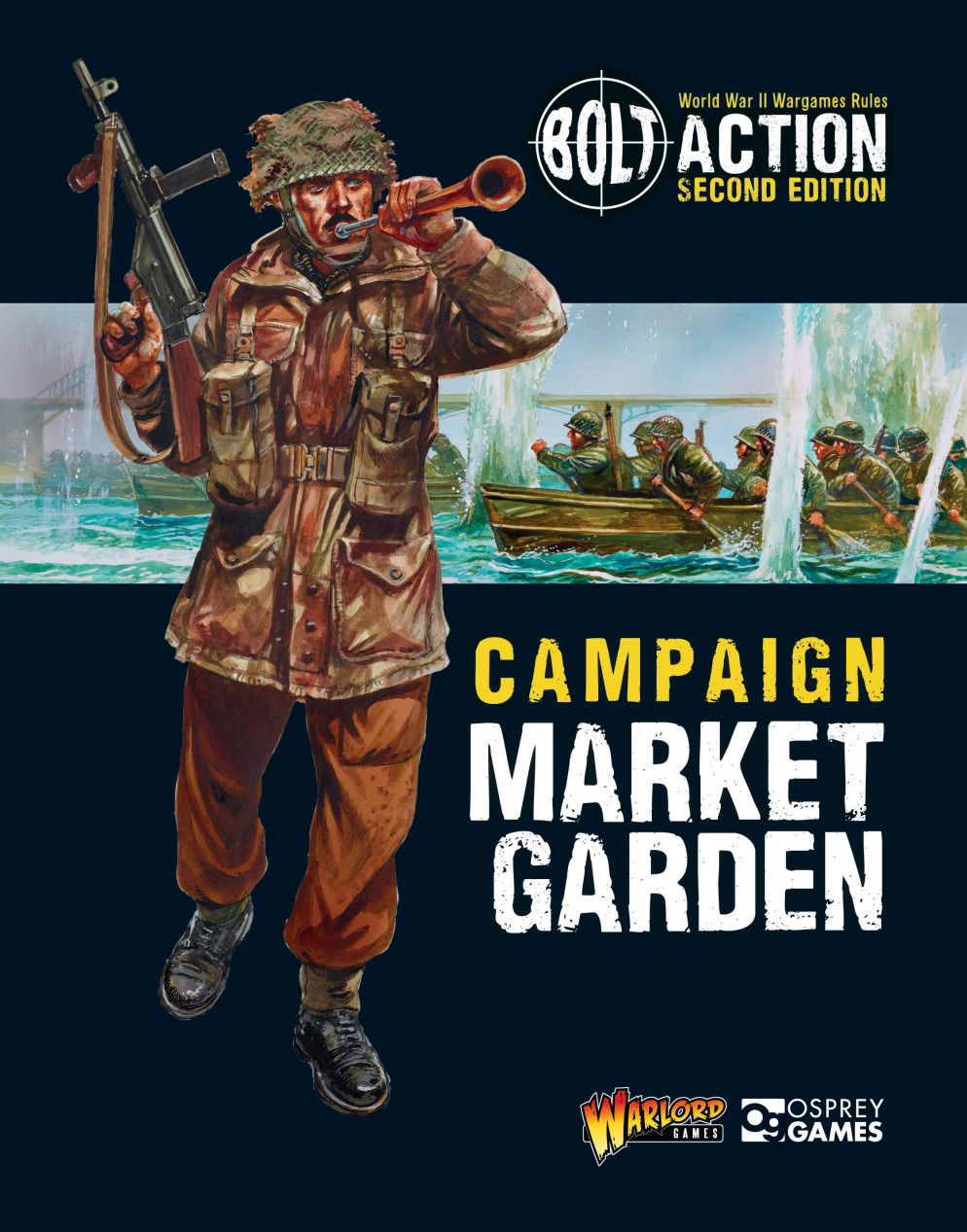 Market Garden Force Selections
Of the forces in the book, I looked most forward to seeing the the American Airborne Infantry and of the British XXX Corps. Both forces are in included in this book and also happen to be armies that I collect.
The American Airborne offer some unique selection options over their counter-parts in the Armies of the United States book. Specifically, the Airborne in Market Garden can take two 60mm light mortar teams and two guns (chosen from 57mm anti-tank guns, light howitzers or medium howitzers). They also get a British Forward Observer for Free! If I ever get to completing my American Airborne Army, it will be maxed out with the light mortar teams and the light howitzers and even take the free Forward Observer. This will give a lot of indirect fire capability. This capability comes at a cost, though. This selector reduces the number of Bazookas you can take to one and takes away the option for an Air Observer.
The British XXX Corps is a representation of British forces making their way down the roads of the Netherlands. People using this force selector are allowed to take two tanks (I would take two Shermans) and two guns (chosen from the 6-pdr, 17-pdr, and 25-pdr guns). None of the forces in the British Army book can take this level of firepower. As a trade off, the force loses the ability to take a PIAT (which I usually find useless anyhow due to its short range) and larger amounts of infantry. The selector also relegates the Universal Carrier to the duty of towing 6-pdr guns and not infantry.
There are plenty of other British lists in this book too including paratroopers, glider units, airborne reconnaissance troops and even a line-of-communications platoon.
The German player also gets lots of options in this book. Some of the forces the Germans can choose include the Second-Line Units (made up mostly of old men and boys), Dutch SS Wachtbatallion, SS Aufklarungs Battalion, SS Training and Replacement Battalion, and Fallshirmjager Squads. Market Garden also brings four German Tank Wars Lists. These lists include one force made up of Jagdpanthers with StuG or Wirbelwind support, one force with 1 to 4 Flammpanzer B2(f)s (refitted French Char B1 tanks), one force of StuGs and one force of just Anti-aircraft vehicles. The first two are my favourite Tank Wars lists in these books. It might even be fair to play those lists against the British XXX Corps and other Infantry lists in this book being that they have so much anti-tank power.
New Rules
Bolt Action: Campaign: Market Garden offers a number of interesting rules to make the missions different from other campaign books.
The most interesting to me is 'Sticks.' With the 'Sticks' rule, players stand 10-feet away from the gaming table and lob dice onto the gaming surface. where they land is where the paratrooper squad lands. If the die misses the table, the process is repeated the next turn. Interesting. This rule certainly adds randomness, but I don't know how I feel about having a dice lobbed at a table when my carefully painted miniatures are on that table!  🙂
Another interesting rule change is that in "Pathfinder" missions the range of Rifles and LMGs is extended to the entire board. Regular modifiers still apply, but Market Garden lifts the range limitation.
Below is a sample page from the rules section of the book. Have a quick read through them to form your own opinions.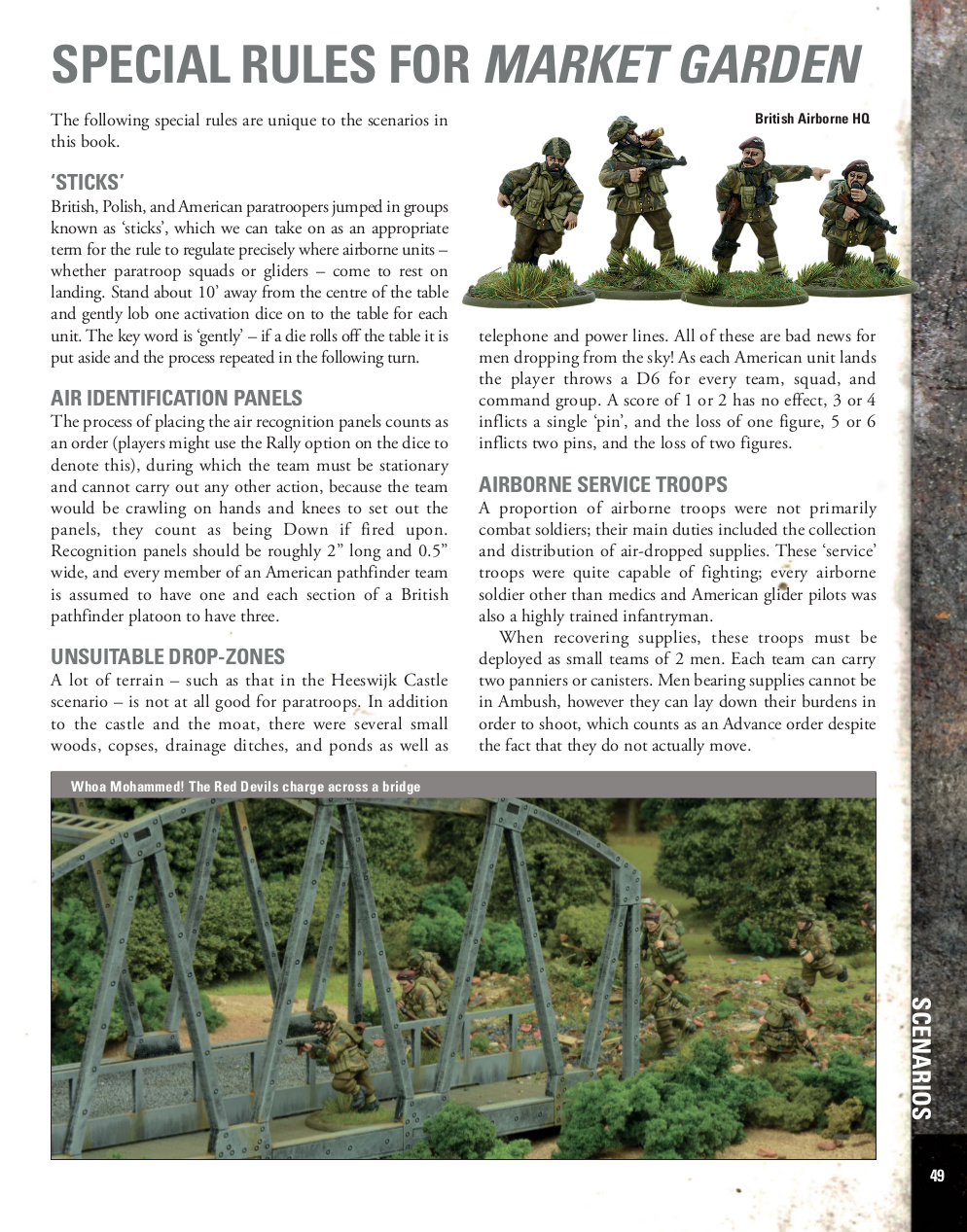 There are plenty of other new rules too that vary from dealing with captured equipment (like allowing American forces to take Panzerfausts) to dealing with drop zones and blocked bridges.
New Missions
Market Garden Contains 56 pages of new scenarios. These missions give some more historical context to the game, as well as new challenges for players to face. Below is the scenario information for the first mission in the book. This descriptive text does a very good job of setting the scene.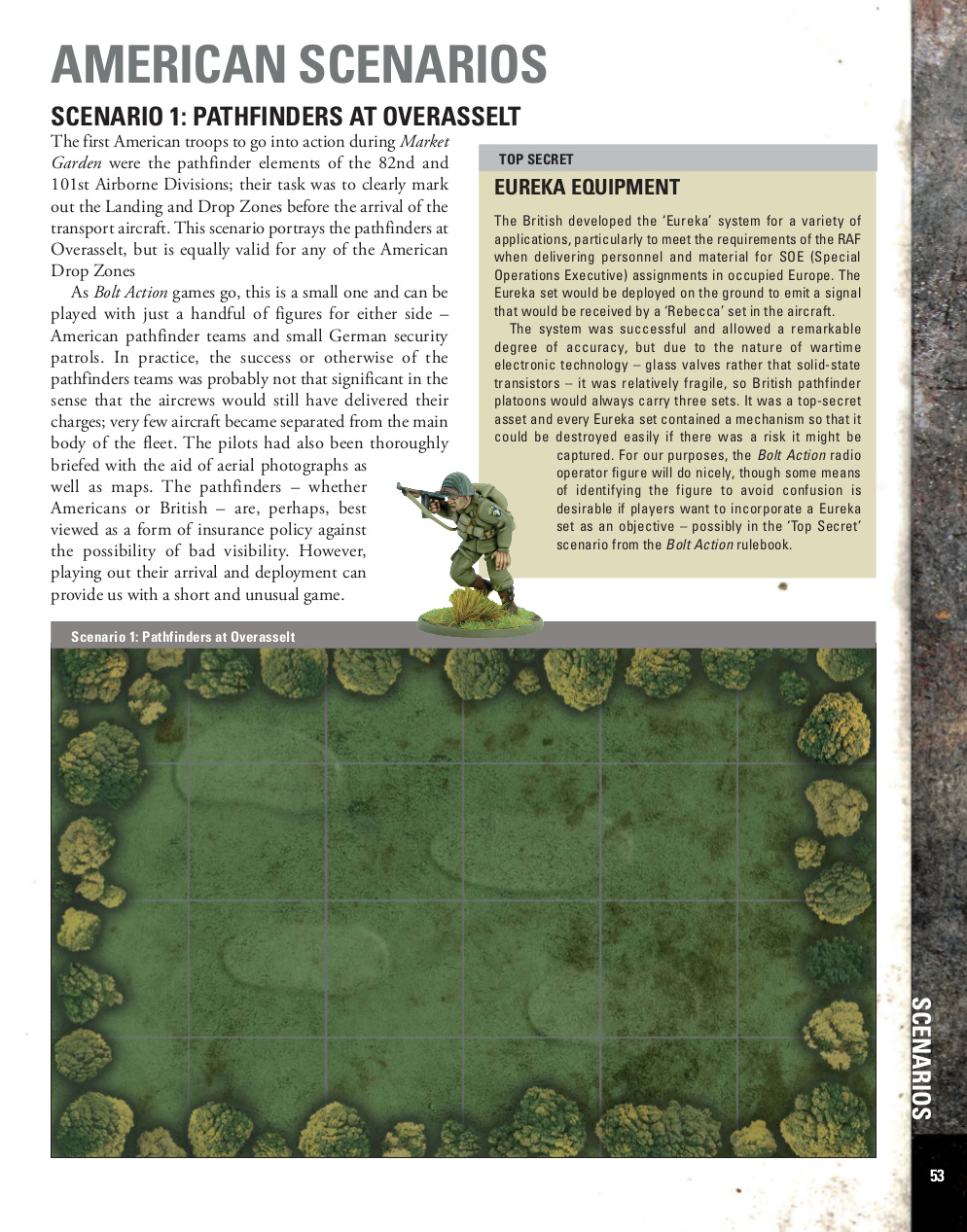 Below is another sample page from the scenarios in Market Garden.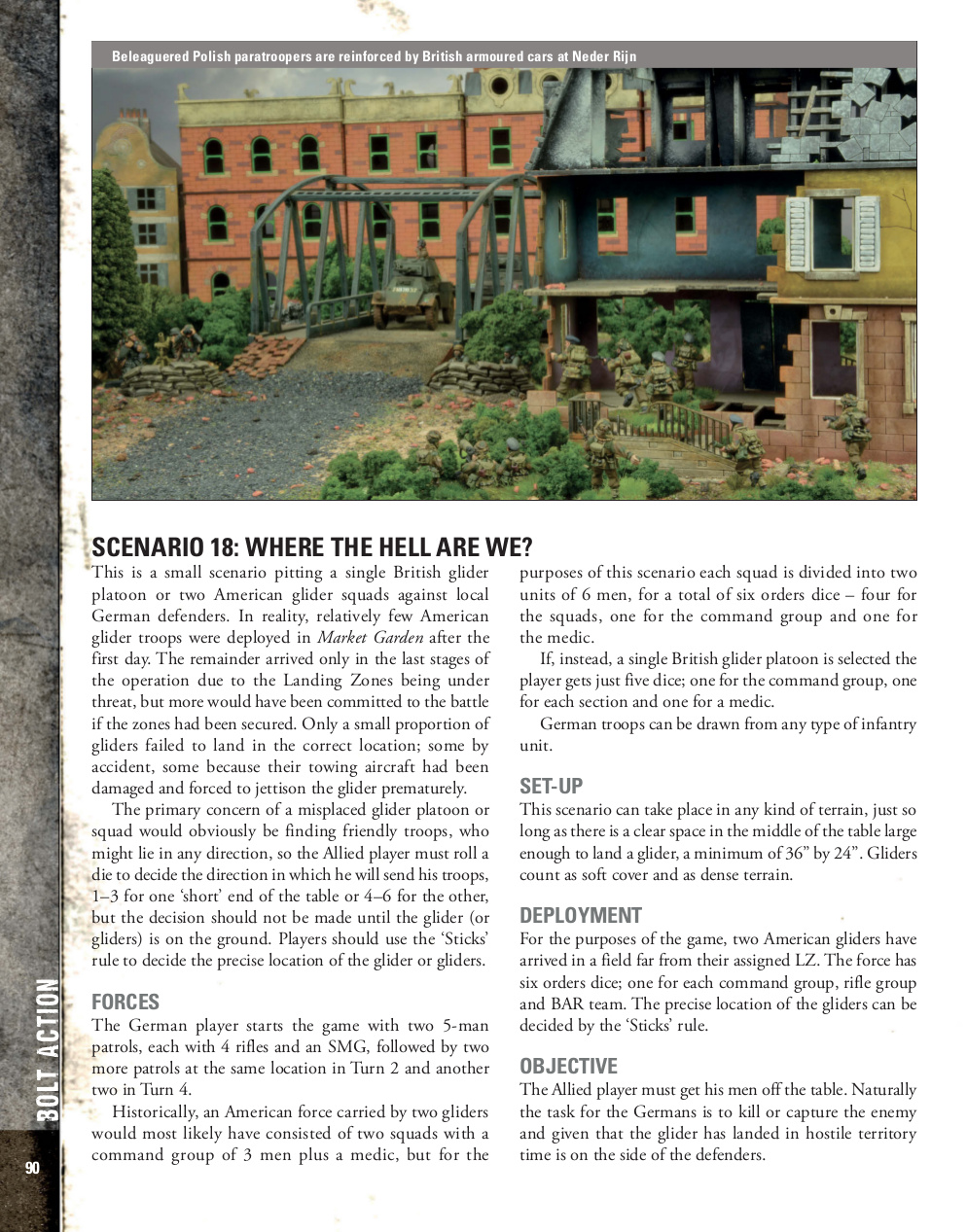 These scenarios are well written, and look like they will be very enjoyable on the tabletop. That said, I want to point out a criticism.
Look at how precise the "Forces" description is for the scenario above. We are on Scenario 18 and the mission is dictating exactly what you should have on the table right down to the specific model and armament. Most of the scenarios in Market Garden are written that way.
I don't like that they tell you exactly what miniatures to take for each mission. For the first few, I thought, "Okay. We are starting out a new game with some new missions, we can enter slowly." As I continued to read, I was surprised with how most missions tell both players exactly what miniatures to take. I am not a fan of this level of detail. Neither the Sea Lion nor New Guinea Campaign books went this level of detail for Force Selection / Composition.
I can see in my mind exactly how the conversation is going to go at the gaming club.
Both my opponent and I will look at the force suggestions in the book, look at each other and say "umm… No. 500 points?"
To me, it would have been a lot more reasonable if each scenario just spelled out what force selectors to use and a points value to meet.
Now, I realize that my opinion will differ from others. That is part of the reason I do not assign numeric values to my reviews. Everything is subjective. Someone else could very well look at my criticism about model selection and think that this is a selling feature for the book. Perhaps Market Garden delivers the scripted campaign experience that they want.
When all is said and done, the missions in this book look solid. There are 26 scenarios in total.
My Verdict
Bolt Action: Campaign: Market Garden is a book that I looked forward to receiving for a long time. The book itself is an excellent product with a great layout, cool pictures and plenty of missions.
The forces offered in this book are interesting, but I may end up using the lists from the Army Books for the Market Garden theatre for certain games. The reason for this that not all the vehicles I hoped for are here. There are no RAM Kangaroos for my British infantry and the American Air Observer and extra Bazooka might be missed. That said, the idea of running an army with two Shermans or 2 light howitzers and 2 light mortars does appeal to me.
If you are a fan of the British or Germans in Bolt Action and want to play Market Garden, then this book is for you. The British Airborne units (whether paratroopers, airborne reconnaissance troops or glider troops) get a good amount of coverage in this book. There is a total of 7-pages dedicated to those forces and the new units within them. American paratroopers take up 3-pages in the book, and there are plenty of German options in the book too.
Most of the book is filled with scenarios to play. There are a total of 26 new missions in Market Garden. My criticism of those missions is that they tell you exactly what miniatures to take for each mission (there is the rare few missions that do not dictate the models, but most of them do dictate what you take). I would prefer that they give a points level and tell you what army selector to use to build a force.
Outside of that criticism, I don't have anything negative to say about Bolt Action: Campaign: Market Garden.
Before finishing, I will let my readers know that my preferred Bolt Action Army is British. I also own some American Paratroopers and German Heer models. This means that when I look at Campaign: Market Garden, I see a very useful book that covers all three of the armies that I collect.
Until next time, Happy Gaming Everyone!!!
Disclosures… Osprey Publishing sent Must Contain Minis Bolt Action: Campaign: Market Garden for Review Purposes.
Related Products
[amazon_link asins='1472828682,1780960875,1780960891,147281780X,1472814940,B01LYTW70N,B00Z7FHJTS,B00AZYBGNG,B00PFNX6EE' template='ProductCarousel' store='mustcontainmi-20′ marketplace='US' link_id='52309987-33d4-11e8-abb0-477def236f75′]