In this post, we take a look at the second issue of Spellcaster: The Frostgrave Magazine by Joseph McCullough. Special thanks goes out to Joseph McCullough for providing Must Contain Minis with an advanced copy of the issue for review purposes.
Right off the top, I can tell you that this magazine is pretty. Joseph hired some help and it shows. The layout is much better, the art is better, and (in my opinion) it is even written better. Sorry Joe, I really enjoyed the first issue and liked that you added rules there for Black Powder Weapons, Rules for Horses and a Mini-Campaign, but the difference in presentation between the two issues is night and day.
Having help seems to have allowed Joseph to focus more on his writing and the content of his magazine. In fact, Issue Two has 40 pages!!! The first issue had just 17.
So what is in these forty pages? Check it out…
Rules for Dragons (7 pages)
The Lair of Gremolean – a corporative scenario to defeat a dragon (3 pages)
Rules for Traps in Frostgrave: Ghost Archipelago (8 pages)
The Dead Keep It – a solo Ghost Archipelago adventure featuring traps (2 pages)
Frostgrave: Mech War – Rule Modifications to use the Frostgrave system to play games with Mechs (3 pages)
Retreat from Blood River – a scenario for Frostgrave Mech Wars (3 pages)
Bridges of Mal Dreath – a previously published, but hard to find, scenario (3 pages)
The Mail Box – answering questions from readers (2 pages)
The Horizon – a quick discussion of what is coming for Frostgrave and Frostgrave: Ghost Archipelago (2 pages)
Compared to the first issue, this magazine is packing much more content at a very fair price. The difference is pretty much just a dollar and well worth the fee for the improvements to the magazine.I found this issue particularly enjoyable and my feeling is that Joseph gave the text more flavour than he did in his premier issue. Below is a page sample from the magazine. It has a nice narrative style.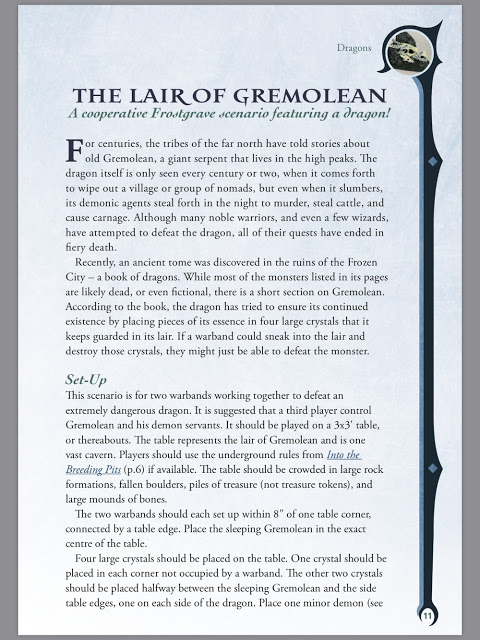 The first page of "The Lair of Gremolean." Take a look to get a feel for the writing style used through out the magazine. The layout and presentation is much improved over the first issue.
Overall, I am impressed with the magazine. I really liked the first issue, but this second issue exceeded my expectations.
Not only does the Issue look awesome, it also has some great content. I was very happy to find rules for Dragons in Frostgrave. I thought, "it is about time!" I have used several large miniatures as proxies for Frostgrave but am really happy that there are now official rules for Dragons in the game! I am going to have to play a game with them sometime and post a Battle Report of that for sure!!!
The rules provide statistics for Dragons at four different stages in their life cycle. Each stage offers an increased challenge. Next to the Dragons, it is the rules for Traps in Ghost Archipelago that excites me most for this PDF. For some reason, it just seems like traps belong in Ghost Archipelago.
One thing that I would like to point out to my readers is that the rules / scenarios for both Dragons and Traps make mention of the Frostgrave expansion Into the Breeding Pits to enrich the experience. The use of this book is optional, but it is certainly a nice to have.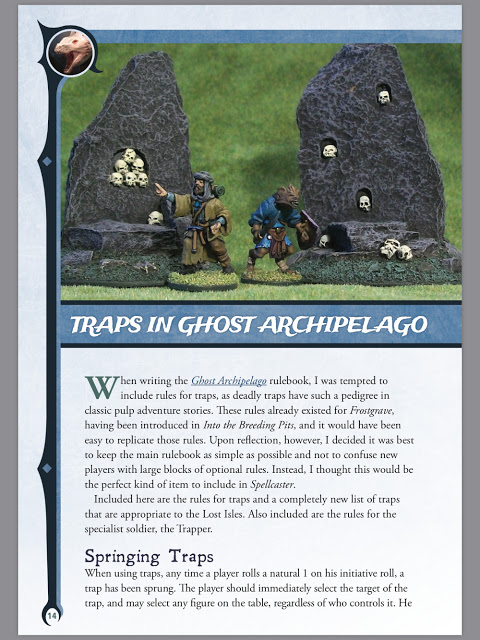 An excerpt from the article on adding rules for Traps in Frostgrave: Ghost Archipelago.
The section on Frostgrave: Mech War is cool, but I am not sure if it is for me. That said, I always appreciate looking at new rules and love seeing rules adapted to other settings. I could probably even run the scenario using my Battle Tech miniatures. If you get the magazine and like the rules, be sure to tell Joseph in some form. Depending on feedback, he may develop these rules further or leave it as a one-off scenario in this magazine.
Speaking of scenarios, the Bridges of Mal Dreath is a republishing of a hard to find adventure. I have not seen this one before so it is new to me and much appreciated.
The magazine ends with the new sections "Mail Box" and "Horizon." One answers readers previous questions and the other teases at what is to come for the games. Adding these sections is a nice move (in my opinion) as it helps me feel a connection to the author and, being a huge Frostgrave fan, I appreciate the insights these pages provide.
One thing that I really like about this magazine is its flow. In the first issue, we were given new rules and new adventures, but the two did relate to each other (unless you specifically chose to use the new rules in said scenarios). In Issue Two, you get a new set of rules followed by a scenario specifically related to those rules. I really like this approach. It feels a little more organic and encourages you to try out the new rules.
In my opinion, Issue One is worth a buy for the Black Powder and Mount Rules alone, but Issue Two is a much nicer product. If you like Frostgrave, be sure to check out Spellcaster Magazine.
Special thanks goes to Joseph McCullough for sending me an advanced copy of Spellcaster Magazine (Issue 2). If you wish to purchase it for yourself and support Must Contain Minis at the same time, be sure to look at it through RPGNow, DriveThruRPG or Amazon. We have Affiliate relationships with all three companies and if you buy from them using the links on this site, a portion of the sales goes to helping this website at no additional cost to you.
Update: Spellcaster: The Forstgrave Magazine is now on Amazon.

Until next time, Happy Gaming Everyone!!!
[amazon_link asins='B073CZPHDR,B078GMDMHQ,B07CZJXCL3,1472805046,1472817346′ template='ProductCarousel' store='mustcontainmi-20′ marketplace='US' link_id='36c5fb82-6a07-11e8-aee6-8da0379859cf']
Disclosures…
Must Contain Minis has a Sales Affiliate Relationship with Amazon, RPGNow, DriveThruRPG, and the Wargame Vault. This article includes affiliate links. If you visit one of the sites from the links on this page and make a purchase, a portion of the sales goes to supporting Must Contain Minis at no extra cost to you.
Joseph McCullough sent Must Contain Minis a pre-release pdf of the magazine for review purposes.