RAINN Studios is a company comprised of two Brothers who got their start in the gaming industry by Kickstarting a Board Game called War of Kings. Since then, they have successfully Kickstarted another Board Game and a Terrain Tile System. It is this Terrain System that has Must Contain Minis writing about RAINN Studios Today.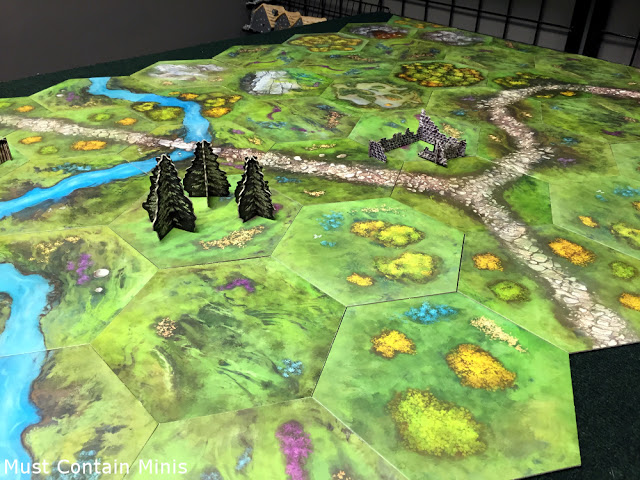 Above is a Picture of tiles from the Misty Moorlands TerraTile set combined with some trees and a ruins from the TerraTile: Battle Pack 3D Standup Terrain box.
When Must Contain Minis made a call out for Terrain to review, I approached RAINN Studios. I thought that their Coasts and Rivers boxed set would be perfect for future Battle Reports of Frostgrave: Ghost Archipelago (which should come out this fall). I like the concept of how the TerraTile board is modular and can be changed by shifting the tiles around. It kind of reminds of setting up a big game of Battle Lore or Memoir 44.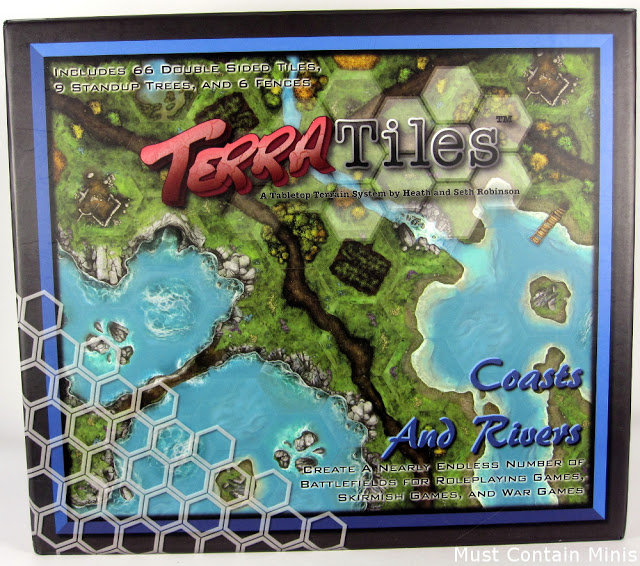 To me, the Coasts and Rivers Set looks perfect as a Terrain System for the highly anticipated Frostgrave: Ghost Archipelago (anticipated out this fall by Osprey Games).
RAINN Studios was more than generous and responded to my request to Review the Coasts and Rivers set by sending me their entire current line of TerraTiles.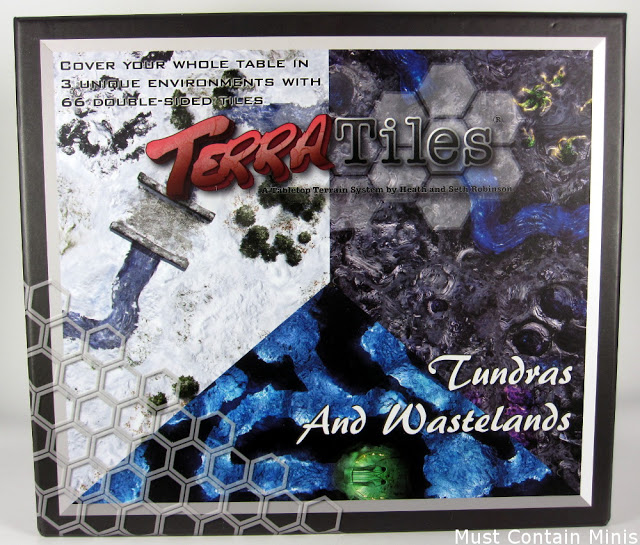 The Tundras and Wastelands Box Set. I can easily envision using this for Frostgrave.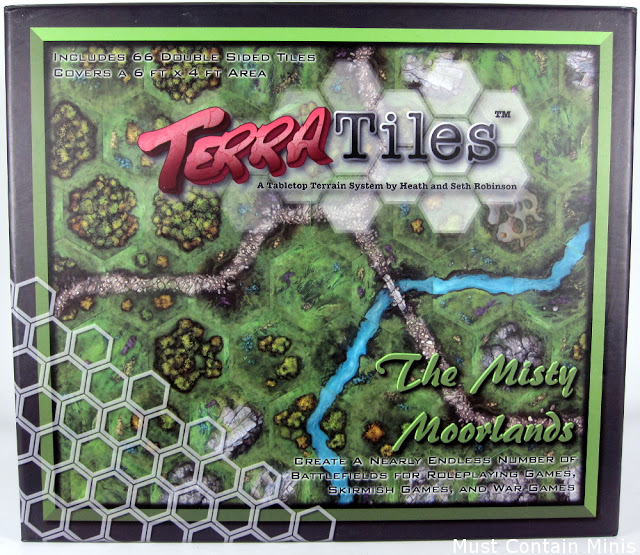 The Misty Moorlands TerraTiles.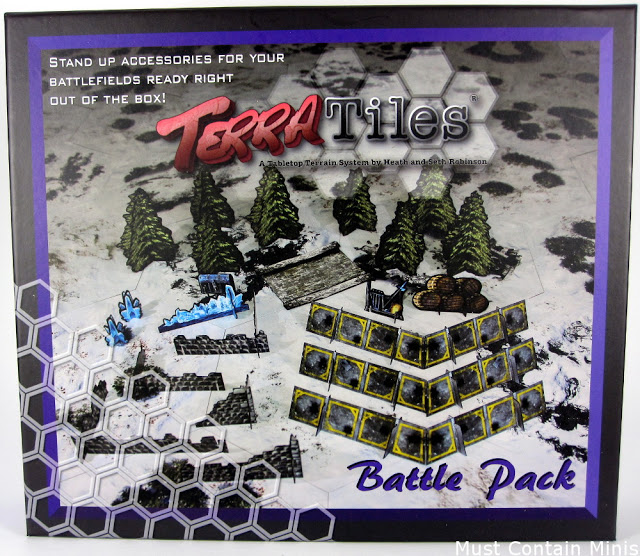 This set adds some 3D elements to the board.
I would like to thank RAINN studios for sending me the review products. I plan to look at them each individually in the future. In the mean-time, I took the collection to two different local gaming stores to see how people would react. Reactions were mixed, but I have to say – I took these to the wrong audience. The groups I was talking play predominantly historical games and already have a fair bit of terrain. They are used to playing on tables like the one below.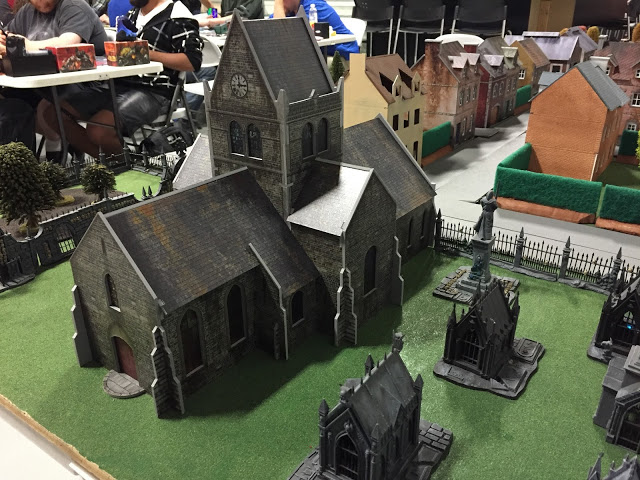 A Bolt Action table at one of my FLGS.
That said, when one person was discussing how the TerraTiles are more for people that don't already own terrain or play RPGs, another came over and exclaimed how perfect the TerraTiles would be for someone just gaming at home. The impression from the entire group became warmer when I placed 3D Terrain and miniatures on the Misty Moorlands tile set.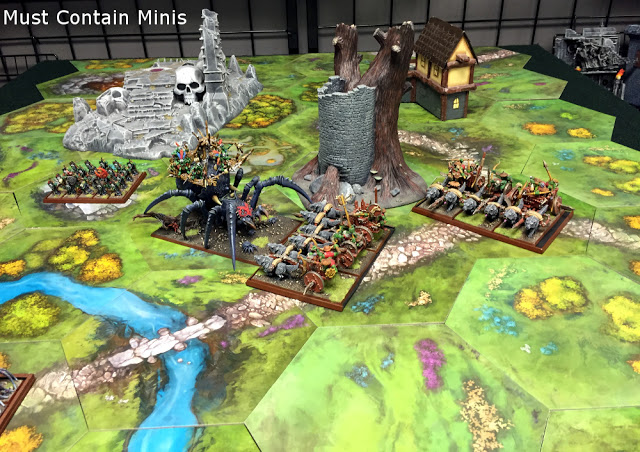 The minis above were all painted by Bill Kocher, the owner of Phoenix Games and Hobbies in Kitchener (Ontario Canada). The Terrain in this picture and the one below also belong to the store. Everyone could agree that terrain and models on these tiles really "pop" out nicely for a great effect.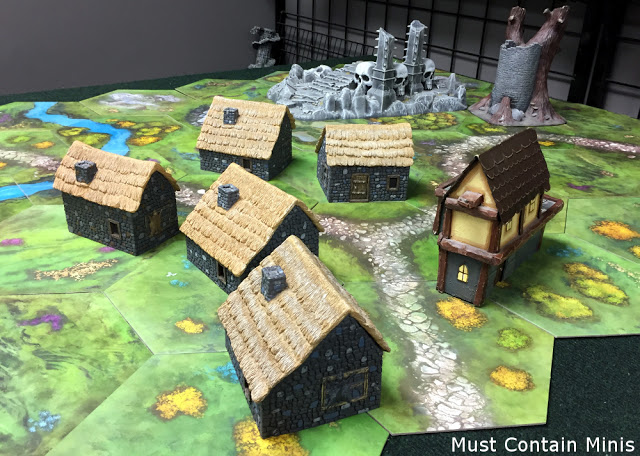 More Terrain on the Misty Moorlands Tiles. It looks great and those roads are much better than the pieces of felt that I sometimes use for my games.
On their on, these tiles are good for people that do not own lots of 3D terrain to fill a battle board. Coupled with scenery, the tiles complete a good look that really makes the miniatures and terrain "pop" off the board. I could see these being of use in both RPGs and Miniature Wargames. The tiles themselves are made of good quality cardboard.
At one of the stores, a guy told me a story about how he used to use the tiles from Settlers of Catan to create a miniatures gaming surface when he first started in the hobby. He looked at this product and said that these tiles would have been much better. Now he has his own collection of Battle Mats and 3D Terrain. One benefit that this tile system has over mats is that it can be altered on the fly and is not set to one constant layout.
Thanks for taking the time to read this article. If you have not heard of RAINN Studios before, check them out.
Until next time, Happy Gaming Everyone!!!
[amazon_link asins='B078SXJZ3B,B0743ZJ3VL,B00UP4KESE' template='ProductCarousel' store='mustcontainmi-20′ marketplace='US' link_id='b5a12168-8e25-11e8-be15-a7e894b654e9′]