One Miniature Game with great staying power is BattleTech. This game is right up my alley because it features giant stompy robots and can be played either as a tabletop miniatures game or as a board game. My first time with the game was a number of years ago at a convention. Since then, I purchased my own copy of the Introductory Box and play BattleTech about 2 to 4 times a year.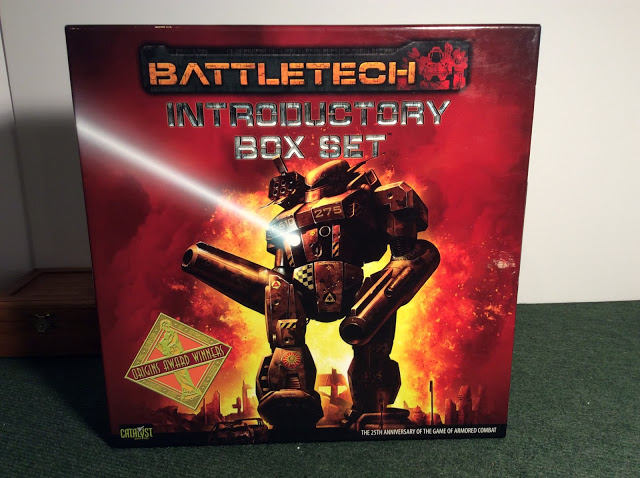 BattleTech: Introductory Box Set
This Box Set is packed full of great stuff and is a fantastic value. I picked mine up for around $50 Canadian, but the last time I saw an Introductory box set in a retail store, it was going for around $80. Even at $80 you get an incredible amount of stuff. My copy happens to be the 25th Anniversary Edition. I think they have since redone the starter box and I hear that the new starter has better miniatures in it than mine.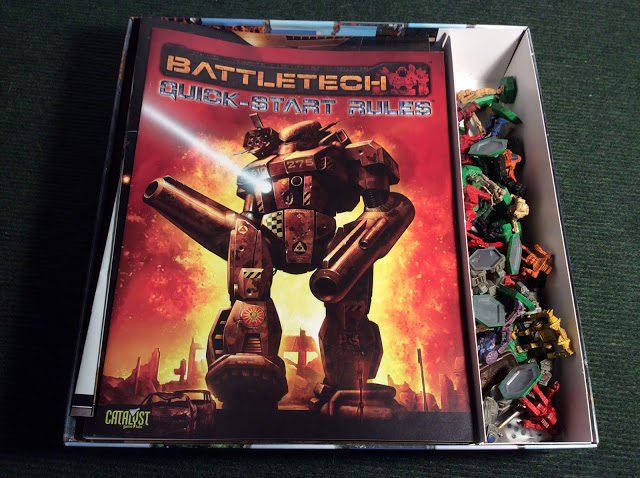 This box is packed with content.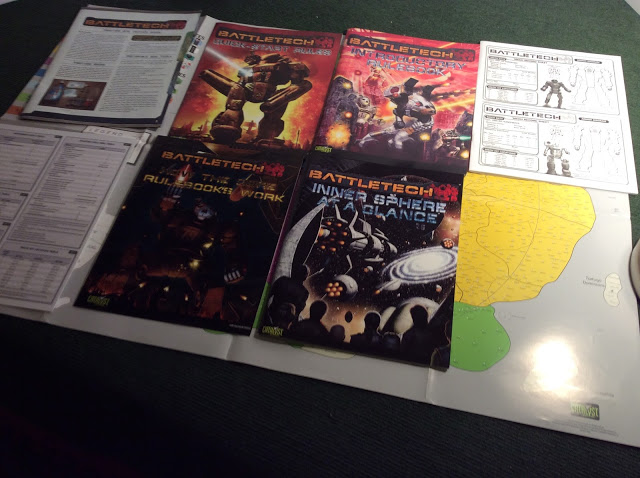 It comes with a full-sized poster of a galaxy map, an 80 page rule-book, quick start rules (for if you want to play a less complex game) and plenty of other content. I have laid all the content out here.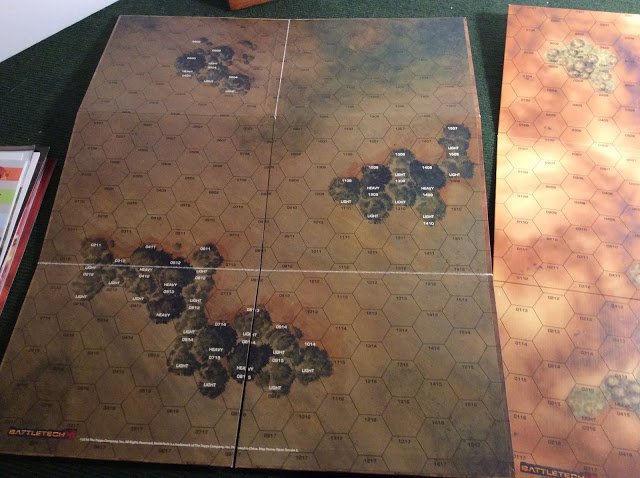 There are 2 double sided hex maps in the box. The Mechs in this game are allowed to interact with terrain. Imagine your Mech walking through a Forest and uprooting a tree to use as a club. You can do that in this game. It has rules to let that happen!!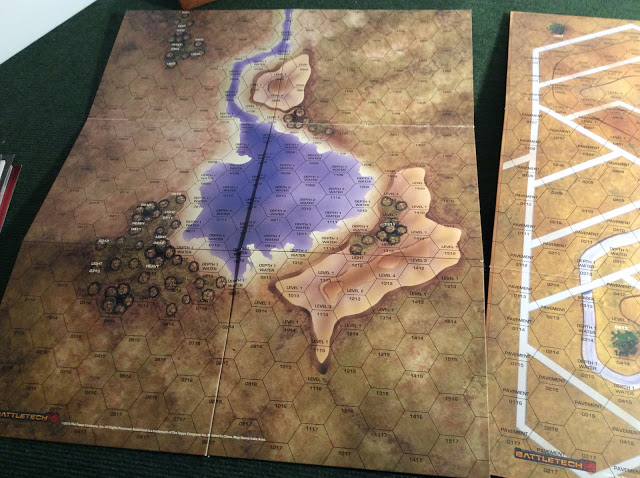 Ponds can be essential to reduce your heat if you are running too hot. Ponds can also be a terrible death trap if your Mech has already taken damage. No pilot wants to drown at the bottom of a lake, but it is possible.
This game is a lot of fun when you get the right set of people together. It is big and crunchy so players that enjoy more streamlined rules will not appreciate this boxed set. There is lots of record keeping to do in this game. I find the record keeping fun and think of it as part of the charm of the game. Just photocopy the sheets in the box (or print off a PDF) and you are ready for a great game.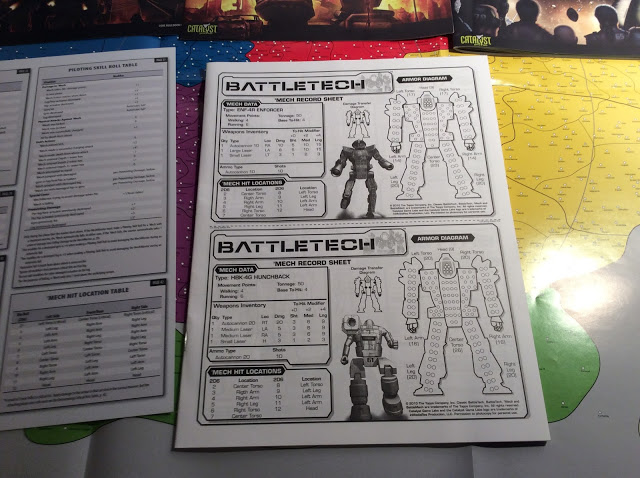 There is something satisfying about watching your opponent check off boxes as you chip away at their armour.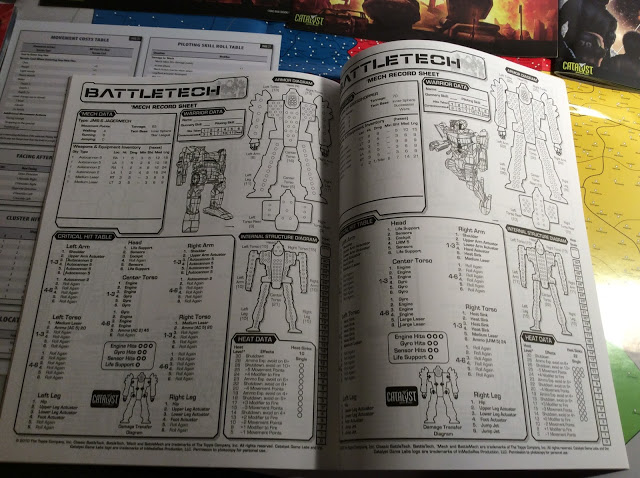 There is lots to track in this game… Heat build up and dissipation plays a bigger role than someone might think. I have had more than one Mech overheat while I was dishing out the punishment to my opponents. Many opponents then have the upper hand on you if you are not mindful of your heat.
On top of all of the printed materials, this game comes with 24 regular miniatures and 2 premium miniatures. When my wife saw me painting the Mechs, she recognized that they weren`t up to my normal standards and asked me why I was doing them up so hastily. I explained that I was excited about playing the game and did not want unpainted minis on my table. I am guessing that some of my readers will understand that situation. To get the models ready for the tabletop, I quickly painted them with two to three colours per mini and gave them a polyurethane stain. I finished that stain up with a coat of varnish for protection. I painted these minis straight out of the box without cleaning up any flash or doing any extra work to them (aside from gluing together the premium miniatures).
Below are the pictures of the Mechs.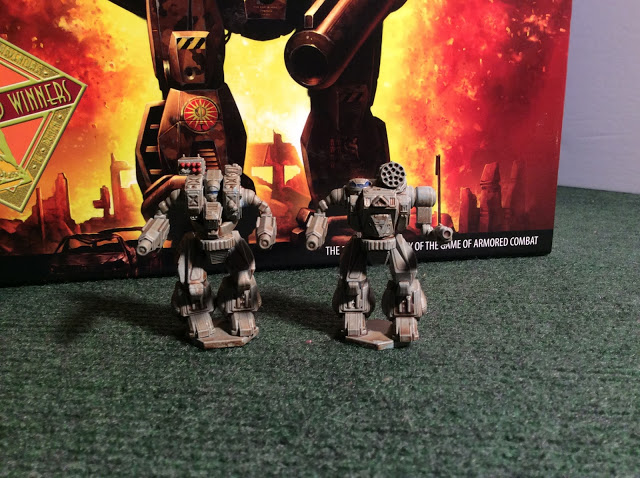 These are the two premium Clan Mechs.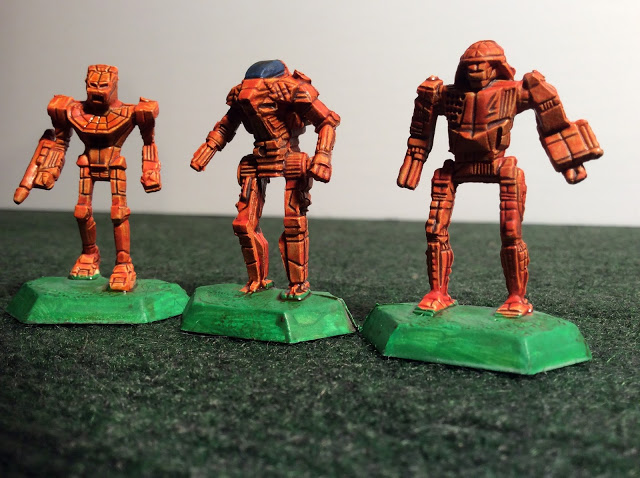 The stain really brings out the details in these Mechs.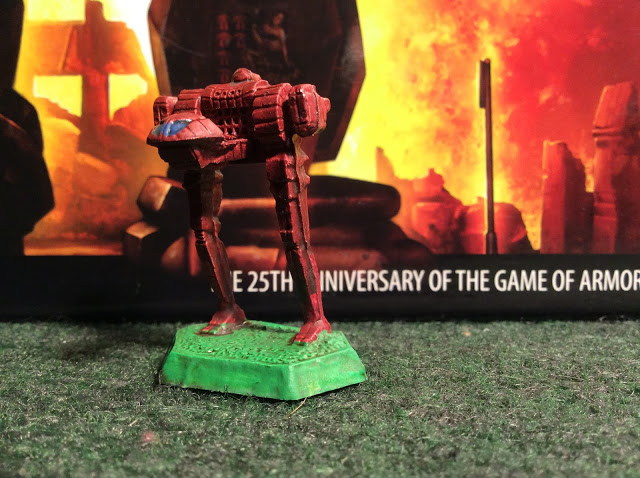 One of my favourite Mechs to play. Keep running fast or it is destined to be destroyed.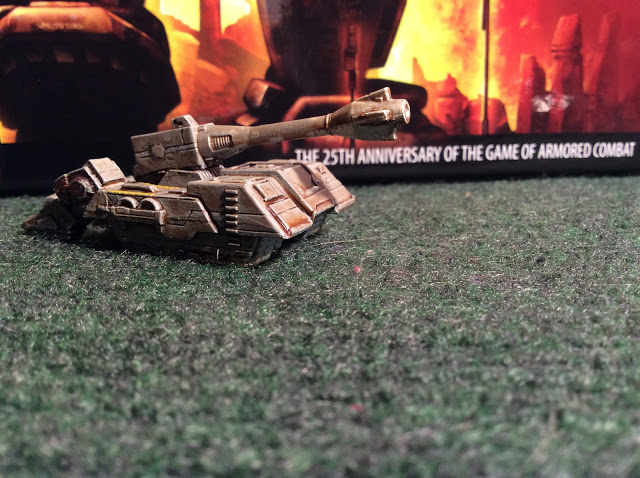 This tank does not come in the base box. I bought this separately. It can proxy as a Long Tom or large tank.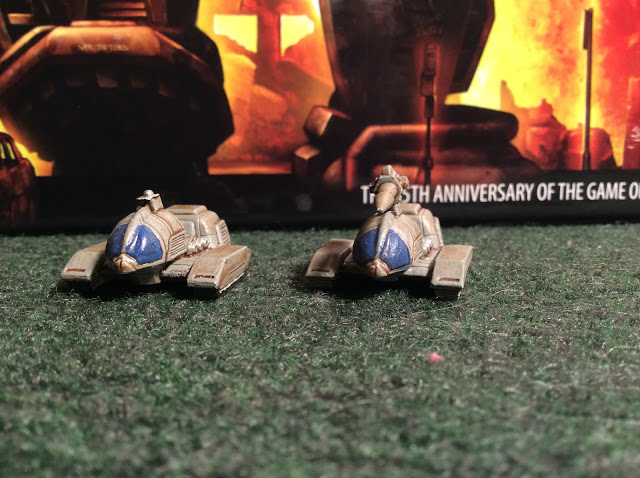 These two minis also do not come in the base box but can proxy as troop carriers or light tanks. I also bought power armoured soldiers, but never built or painted them. I find playing with Mechs and tanks good enough.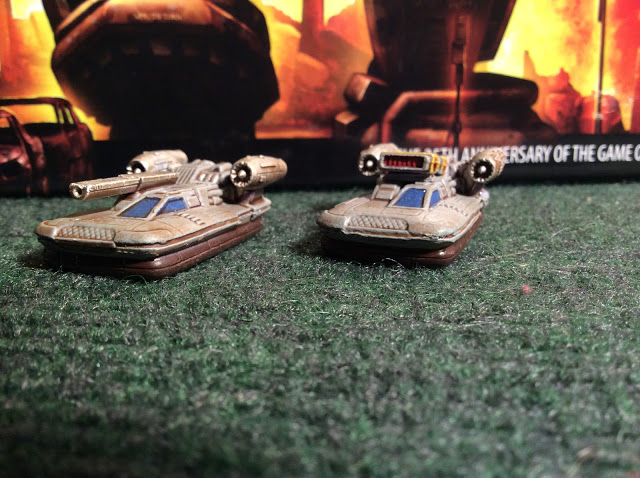 I also purchased these separately and proxy them as hover tanks. I really like the looks of these two.
Overall, BattleTech is a very enjoyable game and like having it hit the table. I find the game crunchy and time consuming, but when playing a game that is 30-years old, I believe crunchy and time consuming is okay. It was good back then and it is still good today. A regular game takes me an evening, but if you play with fewer Mechs or casually in what is known as a "grinder" (each player controls just one Mech) then a game can be done in just an hour or two. At a regional level, this game has a large player base, so it is no problem for me to get a game in of a BattleTech.
I hope that you enjoyed looking at the pictures of the box contents and reading through this article. This is a great boxed set for a classic game and worth the buy.
Stay tuned for my next post where I discuss Miniature Photography. For most of my previous posts, I used a single desk lamp as a spot light to illuminate my subject with whatever ambient light that happened to be in the room as my fill light. For today`s post, I did the same thing, but added white foamcore to reflect light back on the subject and give a bit of a soft fill on the opposite side. I think the results are better than the pictures from my previous posts, but the images still don`t do the minis justice. This past weekend, I constructed a light box and the difference in photos is astonishing. My next post will show some of the test photos that I took using the light box.