In this post, I review a Rotating Paint Rack by Game Craft Miniatures. This is one of their very new products and it is slick. Currently, they have two models available. One for 34mm Paint Pots (this size would cover the paints by GW, Citadel and some other companies) and one for 26mm Dropper Bottles. This second one covers a plethora of companies including The Army Painter, Vallejo and others. I was fortunate enough that Game Craft Miniatures sent me both for review.
Although they sent me the products, I reserve the right to say what I want about them. I like to keep my reviews factual and try not to cloud them too much with my thoughts and opinions. That said, my thoughts will shine through. Intestinally enough, I find what I find to be a positive can be found as a negative by others and vice versa. In my mind this product is good, but the question is whether this product is right for you. I hope to answer that in this review.
Now, let's get into the review.
You have to Build It, but it is Easy
To start, you have to build these paint racks. They came flat packed, but there was no cutting or pressing out of MDF pieces required. All of the pieces were ready to go. I just needed some glue put them together.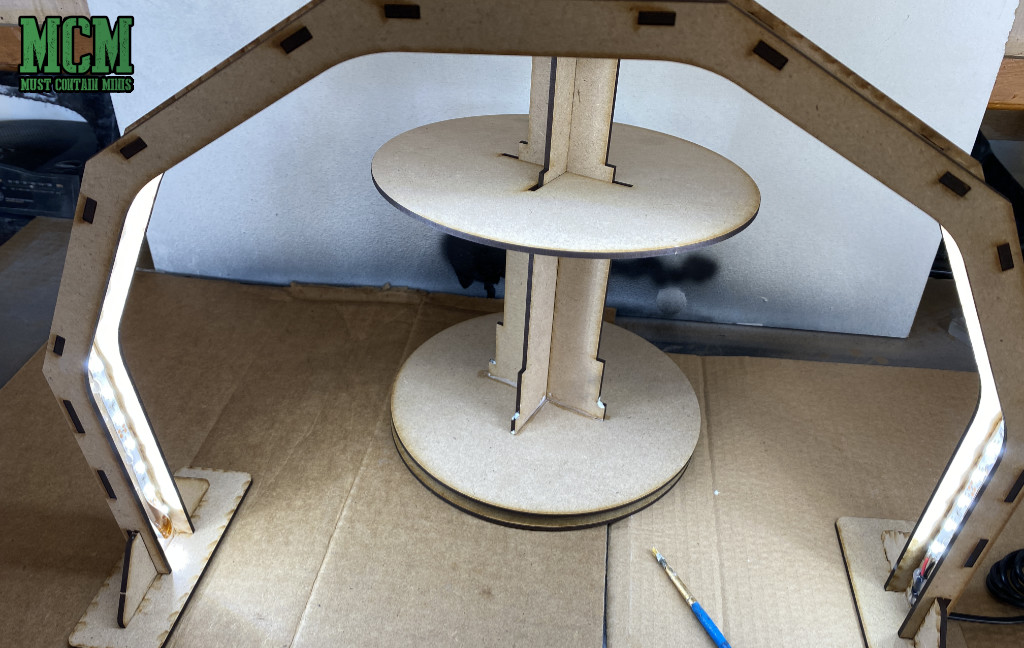 As I put together the two paint racks, I realized that one of the selling features of these is the turntable. The turntables on the ones I received are incredible. I can lightly hear the ball bearings inside when I turn the table, but they turn better than many kitchen Lazy Susans that I have used in the past. This is nice. If you ever wanted to be able to spin your paint rack to find the perfect paint in an easy to reach spot, this could be a product up your alley.
Once constructed here are how the two different models looked.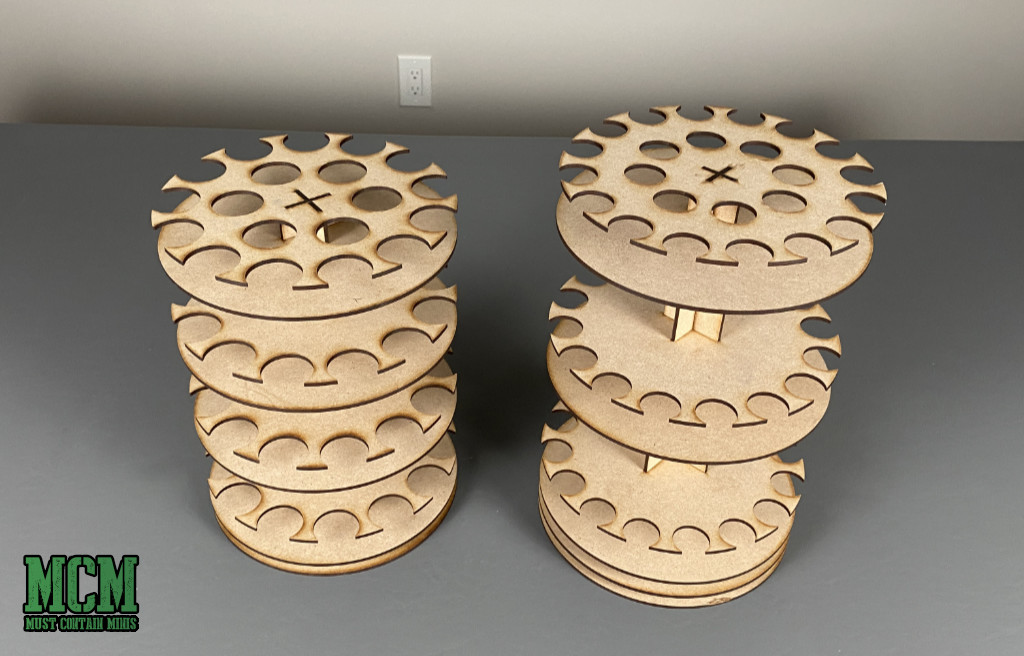 Now that they are built, let's load them with paint.
Loading The Rotating Paint Racks Up with Paint
The dropper bottle style rack holds 56 paints. The GW pot style rack holds 58 paints. They have a larger footprint size to paint bottle capacity ratio than Frontier Wargaming Paint Chests that I have been using recently but are competitive in size with normal desktop paint stations.
The GW Style holder measures roughly 8″ around the base and 11″ tall. The dropper bottle style one is a little larger at 8″ around the base and 12.5″ tall.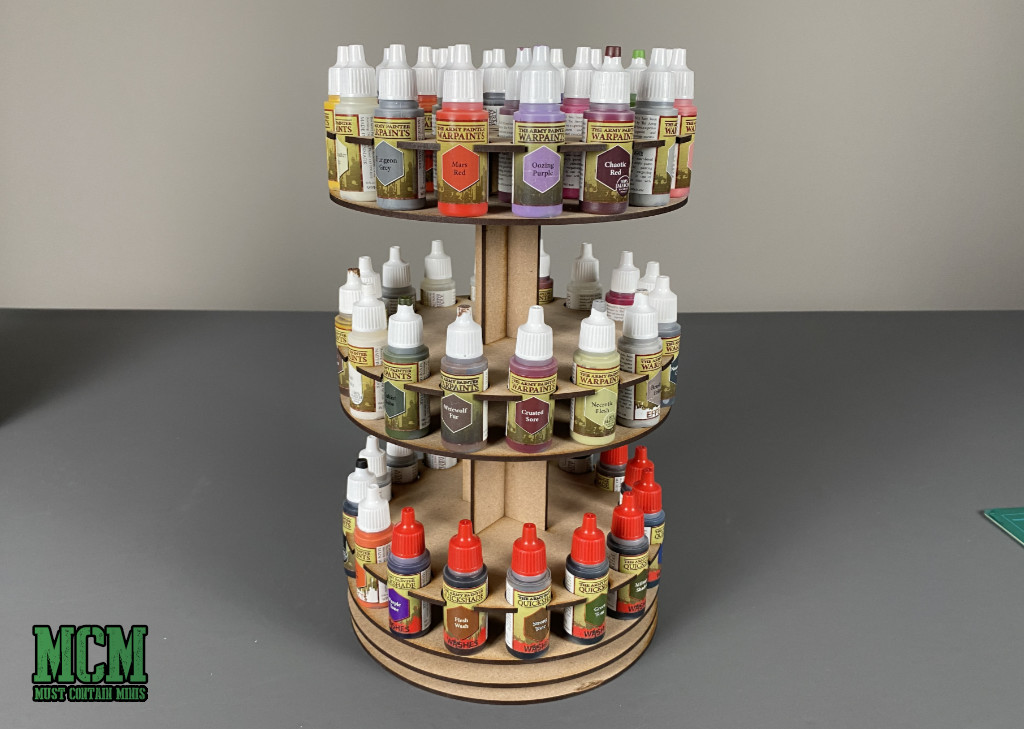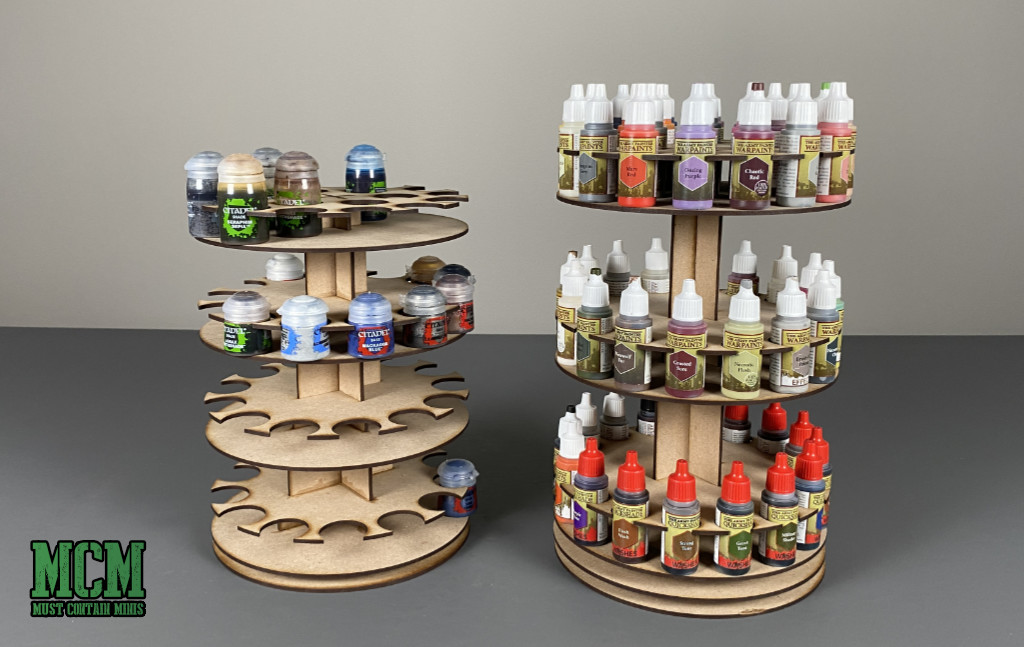 As you can see, I don't own many GW Paints, so I tested the paint rack out with some other brands too. The bottom racks did not work for my craft store paints that I use for MDF terrain. The top however did. Likewise, I tried Mission Models Paints as well. They fit in the top, but not the lower levels.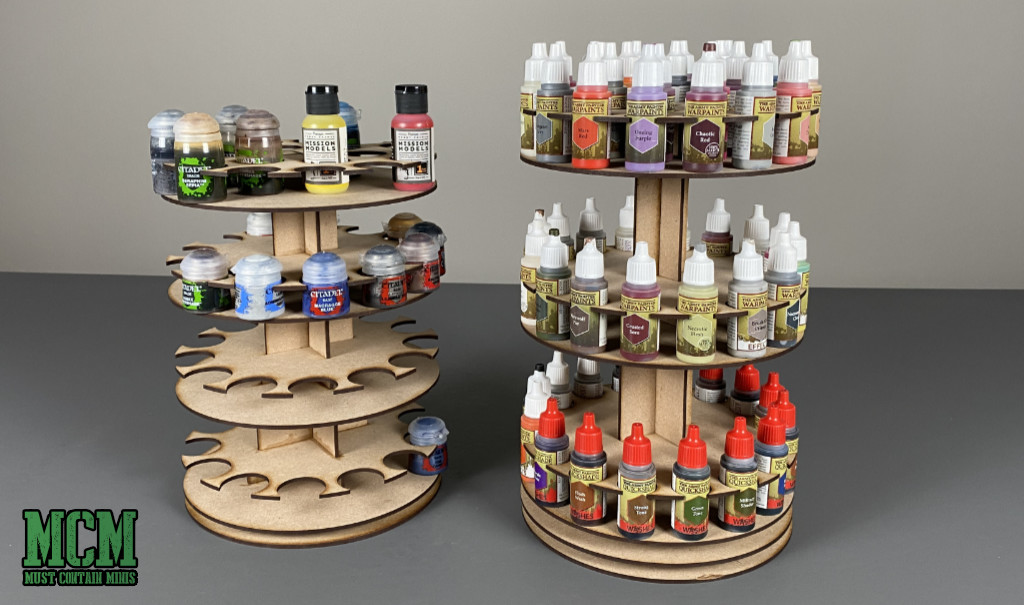 My Observations About the Game Craft Miniatures Rotating Paint Racks
This is the first rotating circular paint caddy that I have ever tested. The ball bearing Lazy Susan type approach to this paint rack is really nice. It spins so freely and well. That is the selling feature of choice to me about these paint racks. You can easily spin the rack to get the paint that you want while keeping everything in an easy reach.
These racks hold a competitive amount of paint for their footprint. The 34mm one built for Citadel type paints surprised me in that it holds more paint than the dropper bottle style rack beside it. Most products that I have tested in the past hold more dropper bottles than 34mm paint pots. Game Craft Miniatures took advantage of the shorter profile of the Citadel Paints to add an extra rack in there compared to the dropper bottle version. If you collect GW Paints, that is a big bonus.
For both styles of rotating paint racks, there is a comfortable amount of space to take the paint bottles out between levels. That's important.
As a reminder, you do have to build them, but I found them easy and intuitive to construct. Although I dry fitted them to ensure fit, I didn't even have to look up instructions to construct them. I just placed the two upright pieces into the already constructed Lazy Susan base and then attached the round pieces starting with piece number one and ending with piece number six (or eight for the Citadel rack). It was that easy.
Wrapping it up…
Hopefully this post will help you decide if Game Craft Miniatures' Rotating Paint Racks are right for you. Overall, they are some really nice products. I was very impressed with how well they spin, and I found them easier to build than paint racks that I have built from other companies.
Head on over to the Game Craft Miniatures store if you are interested in checking out the prices on these. For quicker access, you can find the 34mm Rotating Paint Rack here and the 26mm one here.
These paint racks are not on Amazon, but you can find other Game Craft Miniatures products on there if you like to buy things from Amazon. You can check out their store front there with this link [Affiliate].
Special thanks goes out to Game Craft Miniatures for providing me with the products for review. The spinning paint caddies came along side an LED Lamp (I love that thing), a Tamiya Glue Holder, and a Water Potholder.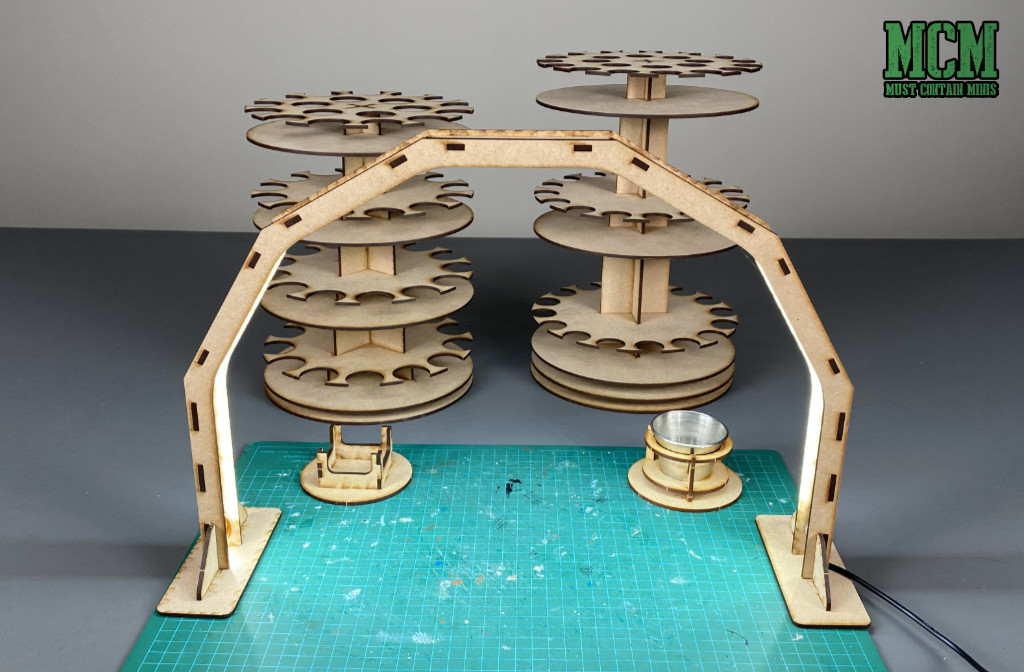 Until next time, Happy Gaming Everyone!!!