In this article, I review and unbox the Warhammer 40000 Recruit Edition Starter Set. I would like to say that this is a new product, but the set has been out for a few months. In this article, I show you what is in the box, how the minis build up, the sprues and give you my thoughts on the set.
While this Must Contain Minis does not focus on Games Workshop, a lot of us start there. Myself included. As such, I figured I would take a look at the product. My angle is as somewhat an outsider and for $50 American, this is a great taste into the Warhammer 40,000 game.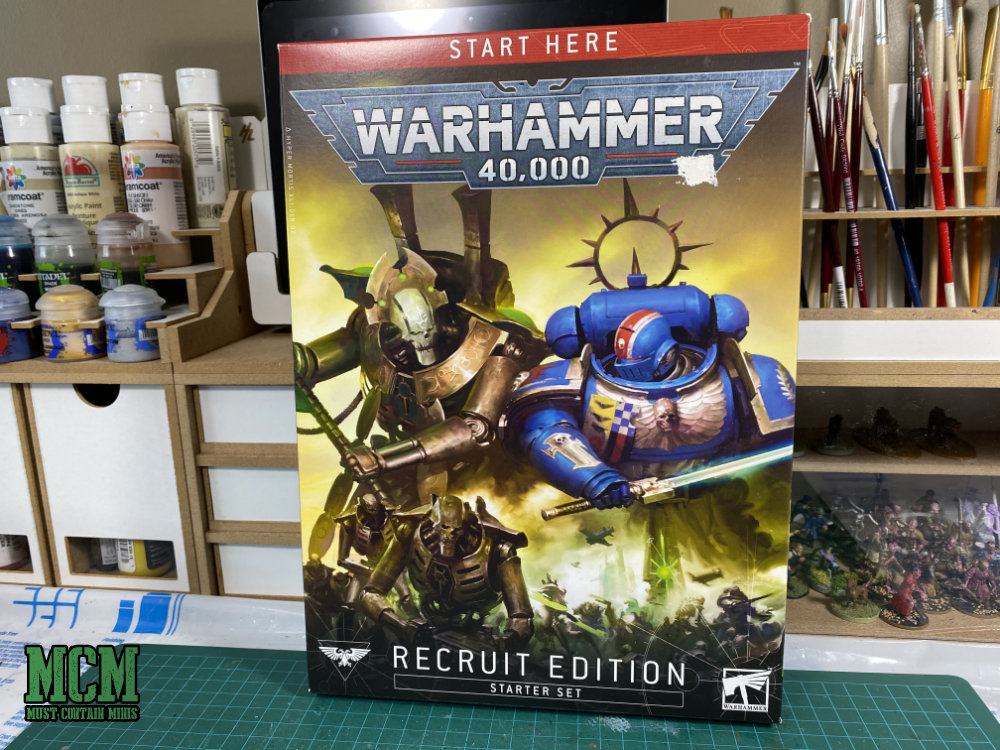 As always, you can expect some great looking pictures and discussion in this post. With that out of the way, let's get into it.
Opening the Box
When opening the Warhammer 40000 Recruit Edition Starter Box, you are greeted with a really well packaged product.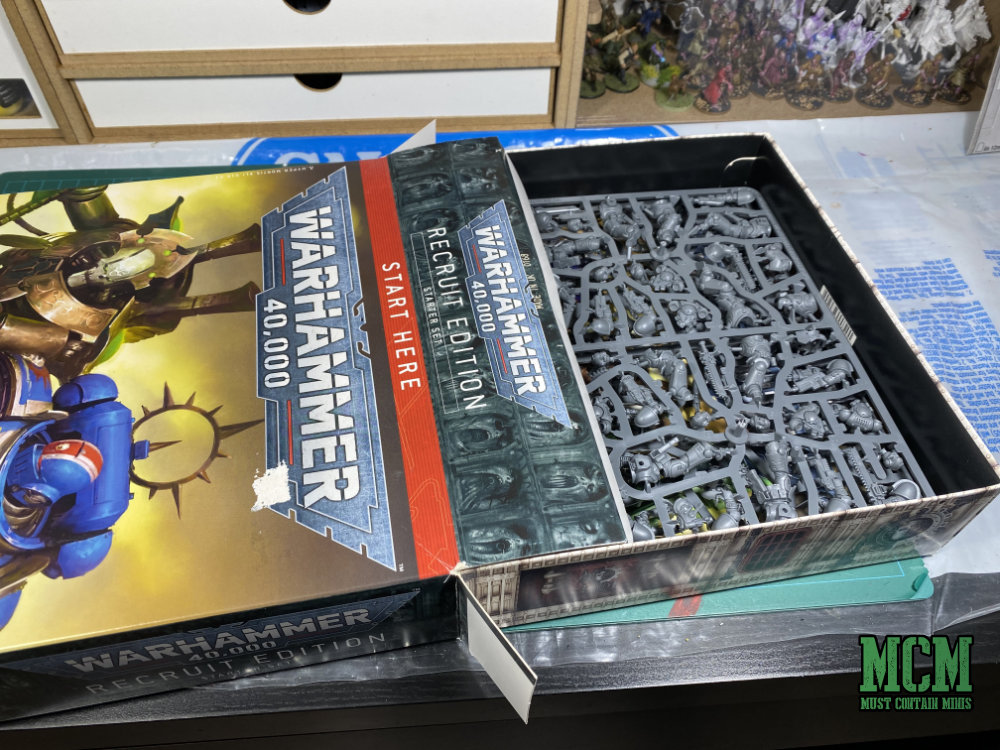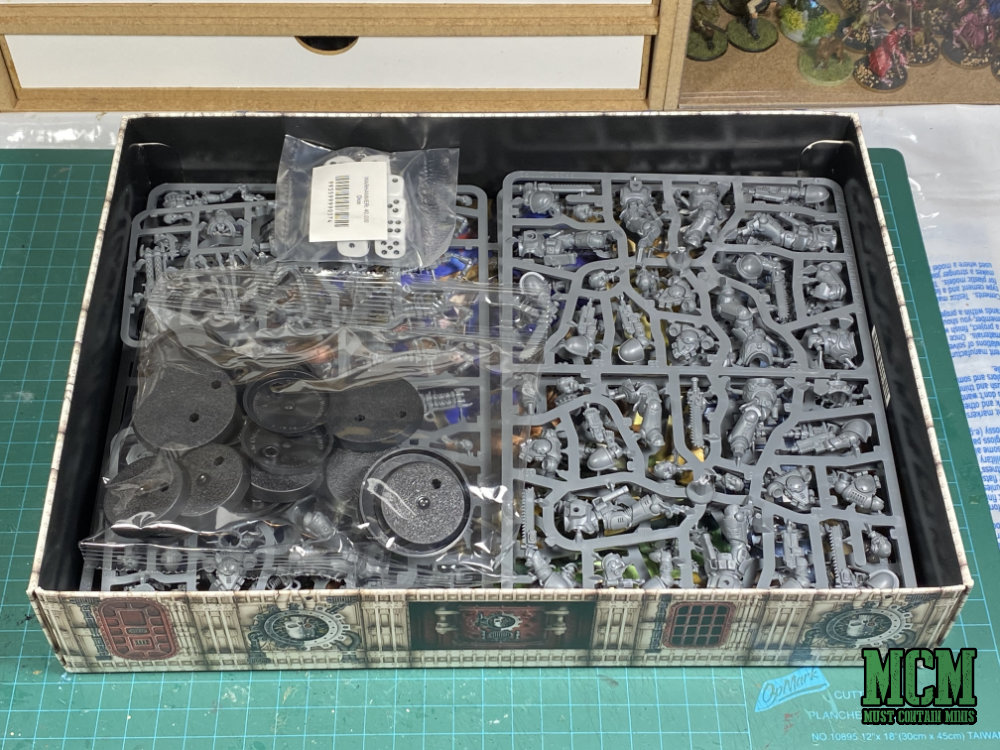 Under the minis, are the Recruit Manual, a paper gaming mat and some rulers and a decals sheet.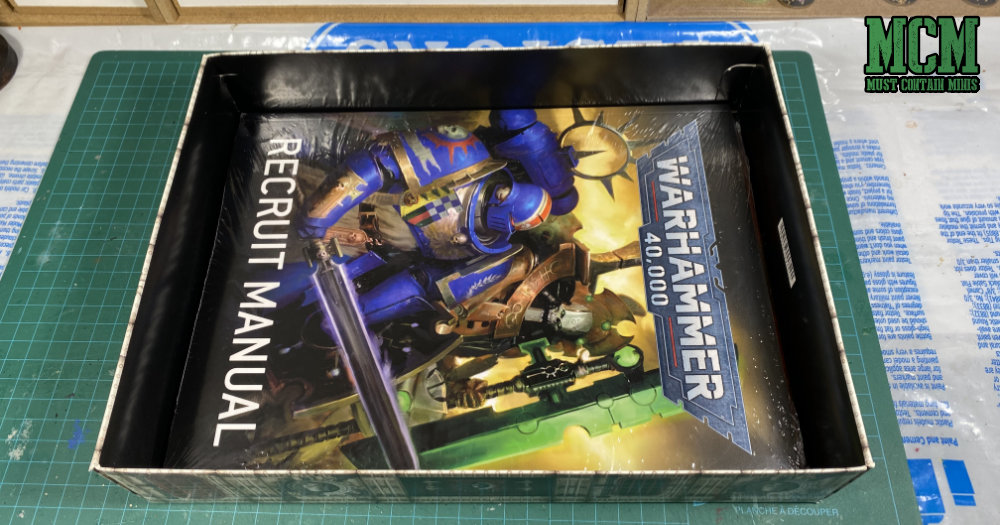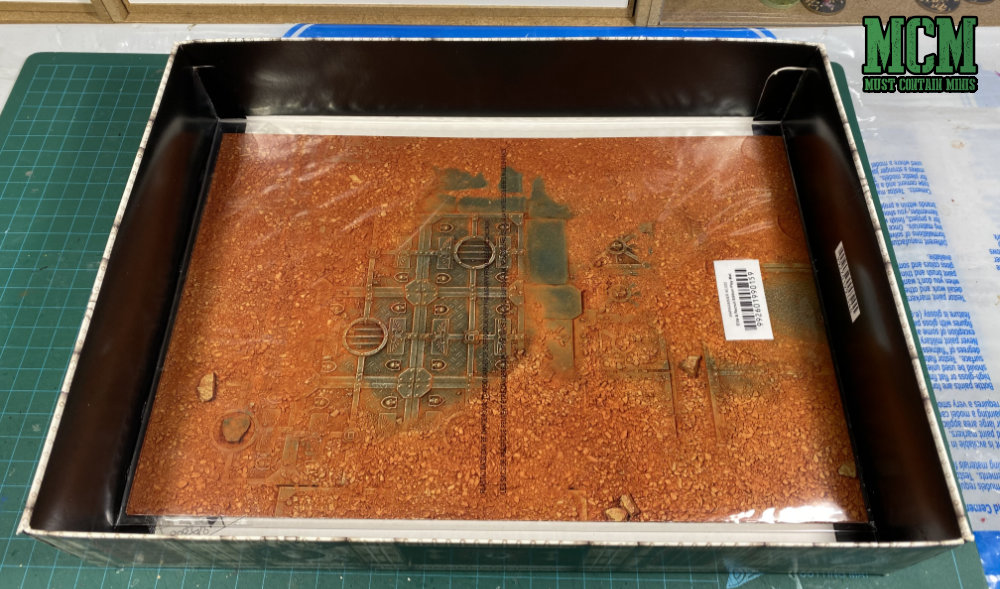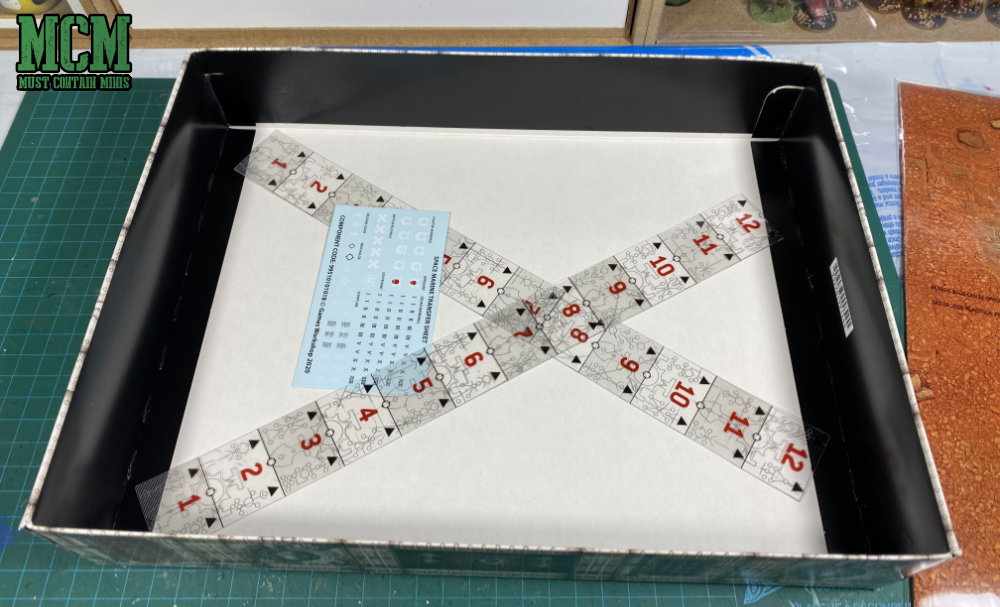 Now, let's take a closer look at the sprues.
The Sprues
I am a plastic miniatures and sprues type of guy. That is what I like. That is what I want to share with you, my reader. As such, I really like to show off the sprues that come in a box and some of the built miniatures.
I want to state that I have seen some some starter sets before where the two armies are intermixed on the sprues. I find this annoying. In this Recruit Edition box, the sprues come as the separate sides – Necrons and Space Marines.
These Space Marines, are not the old ones, but rather the new (and larger) Primaris version of a Space Marine. Here is the hero Sprue…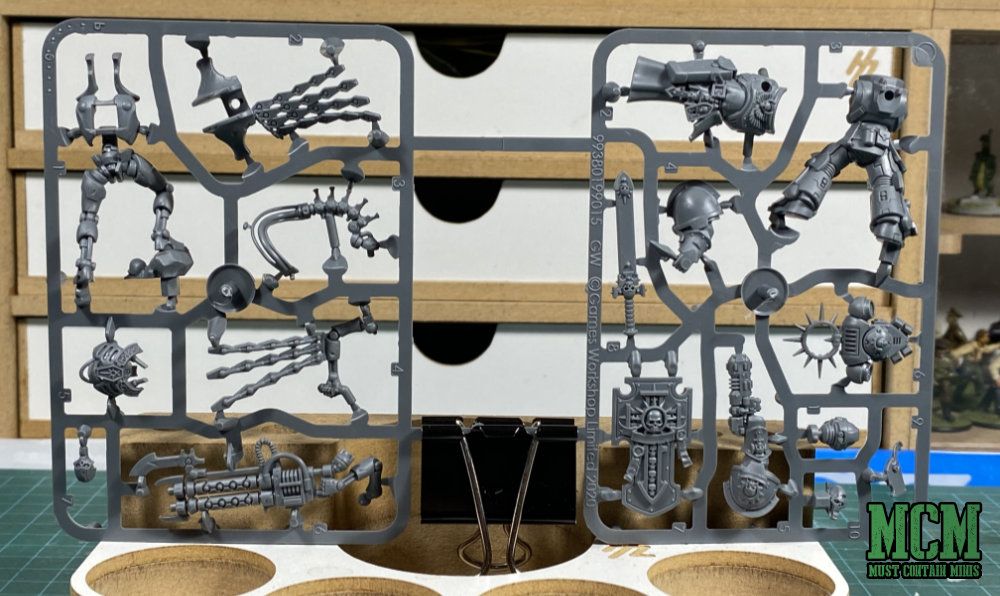 The other frames I will put under their own headlines.
Necrons – Plastic Frame
In total, you get 14 miniatures worth of Necrons in this boxed set. Each Necron Warrior comes with options for two different weapons and two heads.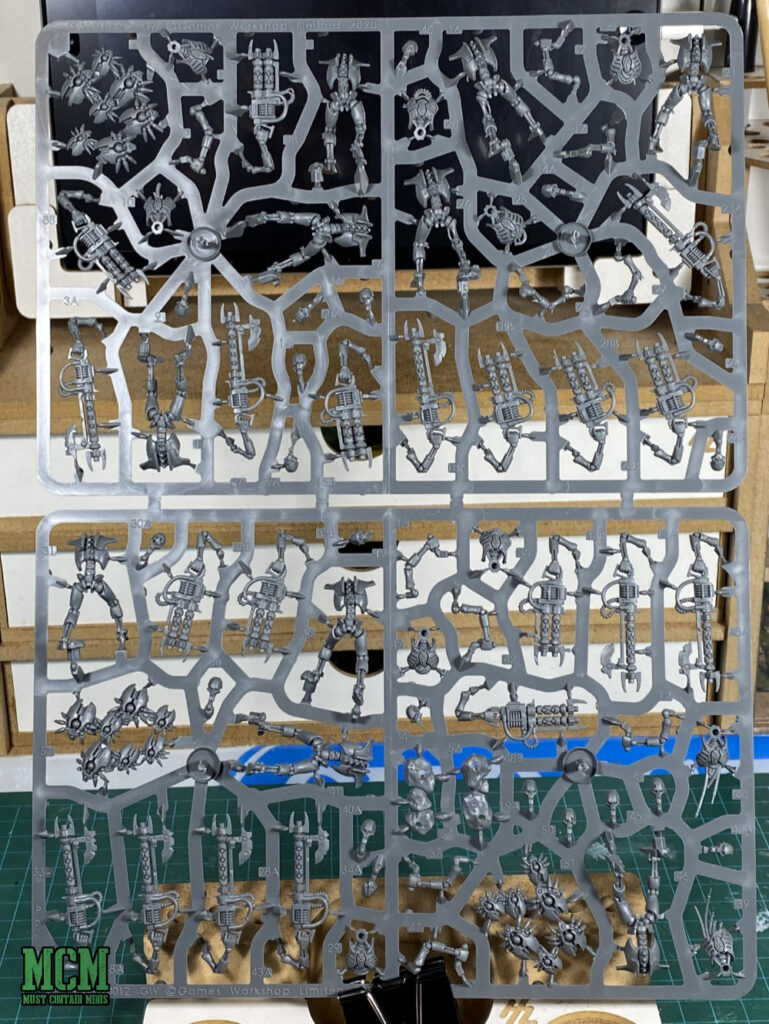 Space Marines – Plastic Frame
You also get 6 Space Marines (the hero plus the five on this frame). If you split this box set with a friend, the Necron player will certainly end up with more models, but the Primaris Marines are much tougher than their Necron counterparts.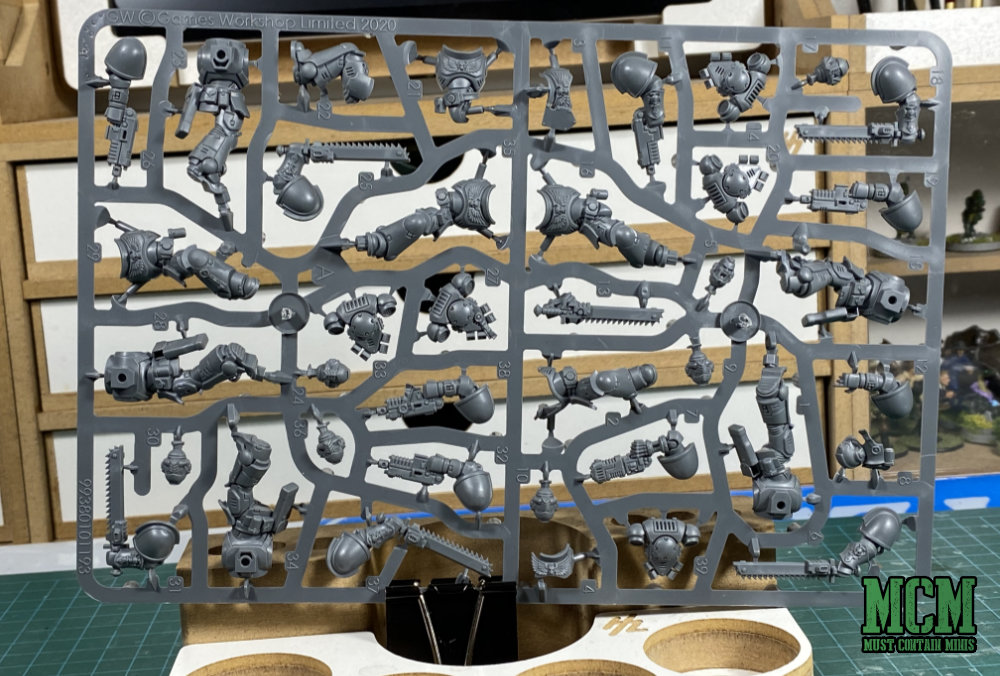 The Built Miniatures
These miniatures build up really nicely and look slick. They are mono-pose figures, but come with a few options like Weapons and heads in some instances.
As a note, I found the Necron Warriors more fiddley and delicate to put together than the Space Marines. I was actually kind of worried about breaking the Necron Warriors while pushing their leg pegs into the hex slot on the base. That said, they held up okay and no minis were damaged during the build.
Now, let's take a closer look.
Space Marines in Warhammer 40000 Recruit Edition Starter Set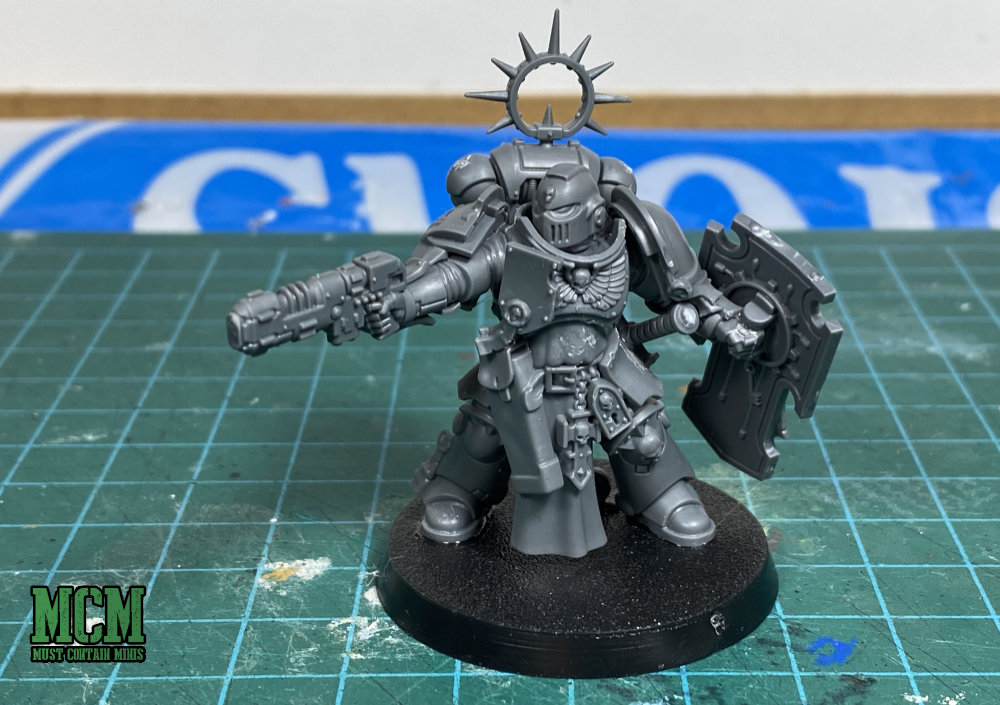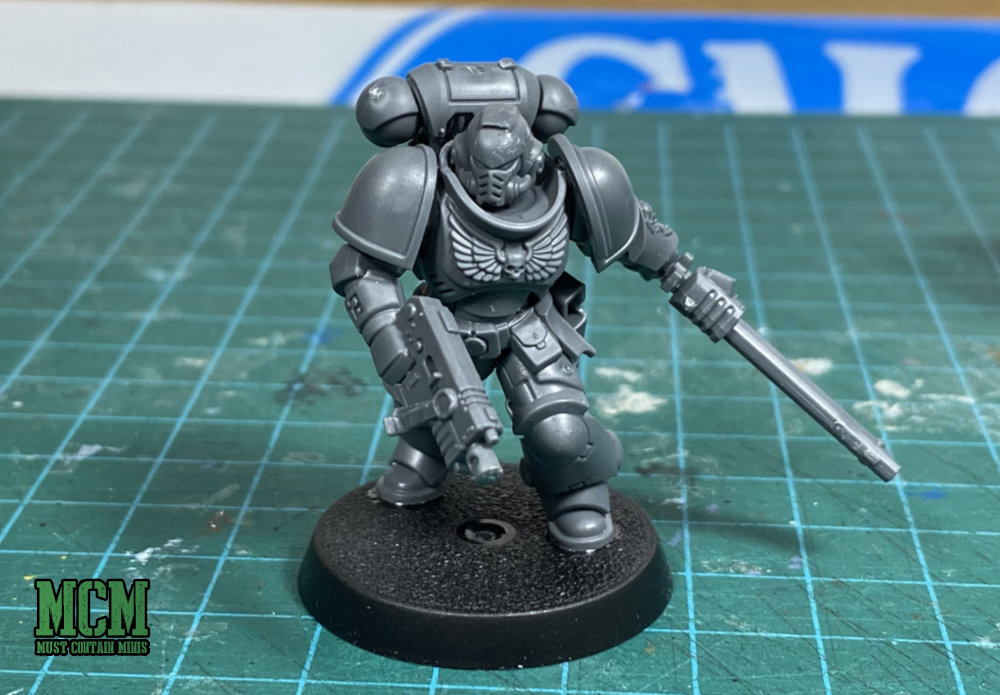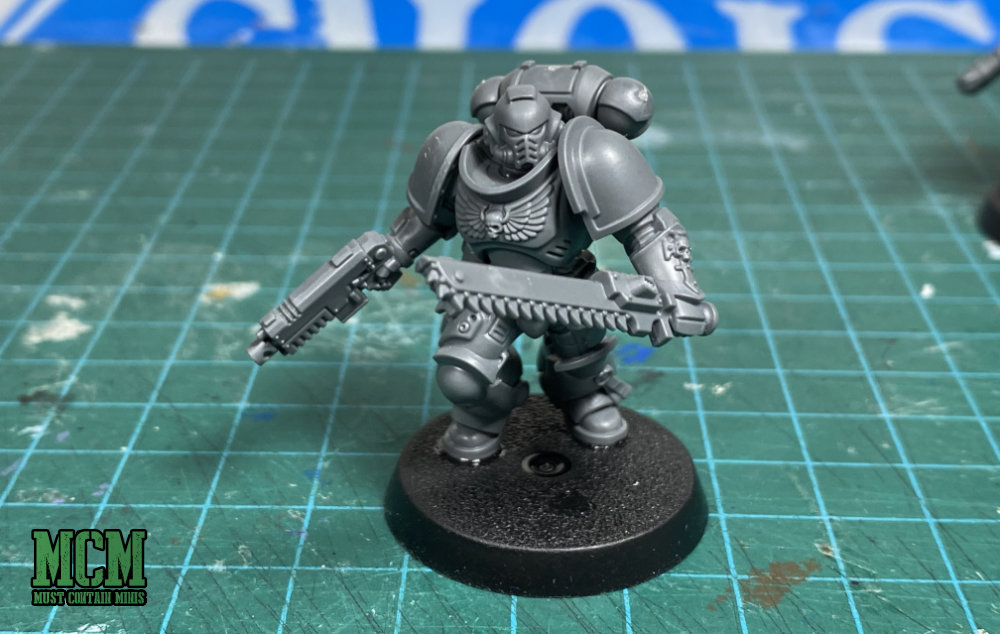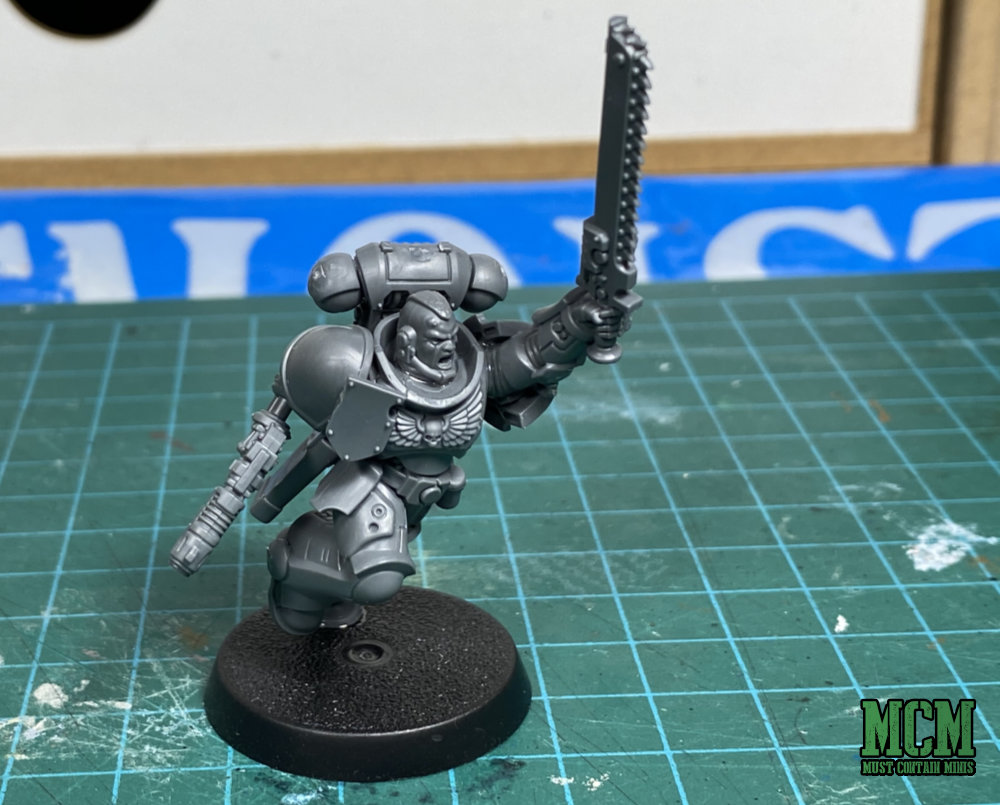 Necrons in Warhammer 40000 Recruit Edition Starter Set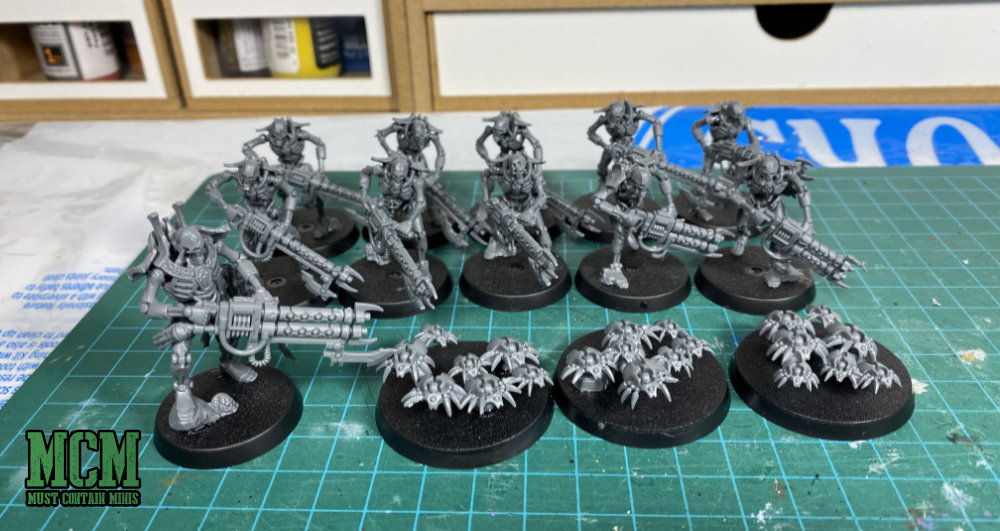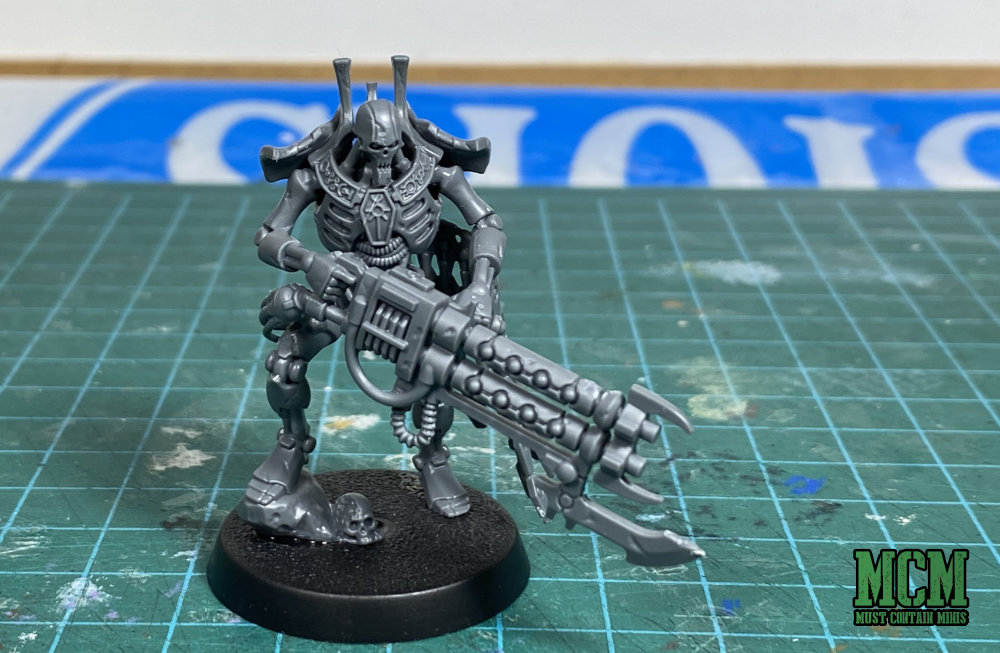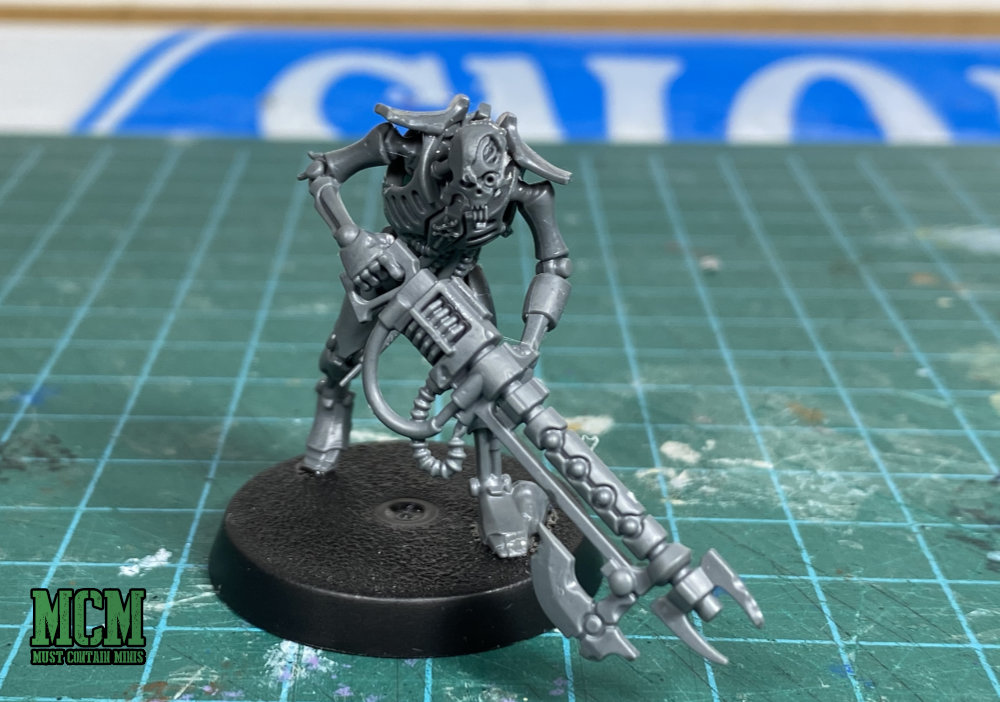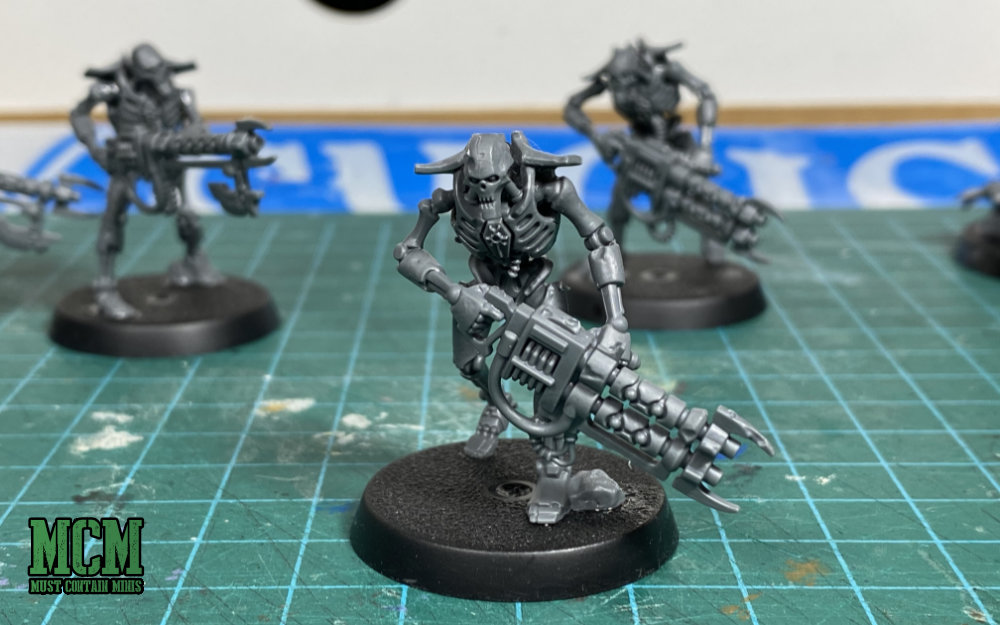 The Paper Mat
It is a nice touch that GW added a paper gaming mat to the starter box. While it is nice, it is not good for photography. My lights shine right back at me off of the glossy surface. Any ways, here are some pictures of the minis on the included paper mat.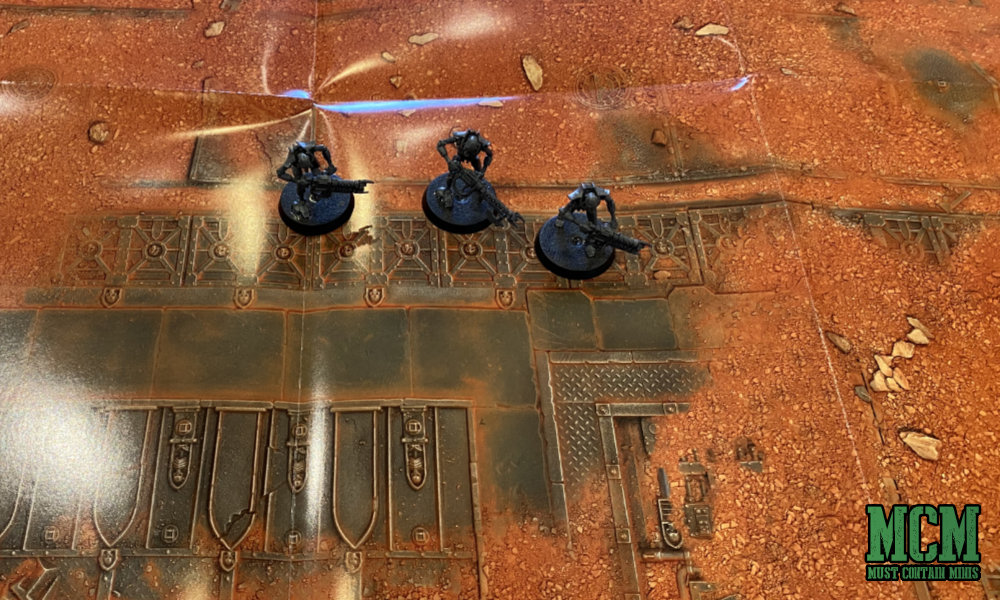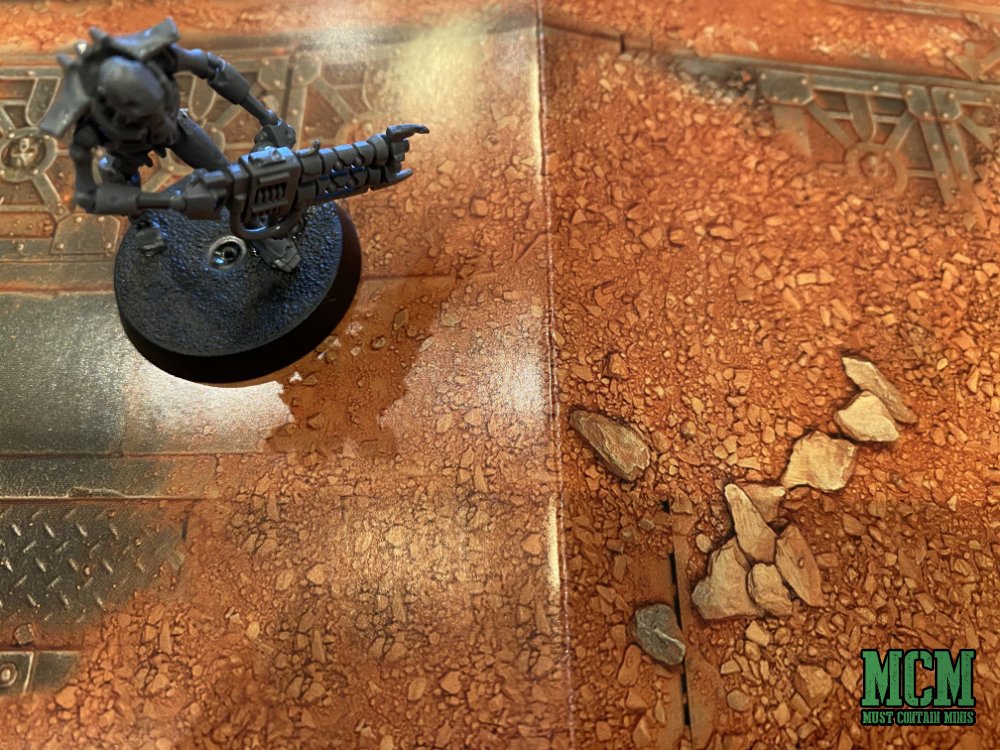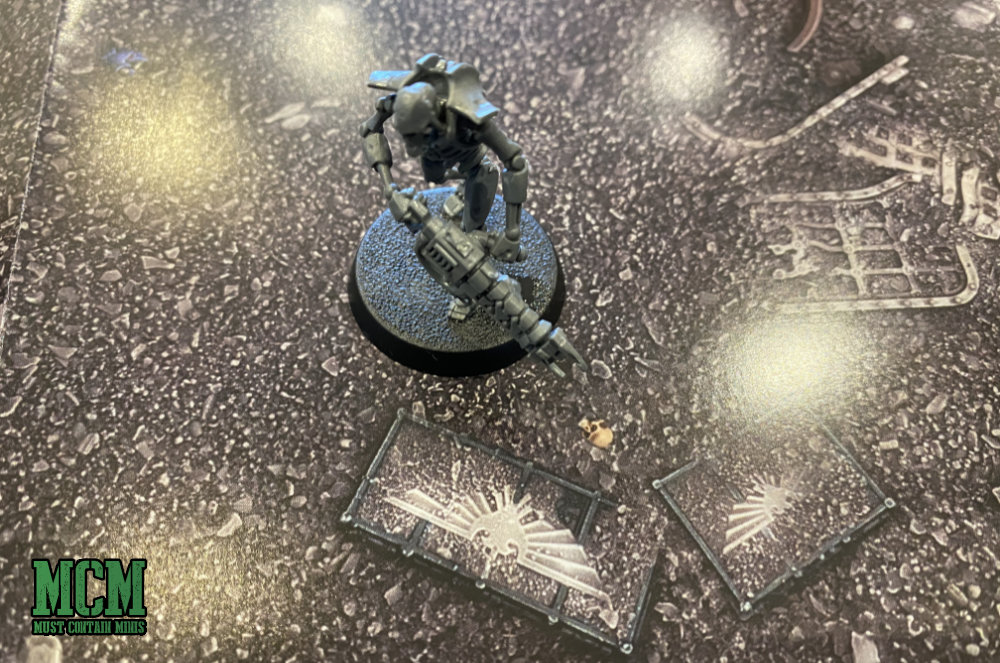 My Thoughts on the 40K Starter Set
In terms of value, this is a good product. You get 20 really good looking miniatures, a small poster type game mat, and a starter manual to the game for $50 American. The manual gives you flavour of the universe, instructions on how to build the minis and a feel of how to play the game as it guides you through a handful of missions that slowly teach you the rules.
That said, it is not a full rulebook. This is my biggest complaint of the starter set. For a full rulebook, you have to buy the Command Edition at $165 (or Indomitus at an even higher, but better valued price, if you can still find it). You could also buy that book separately, or perhaps subscribe to GW's App to get the rules.
Other than that small disappointment, I feel this is great value for the money.
So, Who is the Warhammer 40,000 Recruit Edition Starter Set For?
This starter set is for anyone who wants to give Warhammer 40,000 a try at the minimal investment level. This would include people that want to by it for Children (or themselves) and they are not sure if they will stick to the game. $50 hurts less than $165. It is also good for people who are curious about 40K or who just want the 20 models.
For those more serious about the game, I think you would be better off either buying the Command Edition or Indomitus Starter sets, or even just the rulebook and a Start Collecting set of your favourite army.
For me though, this is exactly what I was after. A taste of 40K.
YouTube Review
Here is my Warhammer 40K Recruit Edition Review over on YouTube. This review is very similar to this one, but shares a few extra photos and has some great music. If you like it, please also subscribe to my channel.
Wrapping it up…
Thanks for checking out this Warhammer 40,000 Recruit Edition Starter Set Review. Overall a good product that has a surprising amount of value in it.
If you are interested in more 40K content, check out my review and tutorial articles using the Space Marines Assault Intercessors + Paints Set. I also have a small section on this site dedicated to 40K.
Until next time, Happy Gaming Everyone!!!