Team Yankee is a game that I monitored for years, but first tried it this past October. It is pretty good, actually much better than I expected. In this post, we talk a little about Team Yankee, Flames of War and Team Yankee at Broadsword 7.
Now, in the interest of full disclosure, I was not able to attend Broadsword 7. These images are coming to me from Lee VanSchaik of Crucible Crush.  That said, I did get to try the game at Council Fires 2018 and there is a Battle Report and First Impressions article of the game coming.
Team Yankee
For those that don't know, Team Yankee is a 1980's "Cold War Gone Hot" Game based on a fictional novel. In this game, players choose a faction and battle it out on a 6′ by 4′ table with 15mm models. There is a lot going for the game from Heavy Tanks to Infantry and Helicopters.
The rules were designed from the ground up and were basically the redesigned testing field for Flames of War Version Four. A lot of people like this game and after testing it out, now I know why.
[amazon_link asins='B077H74H36,0994147449′ template='ProductCarousel' store='mustcontainmi-20′ marketplace='US' link_id='95bcc0c5-05b7-11e9-82d3-930e3c3573ff']
Team Yankee at Broadsword 7
James Whyte ran the game at Broadsword 7. James also happens to be the same person that introduced me to Team Yankee and he is very active in promoting Battlefront in his local area. Below is the description of the game as per the Broadsword 7 Facebook Events Page.
Team Yankee – 15mm Cold War Gone Hot
World War 3 has started, the Red Soviet and Warsaw Pact bloodily punching their way through the NATO lines. Can you stop the Red Tide or will you fall to it and fail the West? Can NATO do its job? Or will you join USSR and Warsaw Pact in glorious victory over the capitalists?
James Whyte – Up to 6 Players
James tends to do some really nice looking boards and tables. Below are some pictures of his game in progress sent to us by Lee.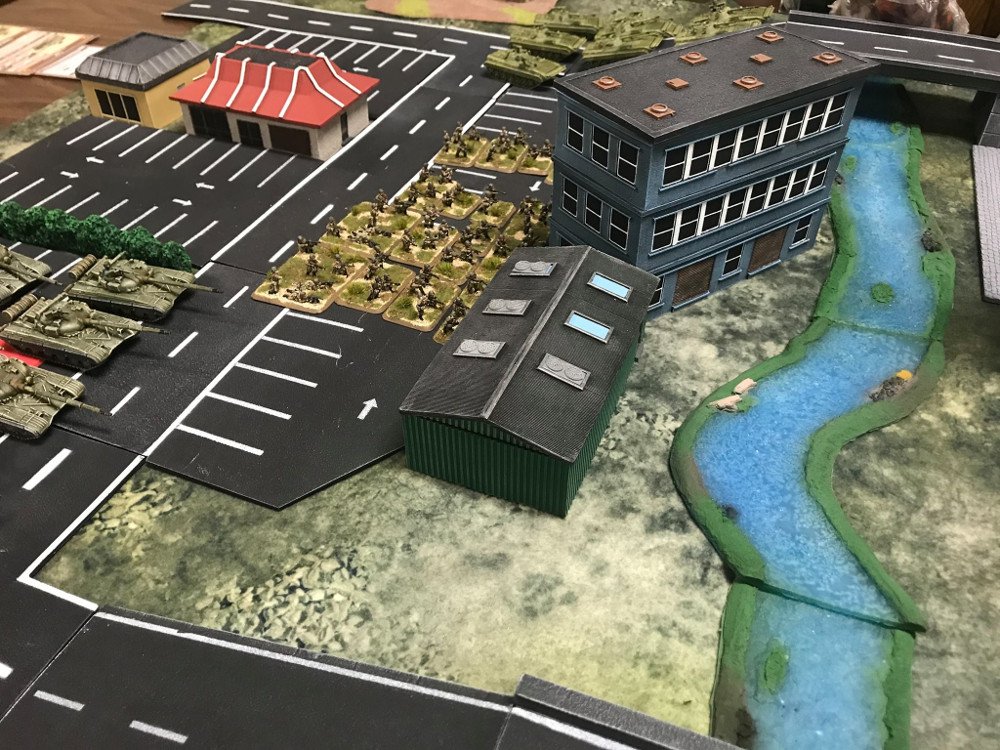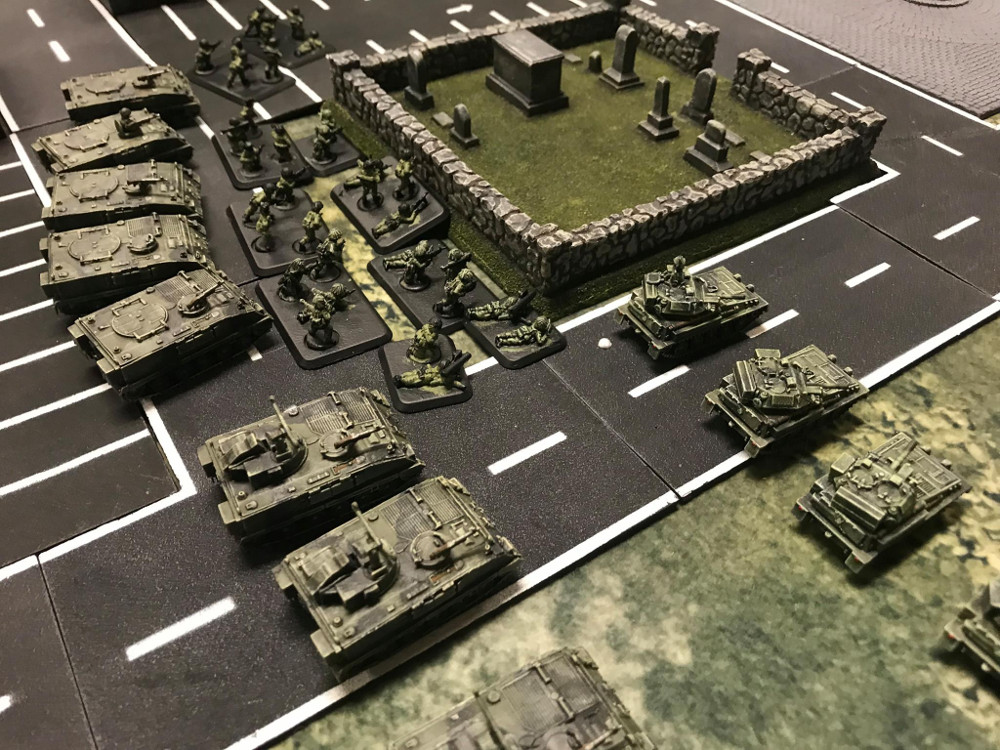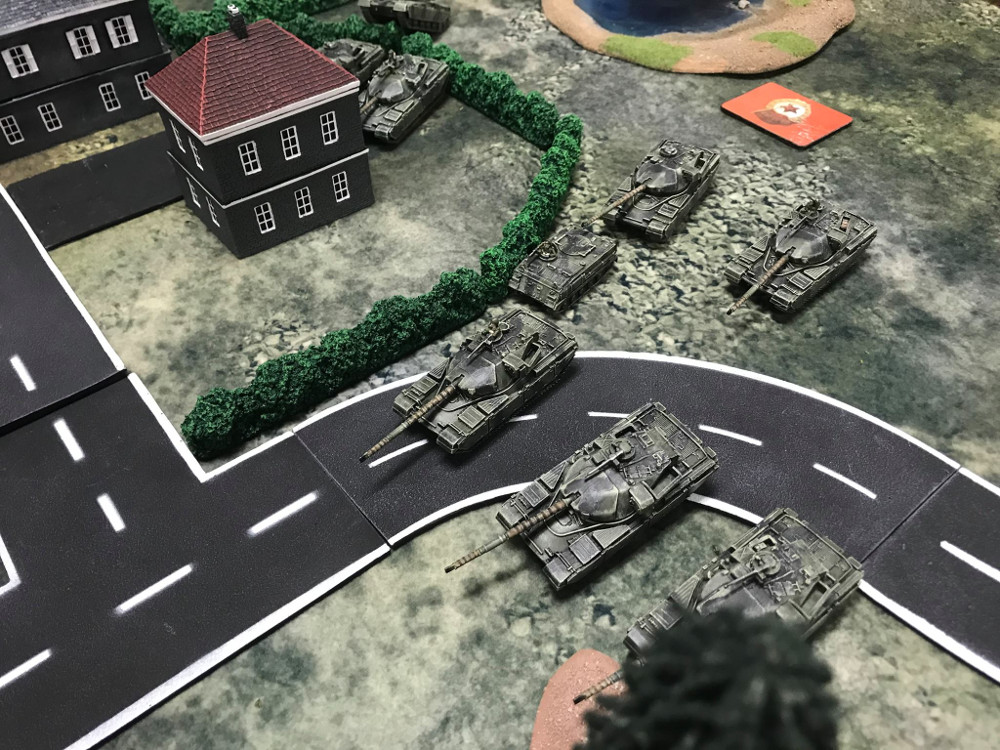 Battlefront News
Battlefront Miniatures, the people behind Flames of War, recently released a video of their planned projects for 2018. Among the news highlights include a renaming of Team Yankee to World War III: Team Yankee and new late war starter sets for Flames of War 4.0. World War III will fully align the rules of Team Yankee with Flames of War 4.0. They also announce in the video that they plan to spend four years publishing items for Late War. Hopefully this means that Flames of War 4.0 will be here for a long time to come.
What has me most excited is the new starter sets, which might have me dipping my toes back into Flames of War!
Check out the video below to see what the folks at Battlefront have planned for the year to come! So much to be excited about!
Wrapping it up…
Hopefully you enjoyed this quick post about Battlefront, Team Yankee and Broadsword 7. I am personally very excited about the upcoming Late War products for Flames of War, and I am really looking forward to seeing what Battlefront puts out for 2019.
Thanks goes out again to Lee VanSchaik of Crucible Crush for sending along the pictures from Broadsword 7. If you can ever get to one of the Broadsword events, they are a fantastic experience.
Finally, if Team Yankee interests you, we have a Battle Report and First Impressions article coming up of the game in the future (we already have the pictures).
Until next time, Happy Gaming Everyone!!!
[amazon_link asins='B077H74H36,B01AKAWTPS,B077H7JLL9,B07815C14K,B01AKADIQM,0994147457,1612006493,B073WCX356,B073WD5VXN,B01BI4QNTI' template='ProductCarousel' store='mustcontainmi-20′ marketplace='US' link_id='a9b1cfec-05b6-11e9-84f1-a5f7503df368′]
[amazon_link asins='B07GLSNVC6,B06XJ1725G,0992255589,B077KJMR2J,B077KDPW57,B06XTXJJP9,B06XTYVXW8′ template='ProductCarousel' store='mustcontainmi-20′ marketplace='US' link_id='e27c1f28-05b7-11e9-8ff7-0fab72b092ee']