This past weekend, my buddy Brenden ran a Flames of War Tournament at Phoenix Games (in Kitchener, Ontario, Canada). It has been a long time since I last played Flames of War. In fact, the last time that I played this game was at Brenden's last tournament at Phoenix back in May of 2016.
This time around, I am going to do the Tournament Report a little differently. This post will be a general post showing off some of the tables that we played on and showcasing my army for this event. Later, I will post a series of three battle reports stemming from this event.
Overall, I held my own. I had a 6-1 loss, a 6-1 win and a 5-2 loss. It is a good thing that I play for fun. Below is a list of Battle Reports from this Tournament
For this tournament, Must Contain Minis sponsored two tables with a couple of Battle Mats and some Terrain. Special thanks goes out to Cigar Box Battle for sending me these mats. They are awesome! Aside from the mats, I also provided some small Bales of Hay, a V1 Rocket and some Craters.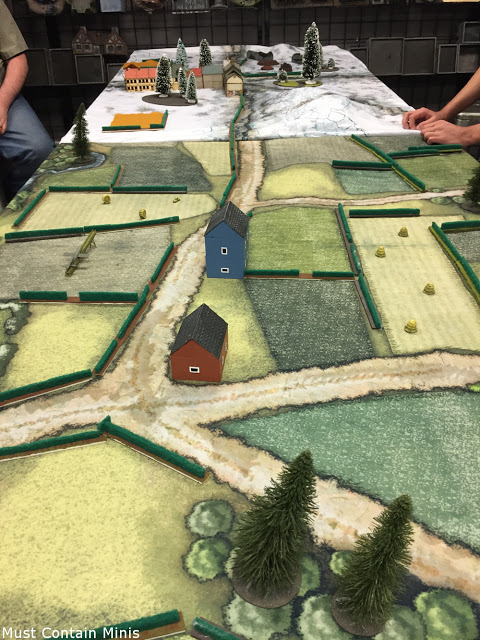 These are the two tables sponsored by Must Contain Minis. I provided the Battle Mats, Bales of Hay, V1 Rocket and Craters on these two tables.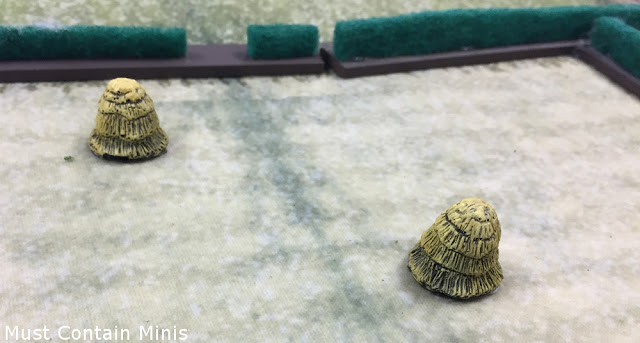 The second set of Hay (also from Six Squared Studios).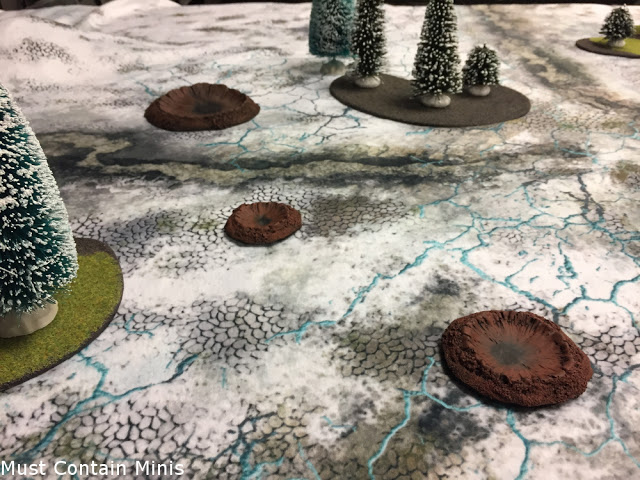 Three Craters by Six Squared Studios.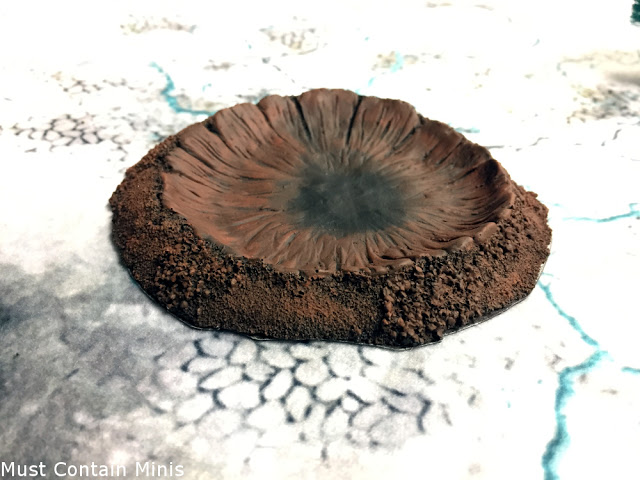 A closer look at the larger crater from the set. It painted up well with minimal effort.
Putting these items together with other people's terrain really made some great looking tournament tables. Below are two quick pictures of the tables sponsored by Must Contain Minis. Thanks also goes out to the others that provided terrain for the tournament. These were truly great tables.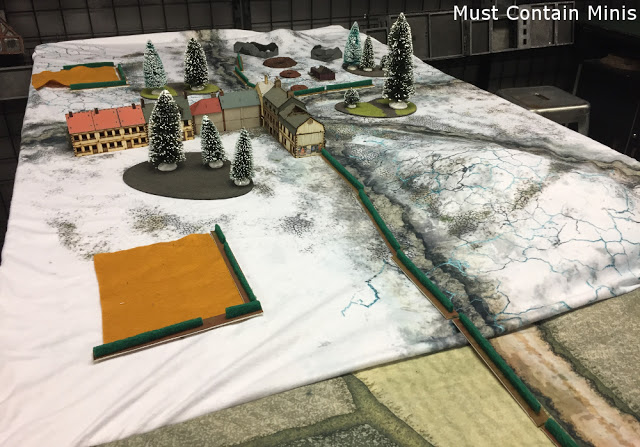 The Frozen Ruins Mat with a Mountain added on the right hand side. There are also some fields, a village and some ruins.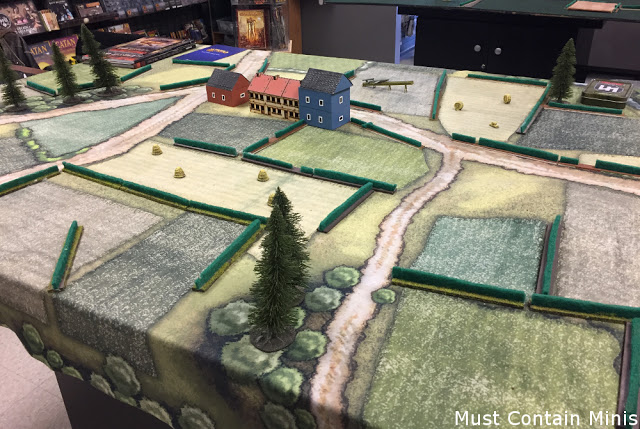 Several farms and a row of houses on the Europe Battle Mat. Looks great! We added some hills under this mat, but they were much more subtle than the mountain used for the Frozen Ruins Mat.
Others in the group also provided terrain for some excellent looking Tournament Tables. Below are pictures of two other tables sponsored by other people.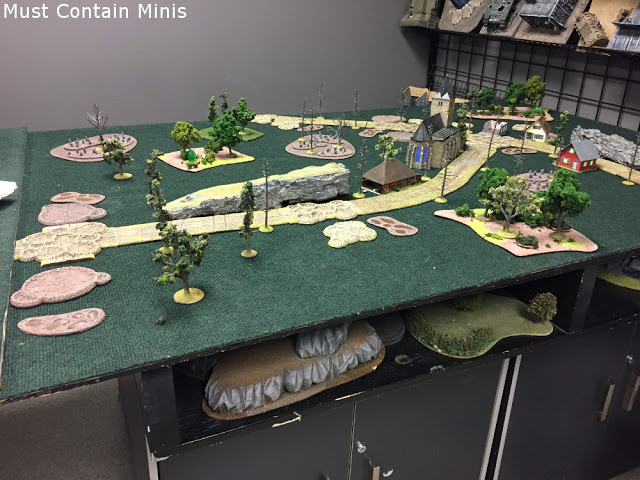 This densely packed table was sponsored by my friend Rob. It is the only table that I missed playing on. It is packed tightly enough (and contains enough slow-going terrain) that it looks like a nightmare for tanks. Funny enough, both Rob and I brought Tank Armies.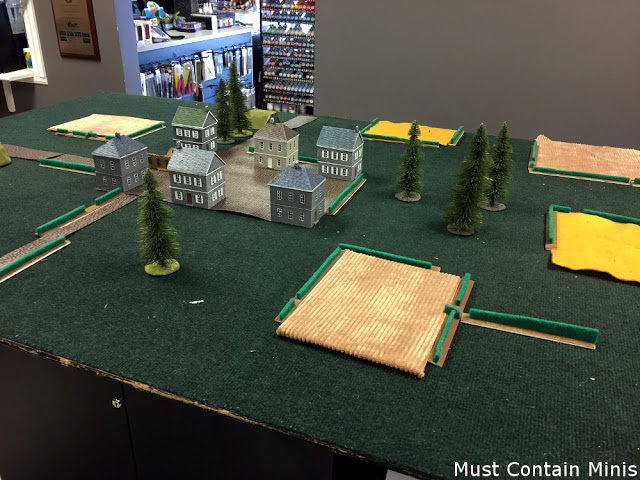 This table is one set up in the "classic" style of table that I have played many games of Flames of War (Version 3) on with a large village in the middle of the board and fields to the side.
At my last Flames of war tournament, I brought an all Infantry army. This time, I brought a Panzer Kampfgruppe from Desperate Measures. It is similar to the list that I won first place over-all with at a tournament in London (Ontario) a year or two back. Below is a picture of my forces.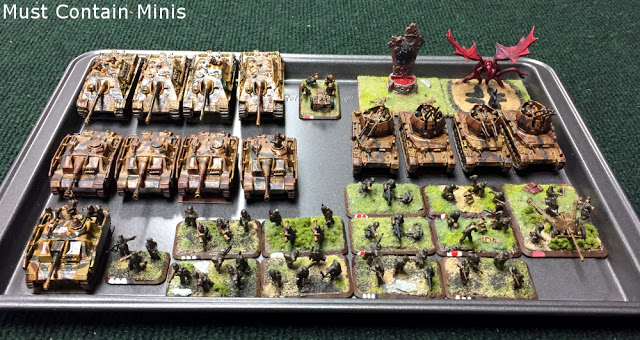 This Panzer Kampfgruppe from Desperate Measures includes 4 Jagdpanthers, 5 StuG Gs (Late), 4 Wirbelwinds (Quad 2cm), and a Grenadier Kampfgruppe Platoon with two PanzerScreck teams and two Weapons Teams. This was my tournament army for this event.
The above army will be featured in all three of my upcoming Battle Reports from this tournament. For now, I will share a few action pictures from some of the games I did not play.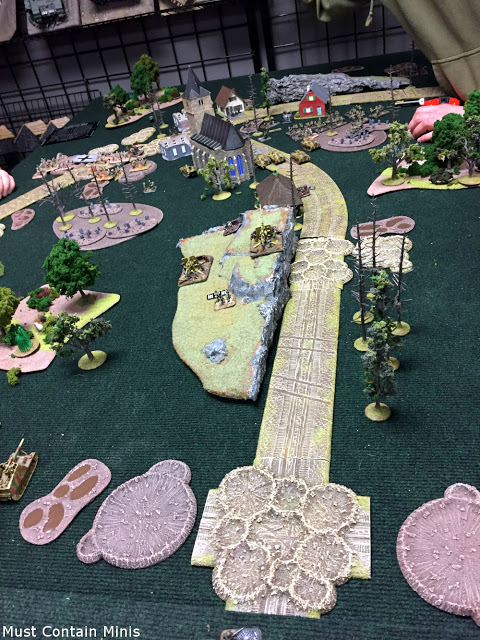 This table saw some fierce battles. Unfortunately, I did not get to play on it.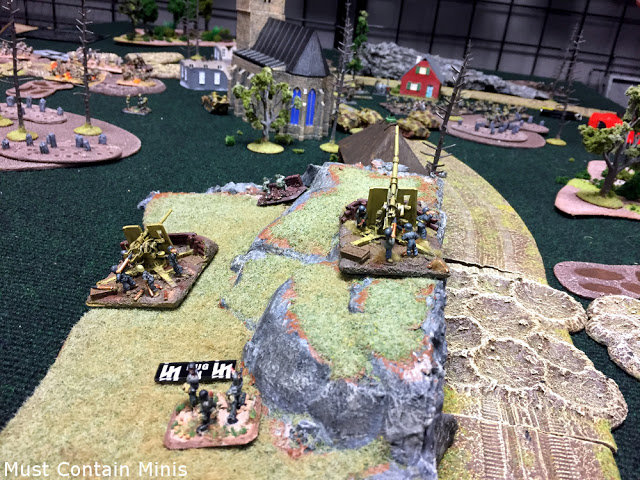 A close up of some 88's hammering the enemy.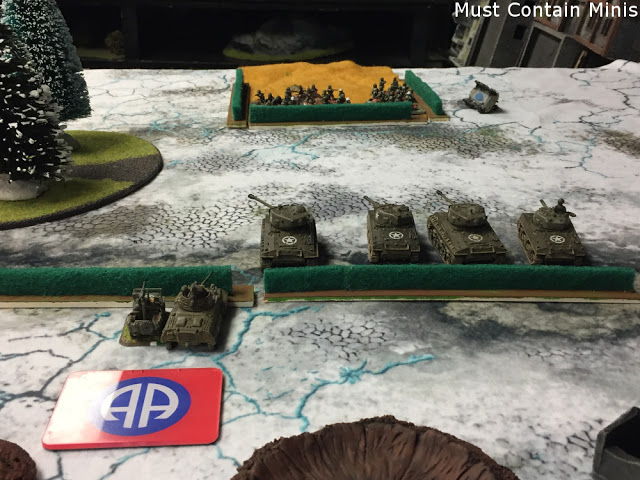 Here we have some Red-on-Red action between two American Forces. This was a big loss for the the infantry player as he could not get close enough to threaten the other side's tanks.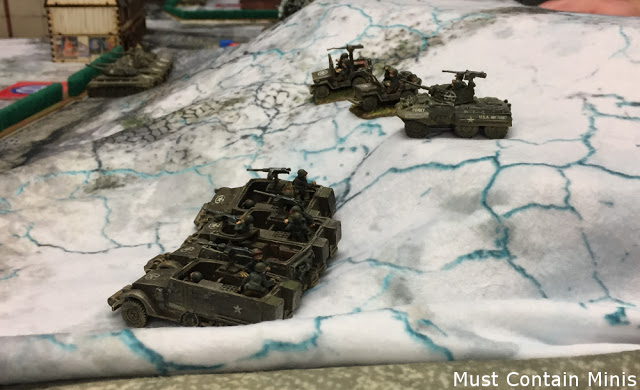 Underneath the Battle Mat, we placed a Mountain. It doesn't show too well on the camera, but it looks great to the eye. In this photo, one can see the steps of the mountain with the Recon vehicles at a higher elevation than the half-tracks.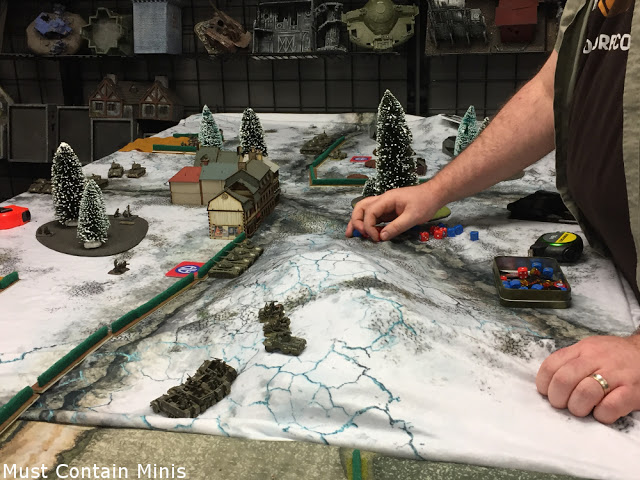 Allied Victory.  🙂
This next image is actually one of my army trying to hold onto an objective versus an onslaught of American Tanks. For those wondering, my objective is in fact a German Officer summoning a Demon. At this point in the war – things are so bad that this officer is not against selling his soul to get out alive!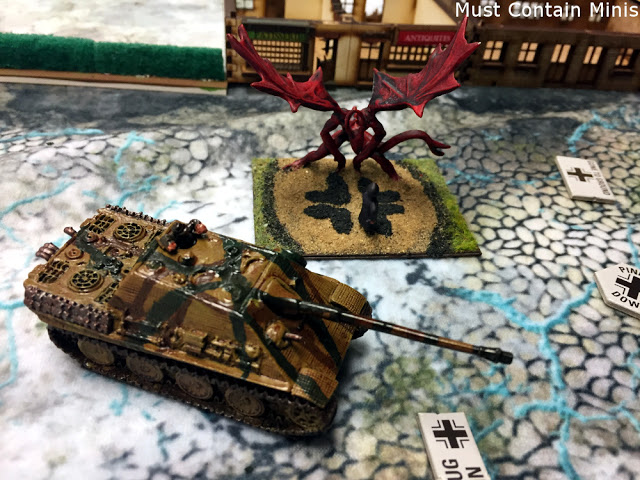 A Jagdpanther holds Desperately onto an Objective. Things are so bad that the officer is trying to enlist the services of a Demon. While my Flames of War army is Historical, I like to have fun with my Objective Markers!  🙂
Brenden and Phoenix Games (in Kitchener) threw an excellent Flames of War event. I was very happy to be a part of the event by providing terrain and participating in the tournament. Special thanks goes out again to Cigar Box Battle for sending Must Contain Minis the battle mats. Right now, I am getting some fantastic shots of the mats in use and the reviews are still coming. I can give my readers a bit of a spoiler about the upcoming reviews. I LOVE these mats!
To end, here is another photo of the Frozen Ruins Mat. It shows off two things that I want to point out to my readers. One, the height of the mountain under the mat. It's almost as big as the houses across the way. Two, the slightly out of focus man in the red shirt. That is Kevin Wardrop. He was the overall Champion at this Flames of War Tournament. Congratulations Kevin!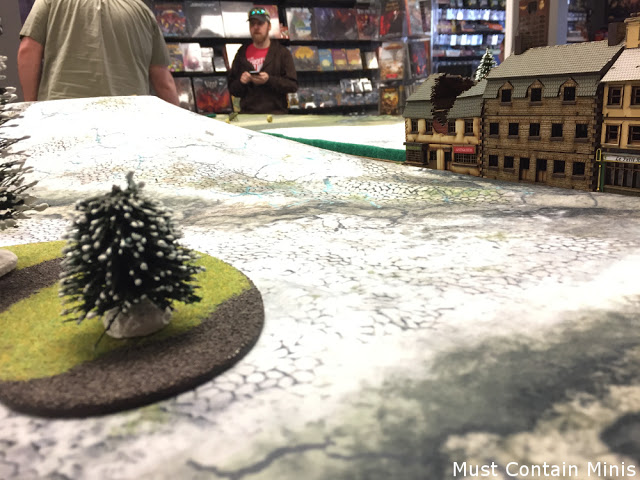 Just showing the height of the mountain and our tournament Champion, Kevin Wardrop.
Until next time, Happy Gaming Everyone!!!
[amazon_link asins='B07GLSNVC6,B06XJ1725G,0992255589,B0759V3GWR,B06XTYVXW8,B01M13VPWA,B00JBBTEFQ,B00M1IR0PW,B076B5ZRFV' template='ProductCarousel' store='mustcontainmi-20′ marketplace='US' link_id='f6dc1934-b24f-11e8-9507-0f5ecfa846ea']