Today's quick post is a story about a copy of My Little Scythe that I won for a friend. Unfortunately it is not a draw or a give away.
If you never heard of My Little Scythe before, that is okay. I hadn't either before Ragnarok 2022. Ragnarok 2022 is a gaming convention that just took place in Kitchener, Ontario, Canada. At that convention, they had a play-to-win board game library. My Little Scythe was in that library.
My friends wanted to win that game. On top of that, they always wondered if that game would be worth buying to play with their daughters. By playing the game at Ragnarok, they had the chance to try the game and also a chance to win it! Win-win for sure!
The fact that you could win the game made it even more exciting to give the game a try. We made a pact that no matter who won the game, if we won it, we would keep it so Dave and Randall could play it with their families. Secretly I was hoping to win the game so I could give it to them.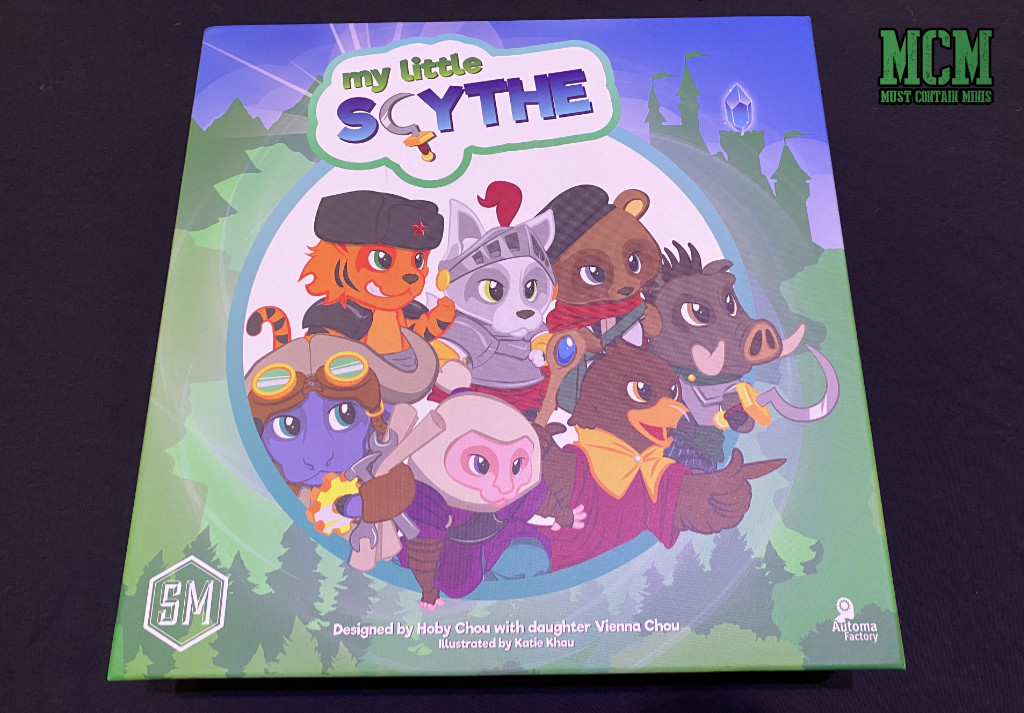 Before this convention, I knew nothing about the game. As you might guess, it is published by the same company that published Scythe. How exactly the two relate, I am not sure as I had not tried Scythe. My understanding is that this game is the children's version of Scythe.
My Little Scythe has cutesy miniatures that you move around the board trying to achieve objectives to win trophies. The first player to four trophies wins.
During the game players take control of two miniatures each. They move these miniatures around the board looking to complete quests, collect gems and apples, and even learn magic spells. During this trip on the board, players will take actions to increase their friendship with others and to make pies.
If two opponents land on the same space, they can engage in a pie fight. Here is a quick look at the back of the box.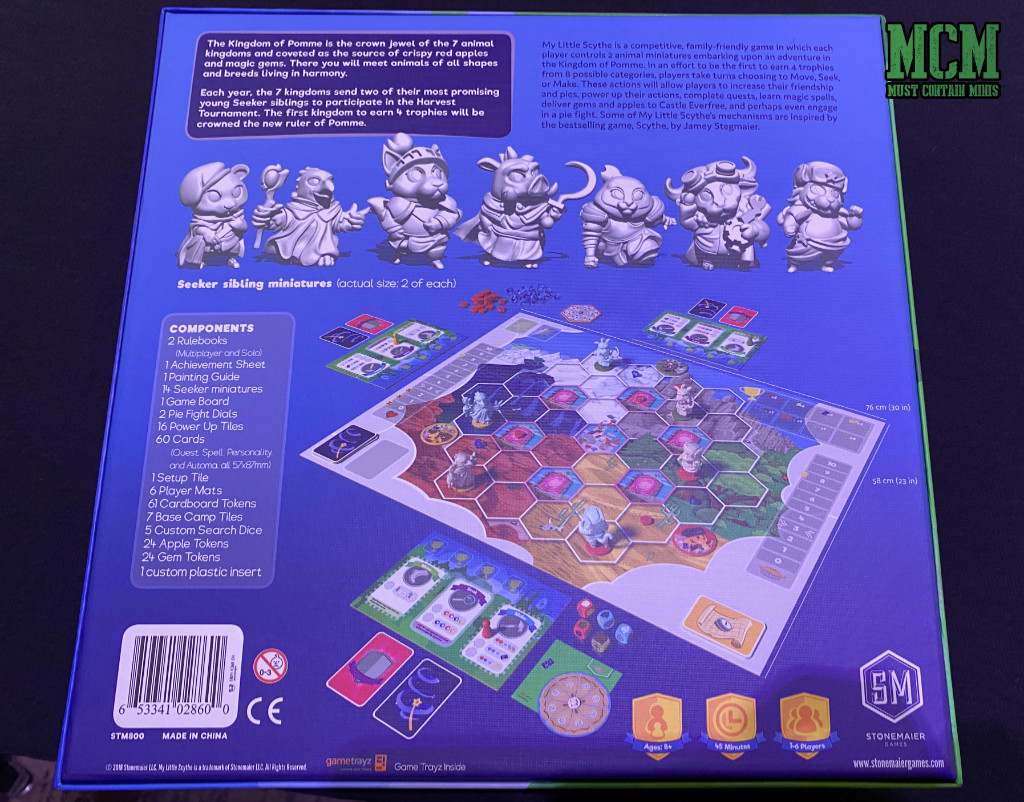 The Contents of My Little Scythe
We were fortunate enough to be the first to test out this game at the convention. As such, we got to punch out the components and open the tiny little packages for this board game. That is always fun to unbox a game and punch out the tokens!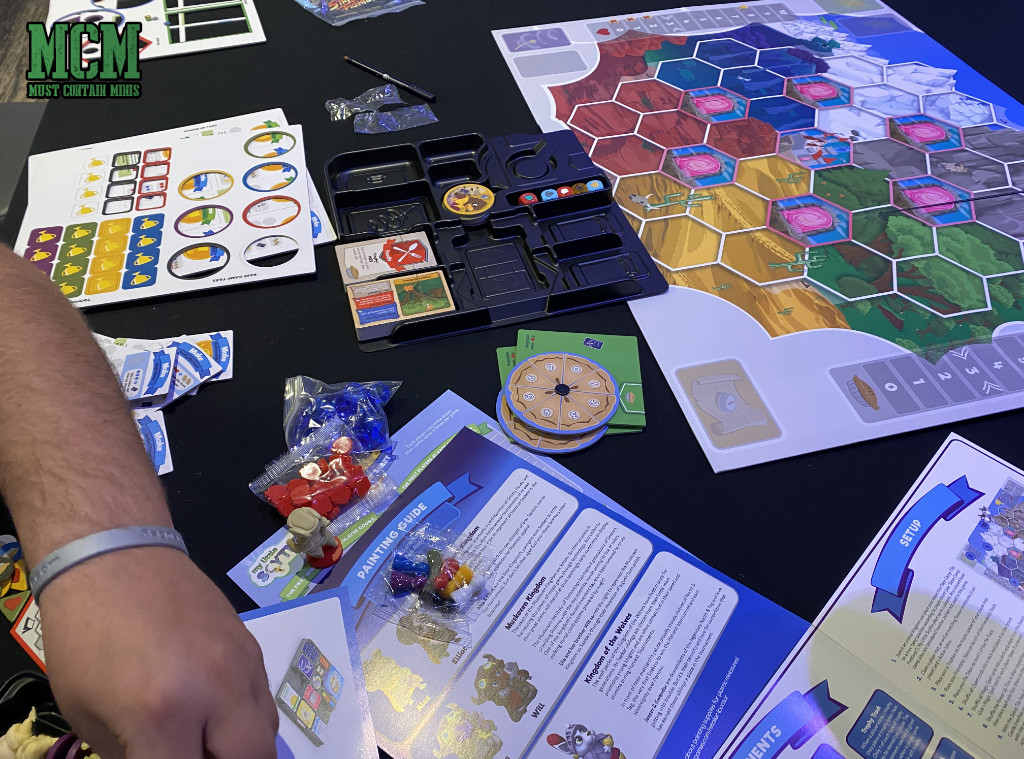 Inside the box were a number of family friendly miniatures.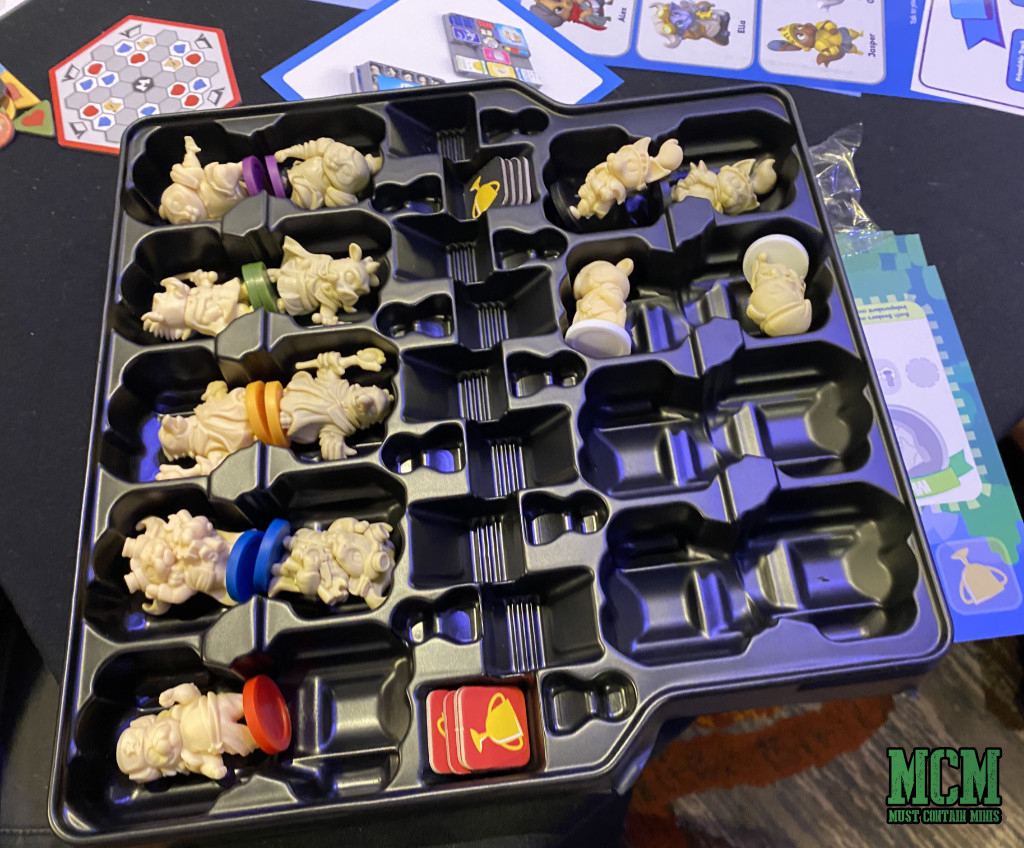 You use these miniatures to pick up items on the board and move them around the board and to make deliveries.
Being that this is Must Contain Minis, let's take a closer look at one of those minis.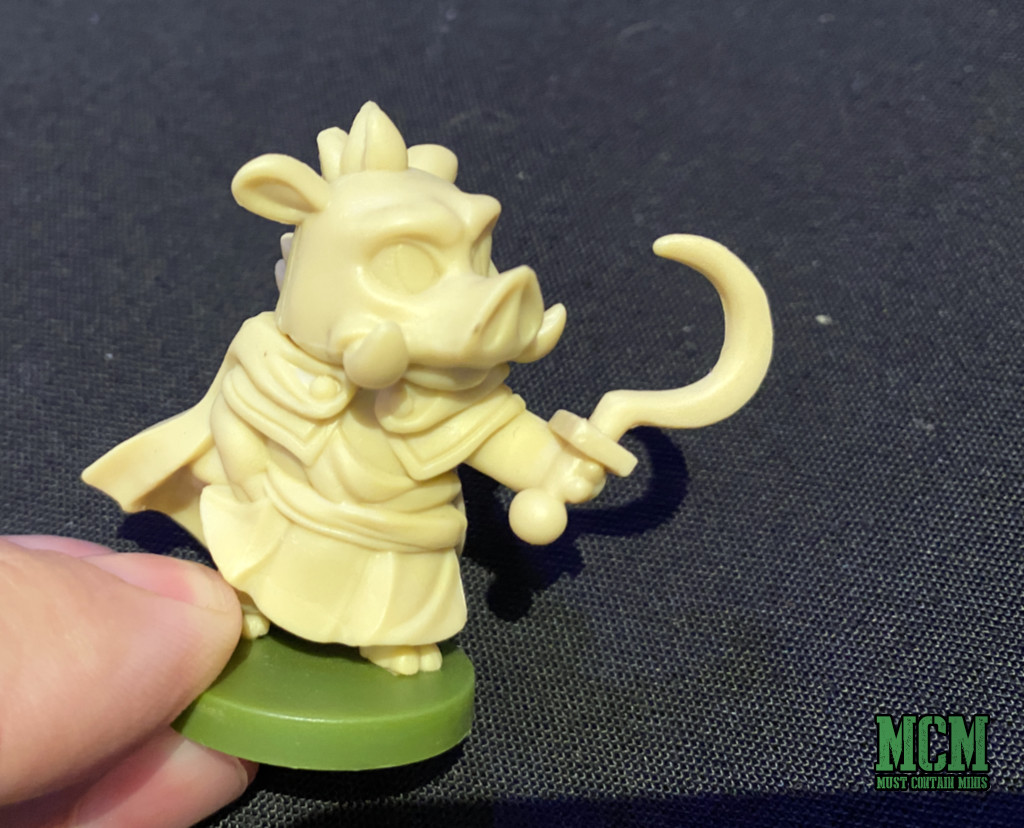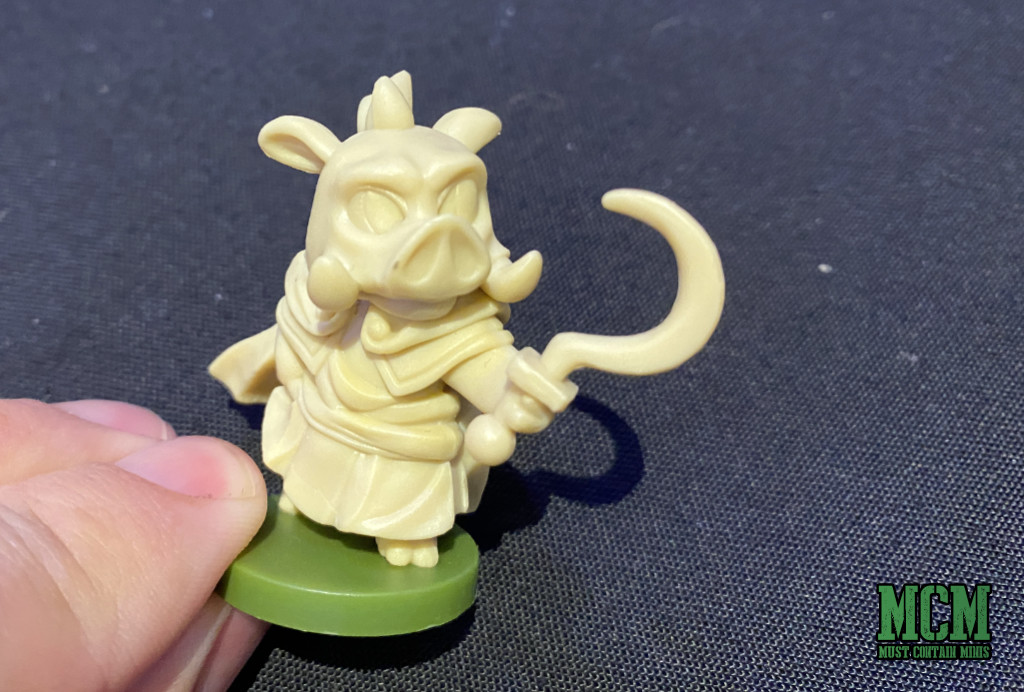 A Little About the Game
While we played My Little Scythe, my friends talked about how cool it would be if we won this game. As they chatted, we set up the board.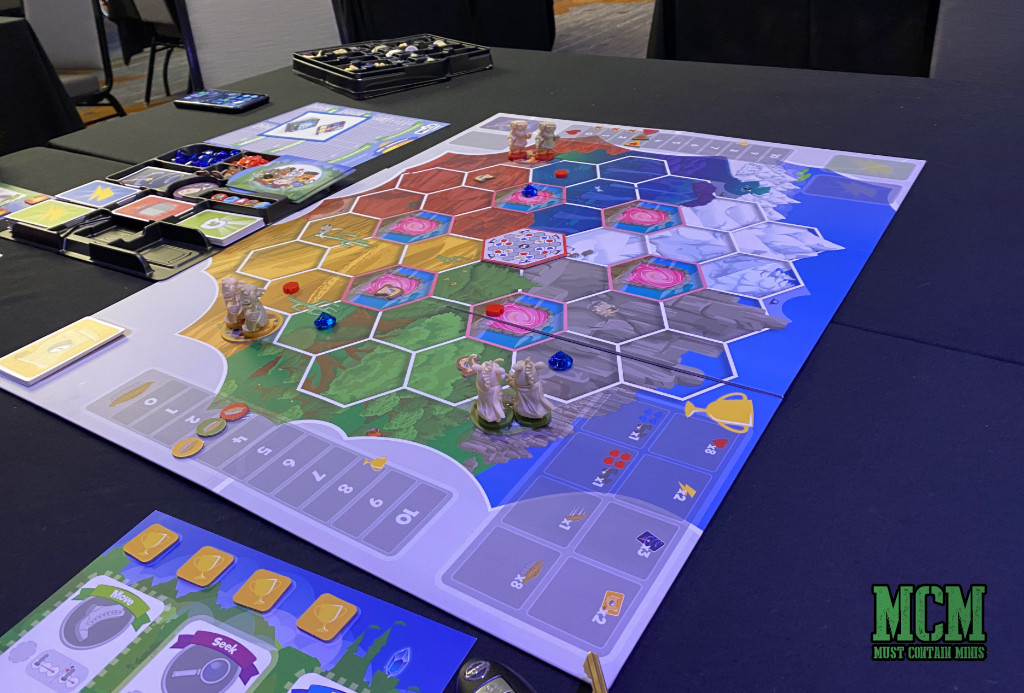 The strategies that we employed to play the game was different for each of us. Randall focused on moving items around the board and completing quests. Dave just went around maximizing his collections but he took many unfriendly options to do so. He would have been ahead of everyone with trophies if he were nicer. Because Dave's friendship level went below 3, his trophy collecting was penalized. As a result, he was behind everyone. My focus was enhancing my friendship levels. Sadly I didn't focus enough on scoring trophies.
The game itself was very simple to play. It is meant for 1 to 6 players and we played for about an hour. A typical game would likely take 45 to 60 minutes.
Of the three of us, I think Randall understood how to play the game the best and had the most solid strategy. Who won? When we finished with the game Randall and I were pretty close. We decided to call it a little earlier so I don't remember who the official winner was. I think Randall.
Having tried this game, we moved along to other games in the Play-to-Win Library at Ragnarok.
Win Me That Game – The Prizes Announced!!!
At the end of the day, the time finally came for the Ragnarok prize draws! We each had an entry in for My Little Scythe along with a few other games. When the hand went in the envelope, I was hoping that one of my friends would win the game because the wanted it.
They drew my name!!! That is just as good! I collected the prize and gave it to Dave who has children the right age to enjoy the game. Randall also has children, but they are not old enough yet for My Little Scythe. If the game is still enjoyable, I am sure Dave will give it to Randall when his kids are old enough for it.
Not bad at all! I have to say, it was exciting to win something and although it is not up my alley, I am happy that I have friends that will enjoy the prize.
Wrapping it up…
Ragnarok 2022 was a lot of fun. It was a two day event in Kitchener, Ontario, Canada. I went for the Sunday date of the event. At the event, I checked out the vendors (I have a post about them here), played miniatures games in the morning and played board games in the afternoon. The games we focused on for Boardgames were all games that we could actually win a copy of by signing them out and playing them.
As a group we won two of those games, but, in my opinion, My Little Scythe was the better one of the two. It felt pretty good to win a prize! It is interesting to think that if you look at the price of My Little Scythe new versus the cost of the tickets to get into the event, the tickets paid for themselves and we had lots of fun.
For more on past and upcoming events, check out the Ontario Miniatures Gaming Convention Page on this site.
Thanks for reading and until next time, Happy Gaming Everyone!!!