Recently I received some Legions of Steel Miniatures by Raybox Games. These miniatures are actually preview figures for an upcoming Kickstarter. Legions of Steel should march onto Kickstarter this fall.
For those that don't know, Legions of Steel is a Sci-Fi Miniatures Board Game that most people would consider a "dungeon crawler." The game returns from its first appearance in the 1990s.
Now, if this game interests you, be sure to follow their Facebook Page and their Facebook Group. Rayband Games posts plenty of interesting previews in those two spots.
Also, at the end of the video I placed a video that covers much of the content in this post.
With that out of the way, let's take a look at these preview miniatures.
Disclaimer: Raybox Games sent Must Contain Minis a package of preview miniatures for review purposes. While I accept review products, I am in no other way compensated for my posts. I reserve the right to give positive and negative reviews of the products.
The Preview Miniatures
These new Legions of Steel Miniatures came to Must Contain Minis in a little box in the mail. In that box were a number of figures.

This miniatures came as single and multi-piece miniatures.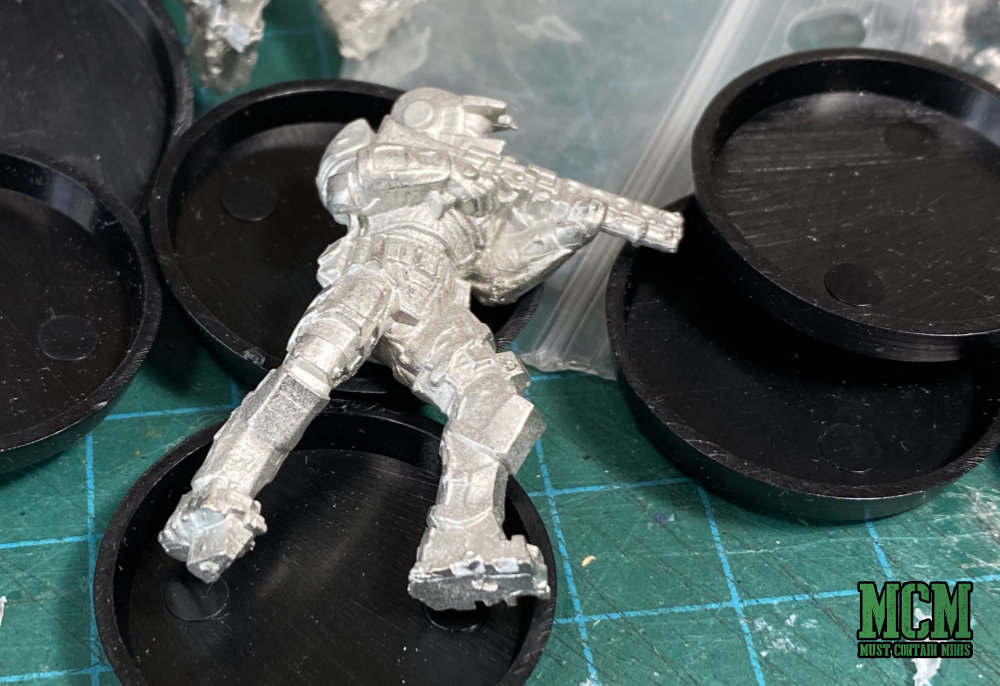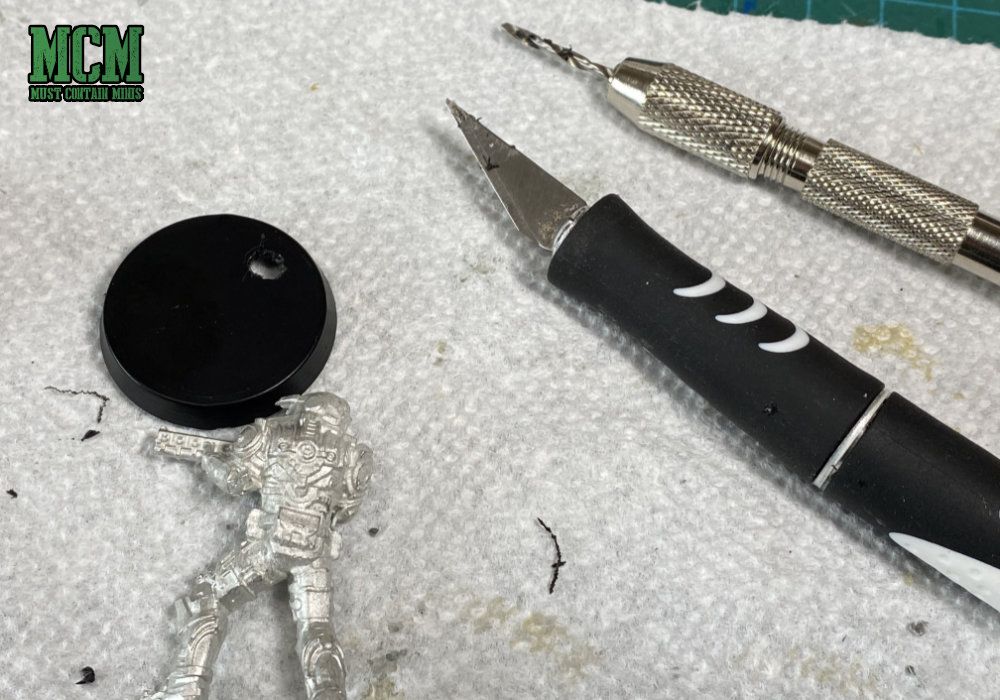 Now, these miniatures are preview miniatures. They are not the final figures that will go out to Kickstarter backers. As such, they are subject to change and I have seen the designer playing with the idea of designing these these figures for optional slotta bases.
In these images I saw, they played with the idea of shipping special bases where you can use the figures as either slots or snip the slots off and paste the miniatures straight to the base. Those bases are not the same as what shipped to me.
It will be interesting to see where things go.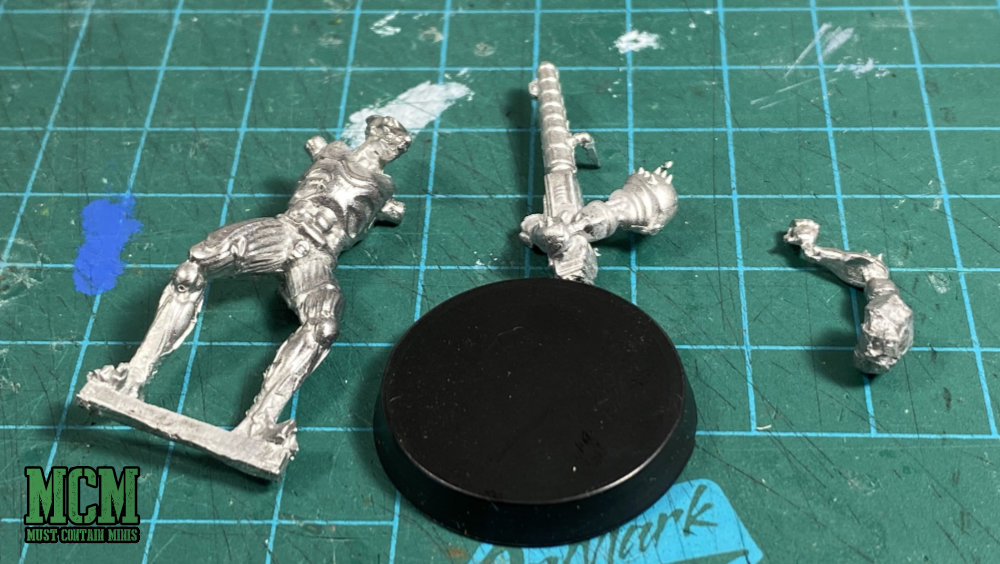 Assembling Miniatures
I found the miniatures mostly easy to build. For some of them, I used my Citadel Assembly Handle so I didn't have to hold the pieces while the glue dried. The handle can't handle the larger pieces of the largest miniature, but for normal sized metal pieces, it works just fine.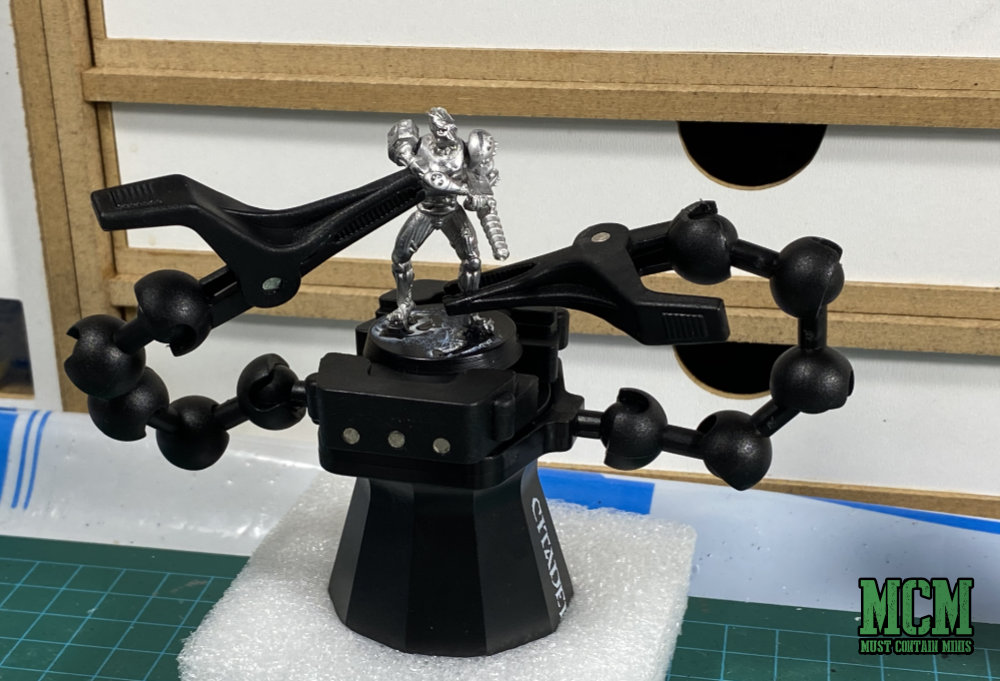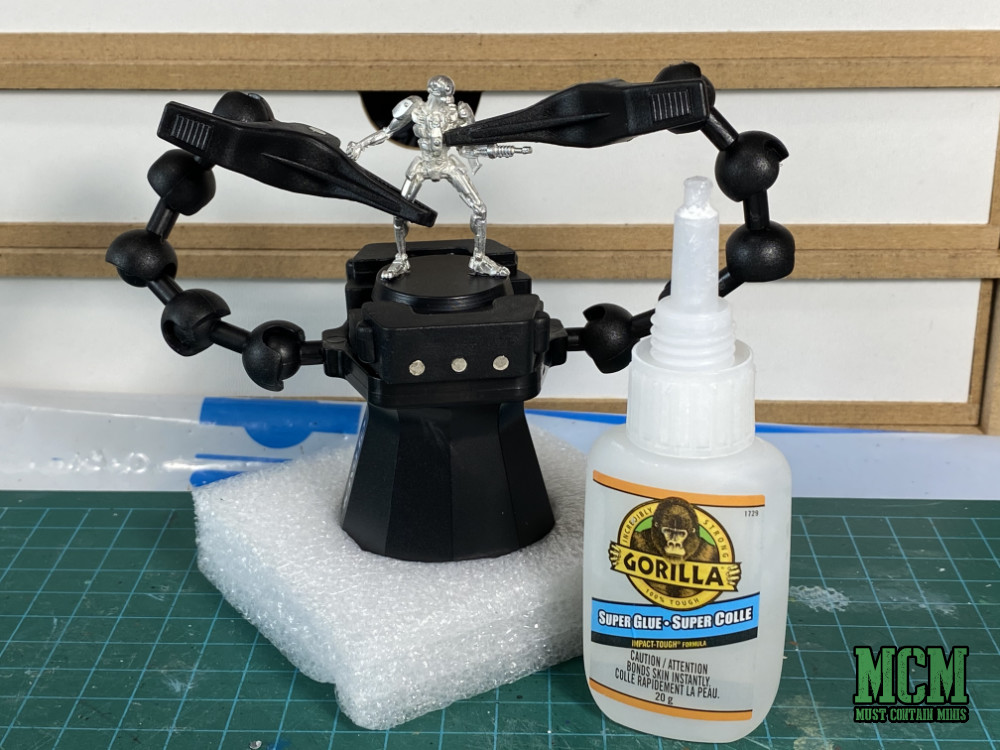 Most of the miniatures came as a single piece, which is very easy to build. Just glue it on the base.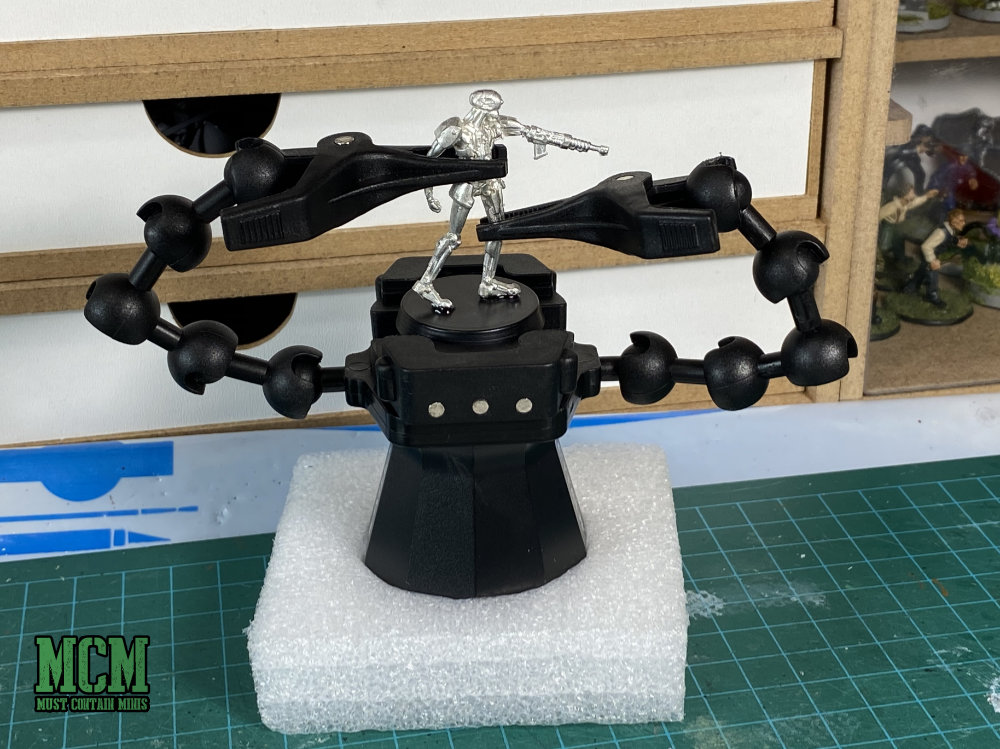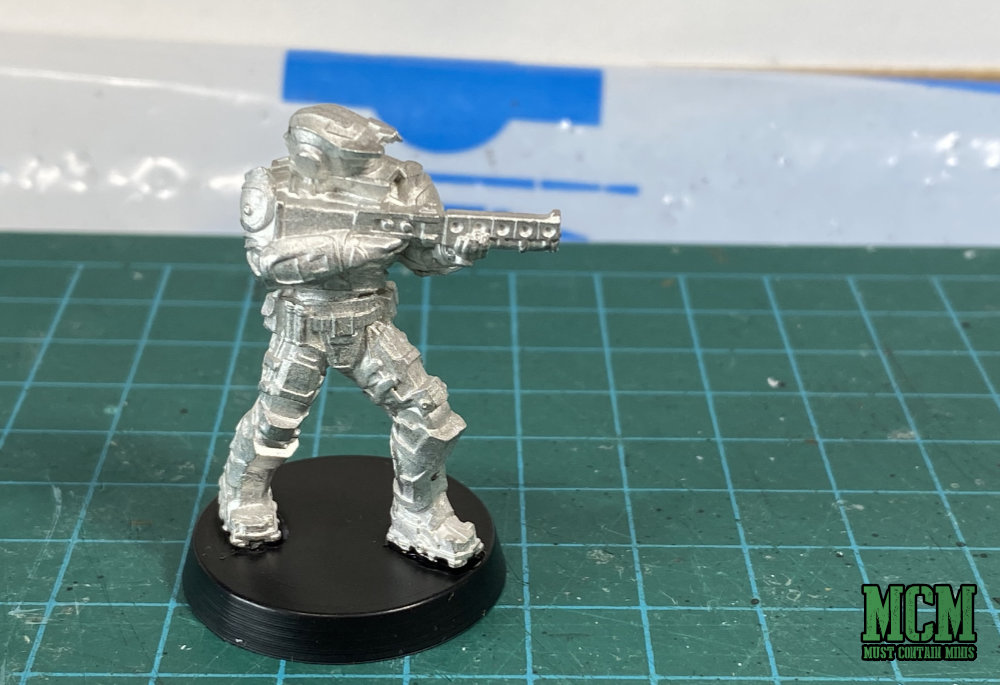 Scale Comparison Images
Below are scale comparison pictures of the new Legions of Steel Miniatures. These miniatures coming out in Raybox Games' next Kickstarter are all new designs. These are not the same miniatures as the ones from the 1990s. They are updated to today's look and feel.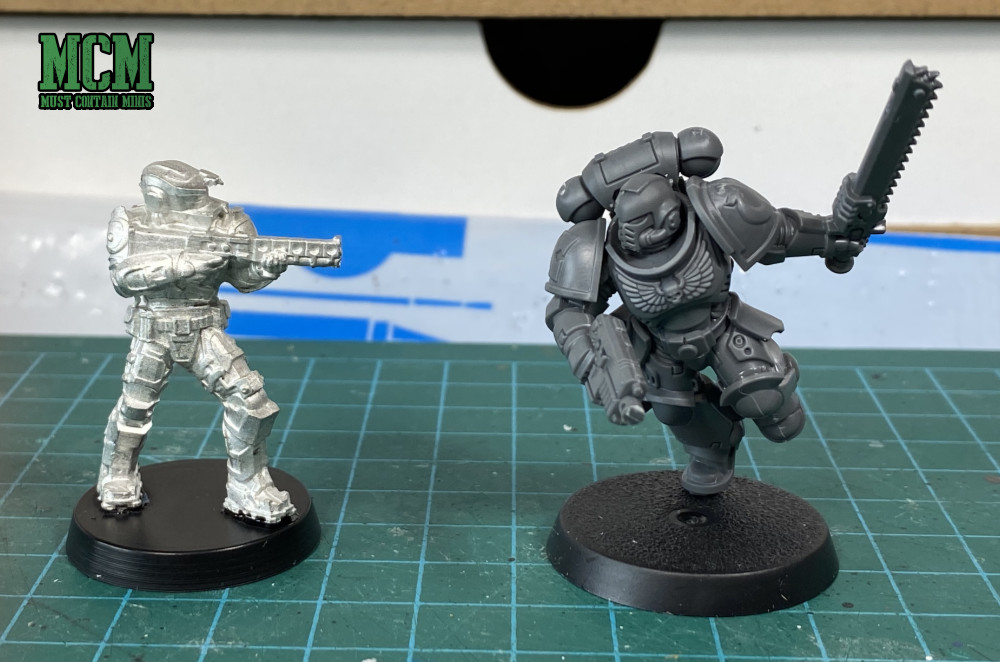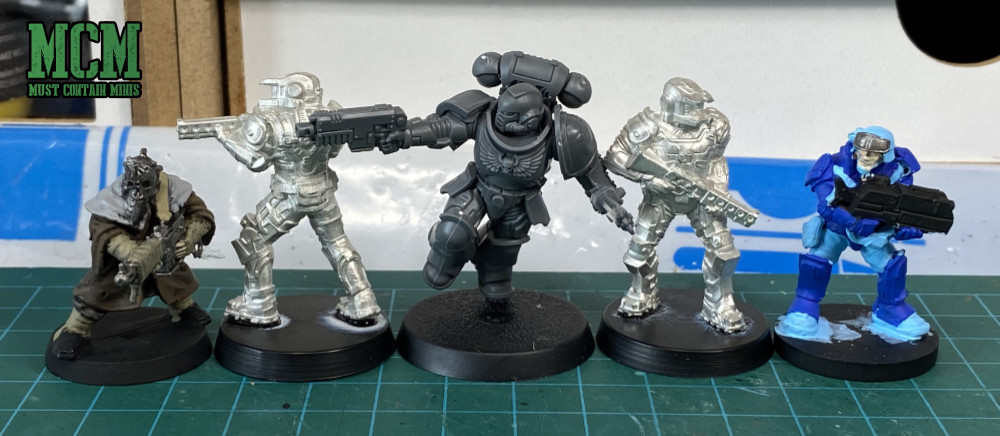 The Video
Wrapping it up…
Thank you for joining me in this preview of the new Legions of Steel Miniatures. These figures will be going to Kickstarter soon for a new edition of Raybox Games' Legions of Steel. If you want the latest updates about the upcoming Kickstarter, be sure to join the Legions of Steel Facebook Page. You can also sign up for their updates on their Legions of Steel website.
I will have more posts going up of the figures in the future and I already painted one of them up too.
Until next time, Happy Gaming Everyone!!!