As you may have seen in Tuesday's post, I partnered up with Humble Bundle as a way to support MCM. By buying from there using the links on this site, you can select to send some of your money to fund the content I create on Must Contain Minis. This helps with the costs of web hosting and the time I spend producing content.
Today I want to point out a sale Bundle on the Conan RPG. These books by Modiphius Entertainment are on for a huge discount through this Humble Bundle.
The Artbook and More for Just $1
I actually own a number Conan RPG PDFs myself. Aside from the Artbook, I haven't reviewed those books on this site. That is simply because my focus is on Miniatures Games. That said, I still have an interest in RPGs and that "Art of Conan" book is amazing.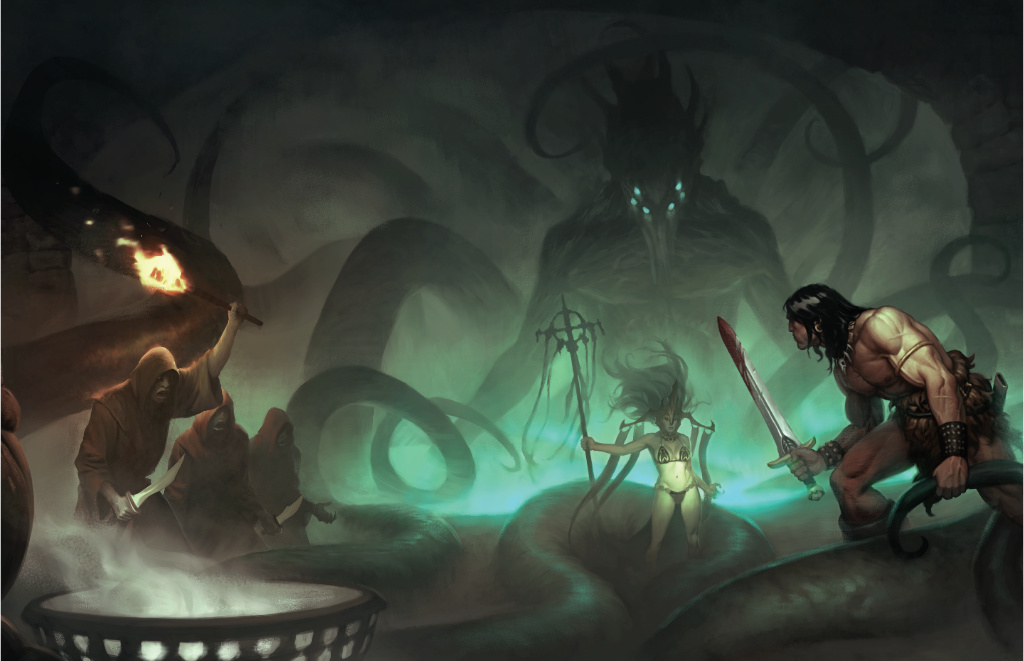 That Artbook and more are available for basically $1 American. That's $1 for a bundle of books. Not just the Artbook. That's amazing! If you haven't checked out my review of the Art of Conan, give it a look.
This Conan RPG Humble Bundle sale is well worth a look.
Even Bigger Packages
The bundle with the Players book and Artbook for just $1 is the starting point for this deal. If you join in at the $8 or $15 levels, you unlock even more PDF books for yourself. Get in on the $8 level and you get the core rule book plus some more titles (in addition to the ones in the $1 level). At the $15 level, you are getting 20 titles. That is a lot.
If you are a Conan fan, this might be your time to act to get some light reading at a very affordable price.
Wrapping it up…
Like I mentioned earlier, I own some of Conan PDFs myself, but tend to just flip through them. As such, I can't really offer a review other than letting you know about the deal and that I really enjoyed the Art book.
If you haven't checked out this Conan RPG Humble Bundle for PDF Rulebooks by Modiphius Entertainment, be sure to do so soon. This bundle ends soon. At the time of publishing, there are only 6 days left to the deal.
Until next time, Happy Gaming Everyone!!!