Update (January 19, 2019) – This post has now been redone. Feel free to read through the text of this article as the new post is different, but be sure to visit the new post for better pictures of these three miniatures. 
In this post, we take a closer look at the metal miniatures that come in Warlord Game's British Army Forward Observation Officer Team blister pack (WGB-BI-55). I do apologize that the photos in this post are dark.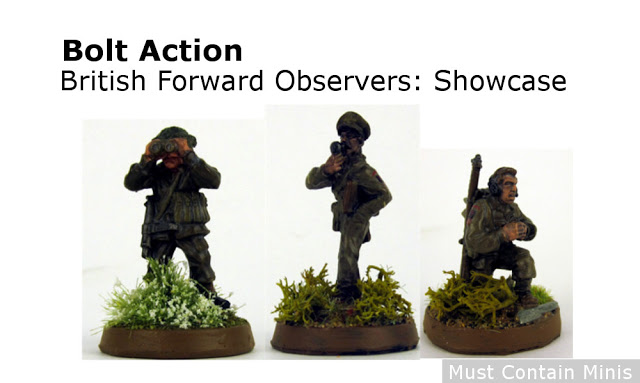 A quick showcase Article of the miniatures in the British Army Forward Observations Officer Team by Warlord Games (WGB-BI-55).
One could create Forward Observer figures easily enough from the plastic miniature sprues by Warlord Games, but using these figures gives the army a bit more variety and character. I will admit that I am not the best of painters, but that is okay. I strive for a tabletop quality and more than happy to game with these figures. Now lets take a look at what comes in this pack.
This first miniature comes in the pack could act as an Air Observer and Warlord has painted him in a blue uniform in their product art. He is also armed with just a pistol. I painted him in standard British army colours and use him as a Forward Observer for the big guns. I armed him with a rifle (from the plastic British box set) and use him to harass enemy teams once the Artillery Bombardment has been called in.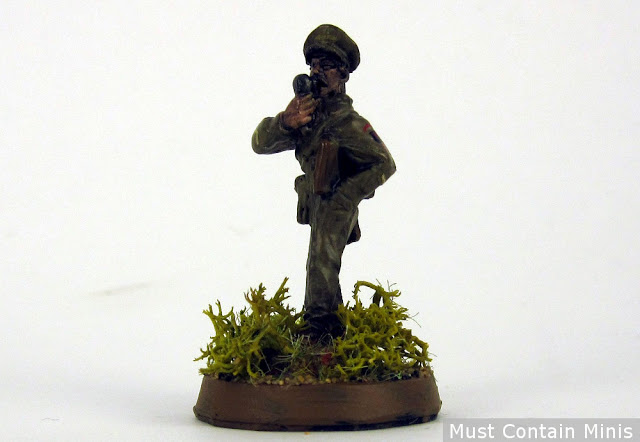 The Air Observer. I use him as a Forward Observer.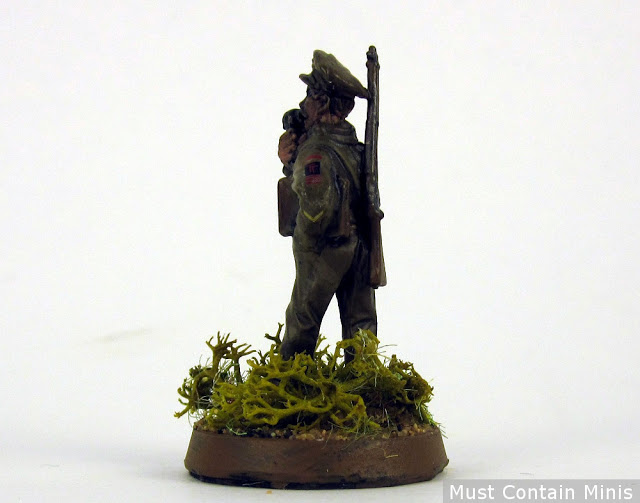 I added the Rifle to him by crazy-gluing a bit from the British Plastic Infantry Box Set. I went through and put decals on the sleeves of all these miniatures.  🙂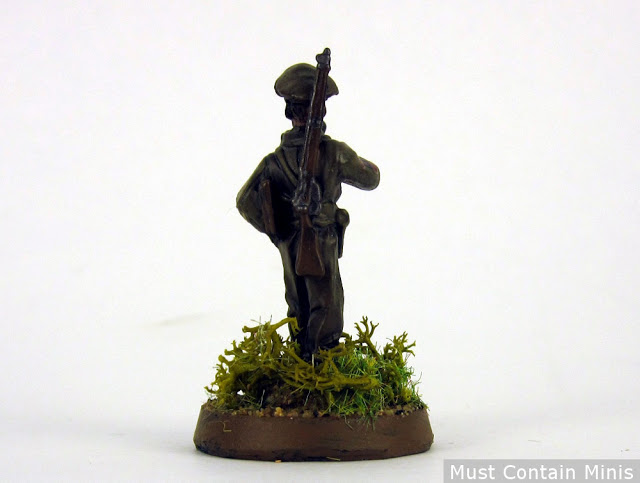 I figure why not take a few pot shots after calling in the bombardment. Sometimes he gets lucky.
The knelling figure of the set has a radio on his back and I use him as the assistant Forward Observer with the figure above. He is also armed with a rifle but comes that way as a metal figure.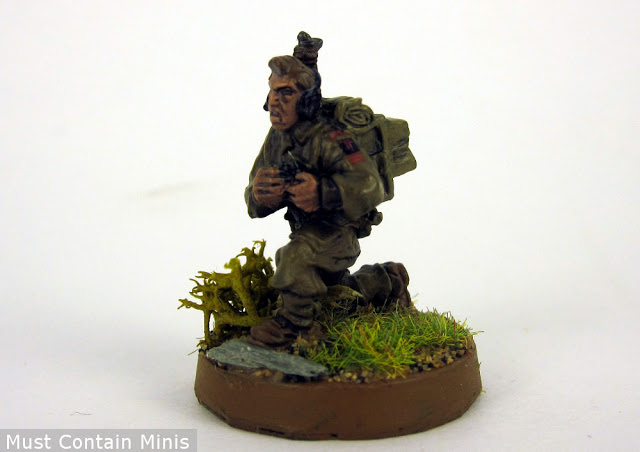 Again, I went through and added the decals to these minis.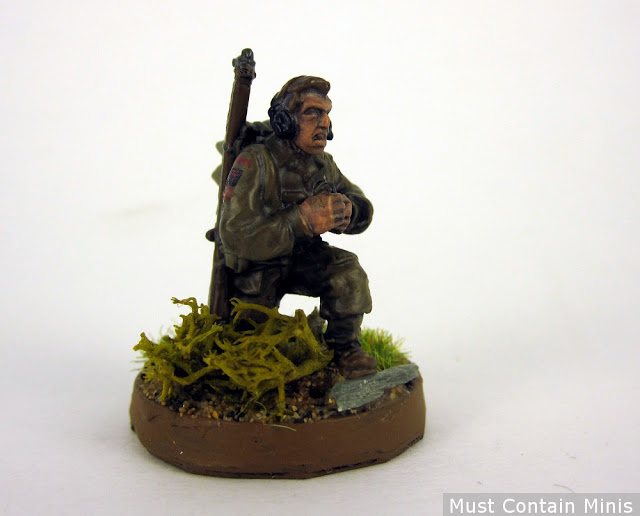 This figure comes with a rifle attached to the figure. I am really happy with how this figure painted up. Looks great to me and is a lot of fun on the tabletop.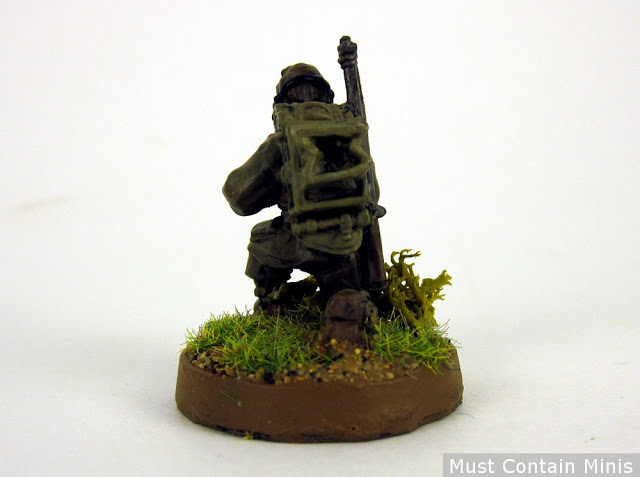 Personally, I wondered if the frame of the radio backpack is supposed to look like that, but it also looks the same way on the figure on Warlord's website.
The third figure comes the most heavily armed in the group. I generally use him as a commander instead of a Forward Observer. That said, sometimes I run two Forward Observer teams in my army and often he will find his way to spotting for the big guns from behind the line.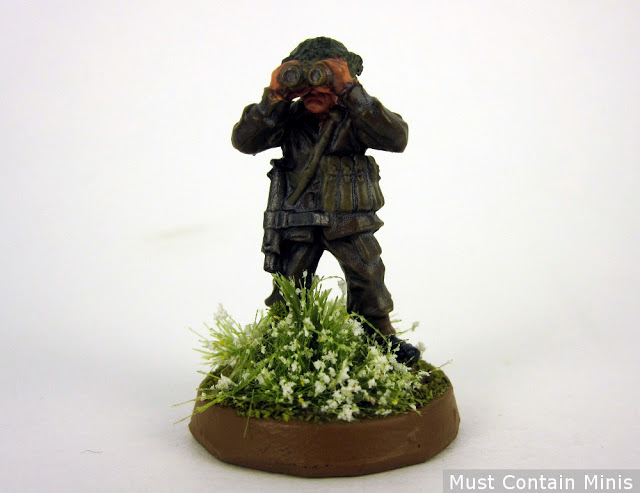 This great looking mini is armed with an SMG and a serious amount of ammo. I generally use him as a commander in an assault based army, but he can be used as a spotter too.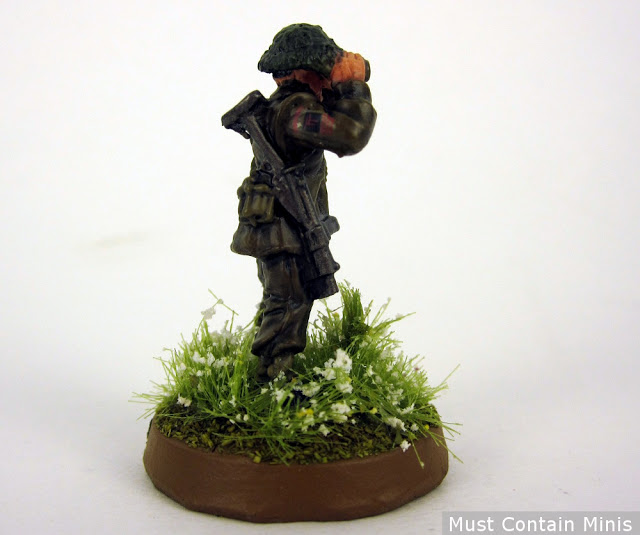 Again, patches are on the shoulders. The decals did not come with these minis. I used the ones from the Plastic Infantry Box.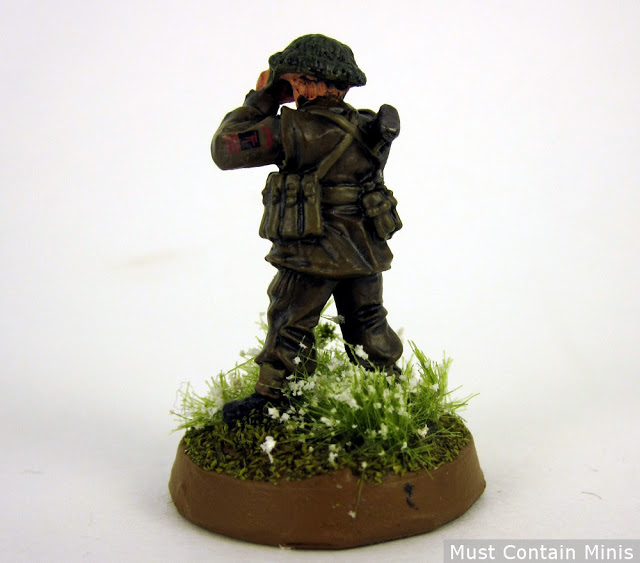 The details on this mini show out just amazingly after applying a wash. This one was my favourite to paint of the group.
These are some pretty nice looking miniatures and I use at least two of them in every game of Bolt Action that I play. The two armed with rifles I always use as the "free" regular Forward Observer (and I pay the points to have a second man in the squad).
The third often makes the table as a Commander or as a secondary (and veteran) Forward Observer. I always play with my Observers for Artillery. I have not yet tried them as Air Observers, but that might change someday.
Hopefully everyone enjoyed this quick post.
Until next time, Happy Gaming Everyone!!!
Update (January 19, 2019) – This post has now been redone. Feel free to read through the text of this article as the new post is different, but be sure to visit the new post for better pictures of these three miniatures. 
[amazon_link asins='B01L35OIE4,B00DM0R4EK,B004GKHW5G,B00AZYBGNG,B072VPF58V,B0721VHZ3Z,B00LAYXHW8,B075KHTYPS,B072VNLGMG,B00NFJJ6SU' template='ProductCarousel' store='mustcontainmi-20′ marketplace='US' link_id='a8e16b7c-d026-11e8-b860-99410097fce7′]
Help Support Must Contain Minis
If you are interested in helping Must Contain Minis with Financial Support, we have a Sales Affiliate relationship with the Wargame Vault and DriveThruRPG. If you purchase something from those stores and use the links from this site to get there, 5% of the sales price goes to Must Contain Minis (with no extra costs to you the consumer). 

For those that don't know, the Wargame Vault carries plenty of PDF rulesets for miniatures games as well as printable terrain. Many of their products are also covered by DriveThruRPG. DriveThruRPG focuses more on Role Playing Games.