Today, we take a look at some minis painted by our friend Rob from Ullr's Table.
These miniatures are from the game Shadows of Brimstone. The first series of pictures show off Rob's work on the Tenderra Deluxe OtherWorld Expansion set. The second group of pictures is of the Sand Kraken from the XXL Enemy Pack.
All of the pictures below are from Ullr's Table and used with Rob's permission.
The Trederran Soldiers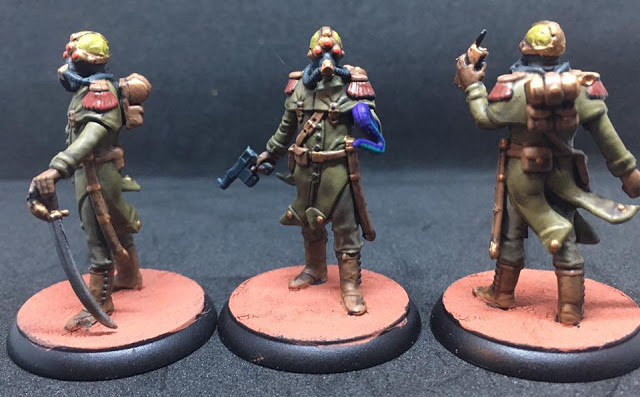 Trederran Lieutenants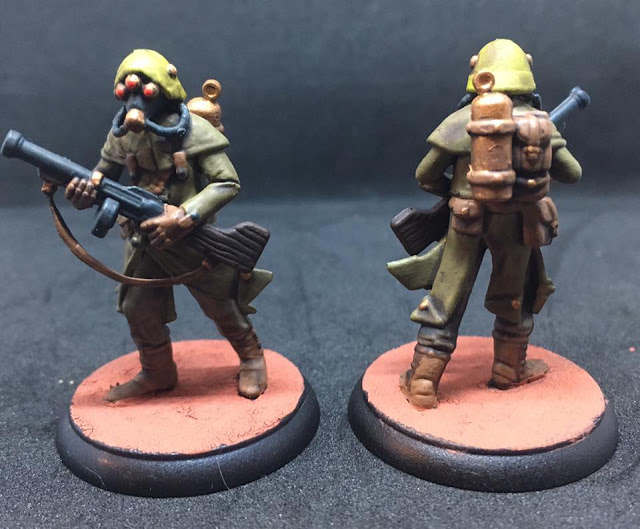 Trederran Legionnaires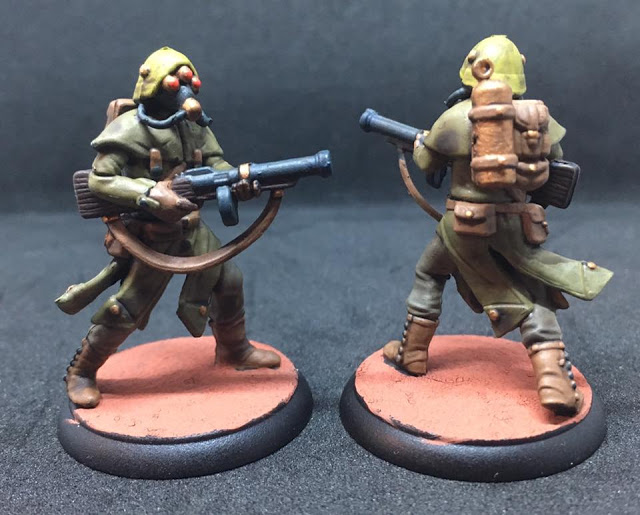 More Trederran Legionnaires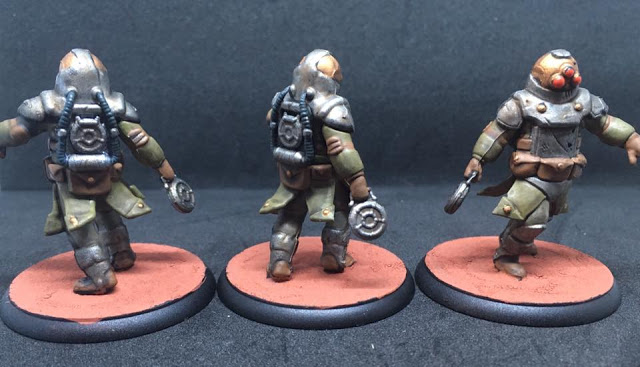 Z-4 Grenadiers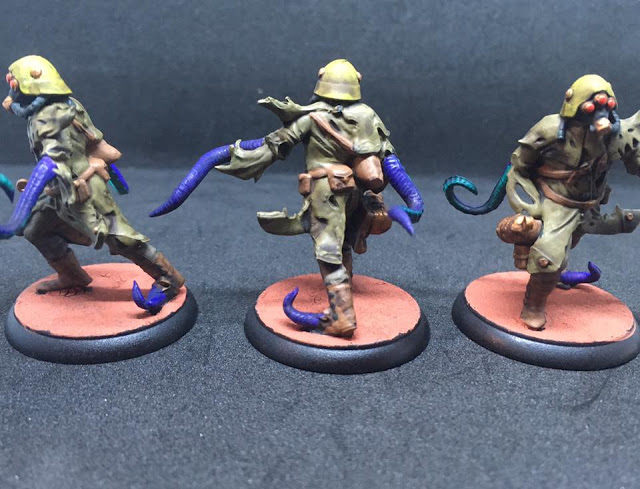 Trederran Mutants


All of these miniatures above look very cool to me and Rob did a good job painting them. Personally, the Trederran Legionnaires are my favourite model followed by the miniatures of the Z-4 Grenadiers.
the rifle armed troops are my favourite followed by the guy in heavy armour.
The Sand Kraken
The miniature below is larger, but unfortanetly we don't have any pictures for scale. That said, the model looks neat and Rob did a great paint job on it. If you see this guy coming through the sand, run!!!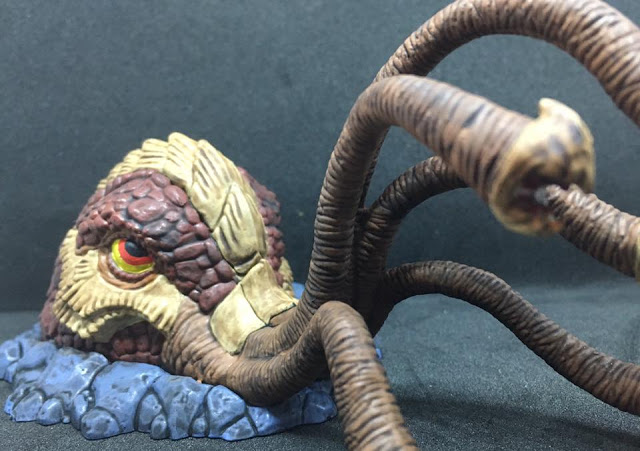 Shadows of Brimstone's Sand Kraken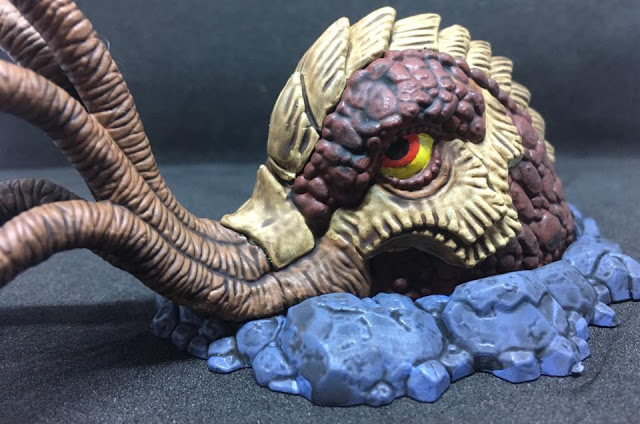 Another view of the Sand Kraken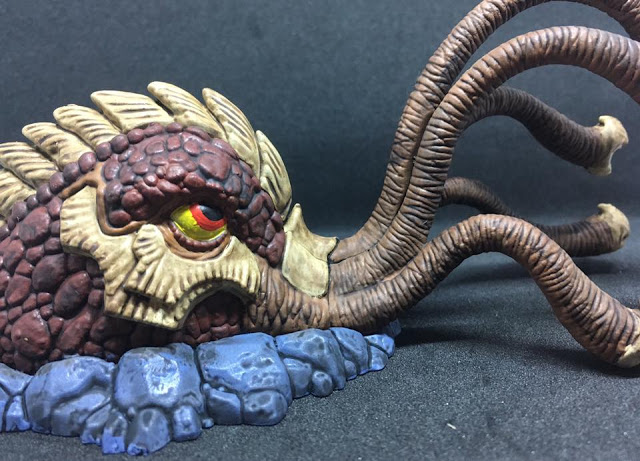 If you see this guy on the table, run!!!    🙂
It is always a joy taking a look at well painted miniatures from cool looking board games. Hopefully everyone enjoyed this quick post.
If you don't know what Shadows of Brimstone is, it is a 1 to 4 player cooperative dungeon crawling board game. It is one that I have never had the pleasure of personally playing, but it has a high rating on Board Game Geek. The expansions above take the game into other worlds.
For those local to the Kitchener or Waterloo area (in Ontario, Canada), Rob of Ullr's Table is gearing up to run the gaming convention "SkyCon" on October 28 and 29 (2017). It is a very ambitious project and there looks to be a lot going on at the event. Be sure to check it out if you are looking for something to do on those days.
Until next time, Happy Gaming Everyone!!!
Written by Jacob Stauttener
Photos by Robert Morris
Miniatures painted by Robert Morris of Ullr's Table
Remember, you can help support Must Contain Minis by buying from DriveThruRPG and the Wargame Vault after following one of the links from this site. We have a sales affiliate relationship with both sites. 

[amazon_link asins='0984608087,B00Q7F1QU0,B01D8W7ELO,B072QF3Z74,194181638X,B07CVQR1P1,1941816371,1941816193,1941816363′ template='ProductCarousel' store='mustcontainmi-20′ marketplace='US' link_id='2fc2f873-8e29-11e8-b1b0-45c56dcd2c03′]
Must Contain Minis is also a participant in the Amazon Services LLC Associates Program, an affiliate advertising program designed to provide a means for sites to earn advertising fees by advertising and linking to Amazon.