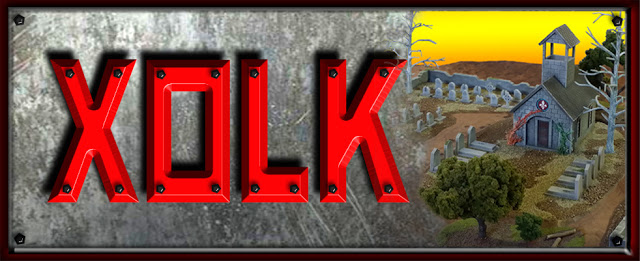 Have you ever heard of XOLK? Before Saturday, I had not. I came across this company's products while "Window Shopping" at one of my Friendly Local Gaming Stores (J&J Cards in Waterloo, Ontario, Canada). There I saw a shelf of MDF Terrain by a company named XOLK. The first thing that caught my eye about these products was the price. $10.99 Canadian for a set of ruins. That is about $8.41 for my American readers. Not bad at all. The next thing that I noticed was that artwork on the cover. The building looks quite good for its price point. Finally, this product is made in Quebec. That should interest my Canadian readers.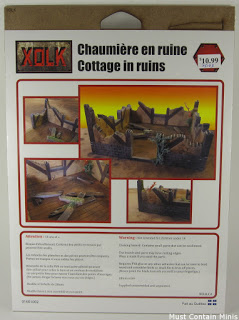 This is how the product is wrapped and displayed in the store. That is a nice looking building and at $10.99, I had to buy it to test the building out.
On the same day that I bought the product, I brought it home and built my new "Cottage in Ruins." The reverse side of the package showed MDF without any details. Because of this, I wasn't sure if the model would turn out like the picture. Upon opening the package, I was very pleased to see the amount of details etched into the product. This will paint up nicely.
Upon opening the package, I found a nicely etched board of MDF with a small piece of advertising.
This building went together very quickly. In under 30-minutes Must Contain Minis was the proud new owner of a completed ruined cottage. Not a bad piece of terrain at all for just $10.99.  🙂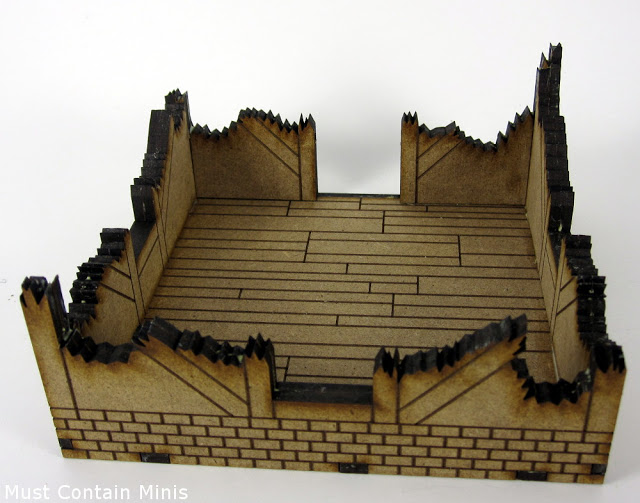 A Picture of my completely built "Cottage in Ruins" model by XOLK. I was so excited about this building that I took the pictures while the glue was still drying. Included with the model kit, but not pictured above are several busted wooden planks that can be scattered in or around the ruins.
As one can see, this is a nice looking building. It should paint up quickly and I can easily see myself using it for either Bolt Action or Frostgrave. Of course, this ruins set will fit many other game worlds too.
I was impressed enough with the product that Must Contain Minis reached out to XOLK and worked out a Sponsorship deal. As such, my readers can expect to see more of their products on this website.
Until next time, Happy Gaming Everyone!!!
Update: In the Comments I had a request for some scale comparison photos. Below is a series of pictures of the XOLK "Cottage in Ruins" with three miniatures on top of TerraTiles by RAINN Studios. One miniature is a 28mm WW2 figure by Pulp Figures and the other two are Chaos Cultists for a Sci-Fi game. Why the two groups are fighting together? I don't know.   🙂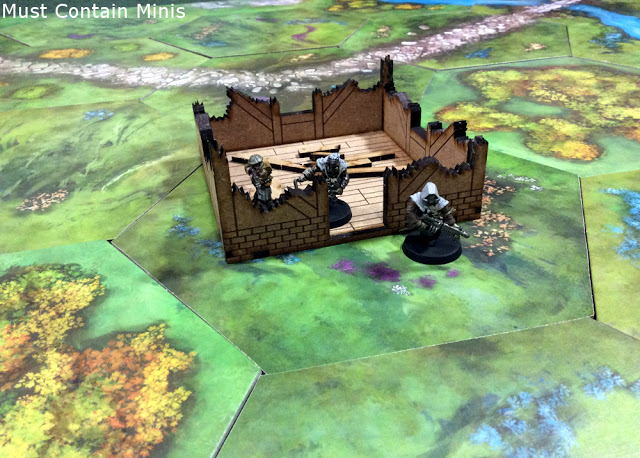 The Ruined Cottage really pops off against the Terrain Tiles. The details in the house look good even though it is unpainted.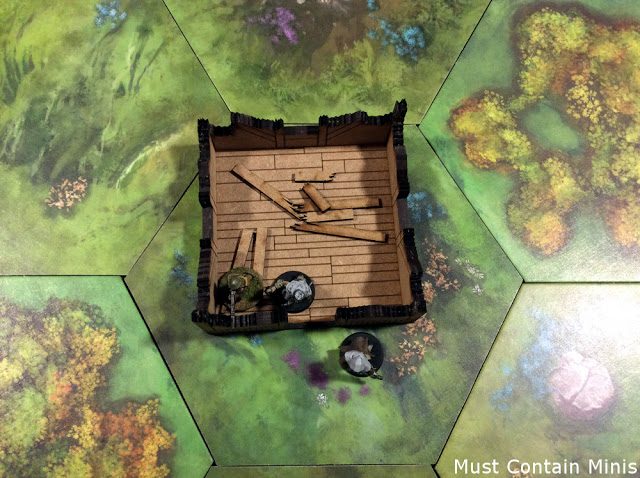 The planks in the house come with the building. They can be placed or modeled as the owner wishes. I just placed them in the building without gluing them down.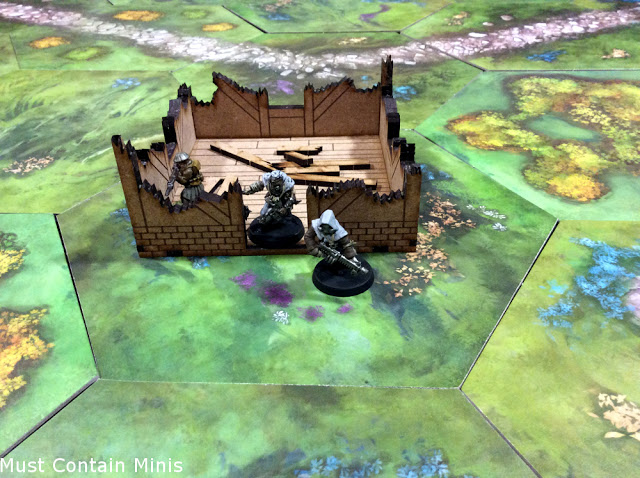 Why the British WW2 Soldier and Chaos Cultists are fighting on the same side, I do not know. It works for a scale comparison though.  🙂