This past Saturday I took the drive down to Hamilton, Ontario for a local gaming convention. This convention covered Board Games, Minaiture Games and there might have even been an RPG game in the midst. Most of these games carried a Cthulhu twist to match the theme of the event. I arrived a little late, so I didn't get to explore the venue or tables as much as I wanted, but there was a good turn out. Upon arriving, I signed up for a game put on by 6 Squared Studios and toured around the venue. Below are a few photos of what was going on at the event.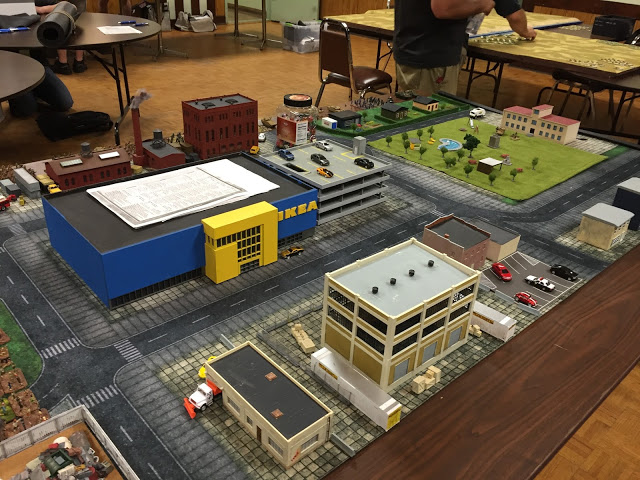 A World War Z game using Flames of War Rules and plenty of 15mm Zombies. Love the table. Couldn't believe that they had an IKEA building. Looks just great!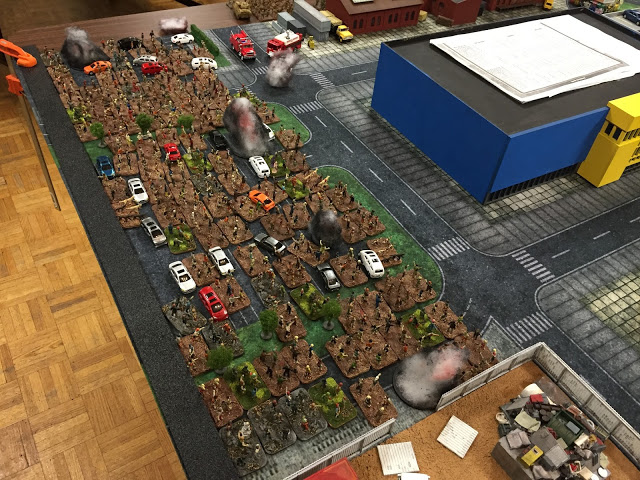 Look at all these Zombies that will soon be flooding the board.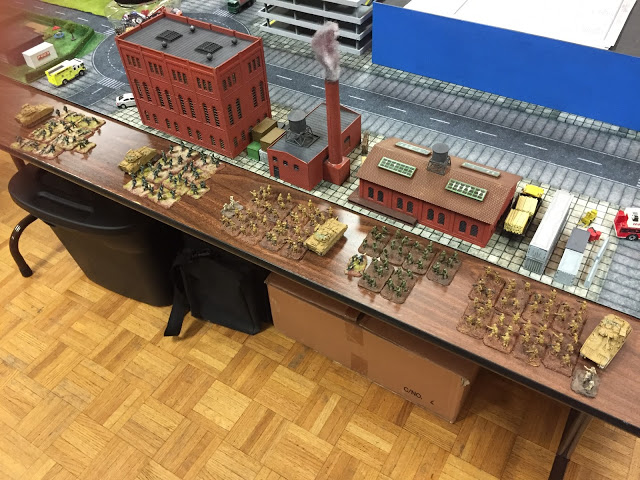 I presume this was the forces that each player could use for the game. Looks interesting! Too bad I couldn't stay to check it out.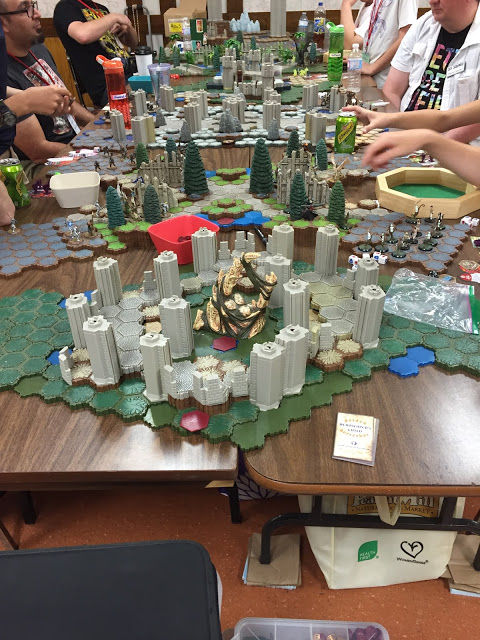 I was amazed to see all of this Heroscape and all of the people playing. Heroscape always interested me but I never had the chance to give it a try myself.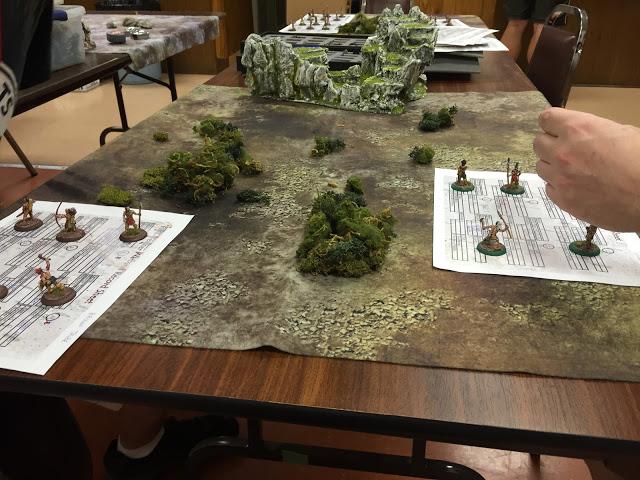 The Guys from Crucible Crush were running three tables of their game Flint and Feather.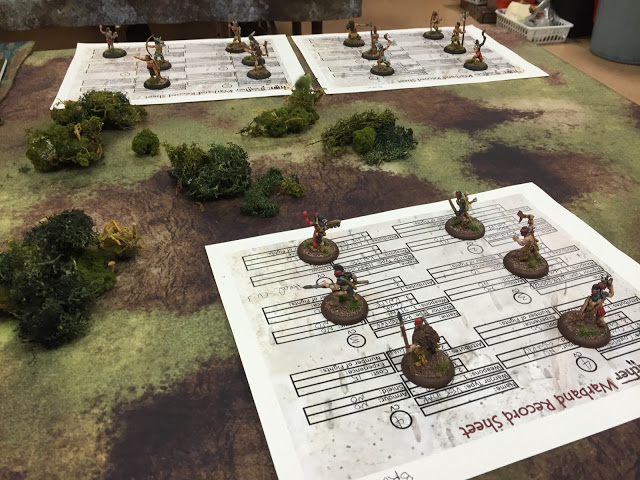 Another Flint and Feather Table.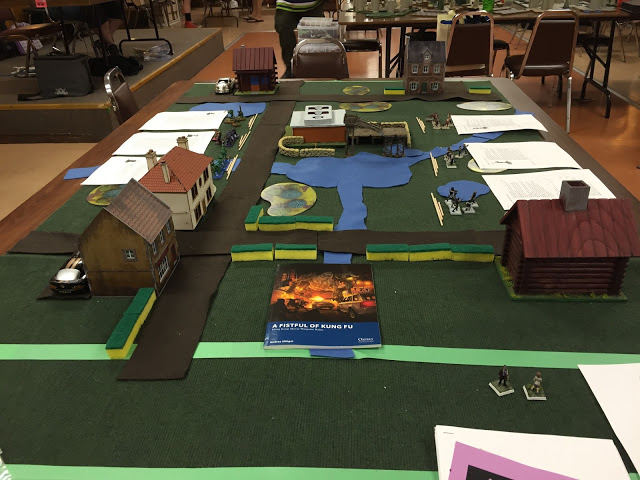 This was my table for a game of A Fistful of Kung Fu. Its battle report is also up on this website.
There were plenty of other games running at the event and a full fledged Star Wars: Armada tournament. On top of the games, there were a number of vendors and a couple of people painting. The painters were outputting some great work and I was surprised to see people actually painting at the event.
I didn't get around to all of the vendors, but I did check out a few. Lee, from RAFM, was the first vendor that I chatted to at this event. His group was selling RAFM products as well as products by Reaper Miniatures, Pulp Figures and Crucible Crush. It was great learning more about some of the other lines that they carry. From RAFM, I bought a few Reaper Bones miniatures that I plan to use for Frostgrave and 5 miniatures by Pulp Figures that I plan to use for Bolt Action. The miniatures from Pulp Figures I am particularly excited about because I have been looking at their miniatures for years but never actually bought anything until now.
After chatting to Lee, I went over to the booth ran by Six Squared Studios and chatted to Brad. We talked about the game that he was running at this event as well as convention games that he ran in the past. He also chatted about a game that he plans to run in the future. All of the games and concepts sound very cool and I look forward to seeing these guys again at future conventions. From them, I bought some scatter scenery that I plan to paint up and review in the future (likely timed to Oktoberfest). The review will likely take the same form as my earlier reviews of their 28mm Sandbags and 15mm Hay products.
One newer vendor on the scene is Tanks and Trees by James. Tanks and Trees does custom scenery work and they also had for sale a number of miniatures from other companies. What I took note of were his hills and trees. They were nice looking pieces.
Personally, I had a great time at this event and I really like meeting new people and interacting with old friends.
I would like to give a shout out to Barnaby, the event organizer. I think this was a great event that went really well. There were likely a few surprises – such as the bar shutting down early – but not anything that really detracts from the greatness of the event. Thanks for running this convention. I believe that these events are the best thing for the hobby as it gets people out meeting people and trying new games. It is also (in my opinion) one of the best ways to get new blood into the hobby.
Overall, it was an awesome day. The next event that I am really looking forward to Council Fires in Brantford, Ontario this October 21st and 22nd.