The folks at Firelock Games took to the web and made a livestream of their upcoming releases for 2022 into 2023. It was basically an update stream of what they have been up to lately. They spoke about enough projects that I imagine these ideas will take them beyond 2023.
I wrote out all of the salient points below in the article below. Settle in. This post is a long one!!!
While this news about Firelock Games post covers all of the details that I found important, I may have missed some things. That said, this report is very thorough. The parts in italics are my own thoughts that I added into the article.
To speed up reading and the transfer of information, I decided to write this article predominantly in point form. The video of their live stream is at the end of this post.
Now, let's get into the news!
Kickstarter Update – Blood & Plunder: Raise the Black
The production part of Raise the Black is complete.
This allows them to focus on distribution and their other projects.
The Kickstarter should arrive to Firelock Games Mid-October to Mid-November.
International logistics are currently tough to estimate so the dates may change.
They have more planned for Blood and Plunder as we move forward.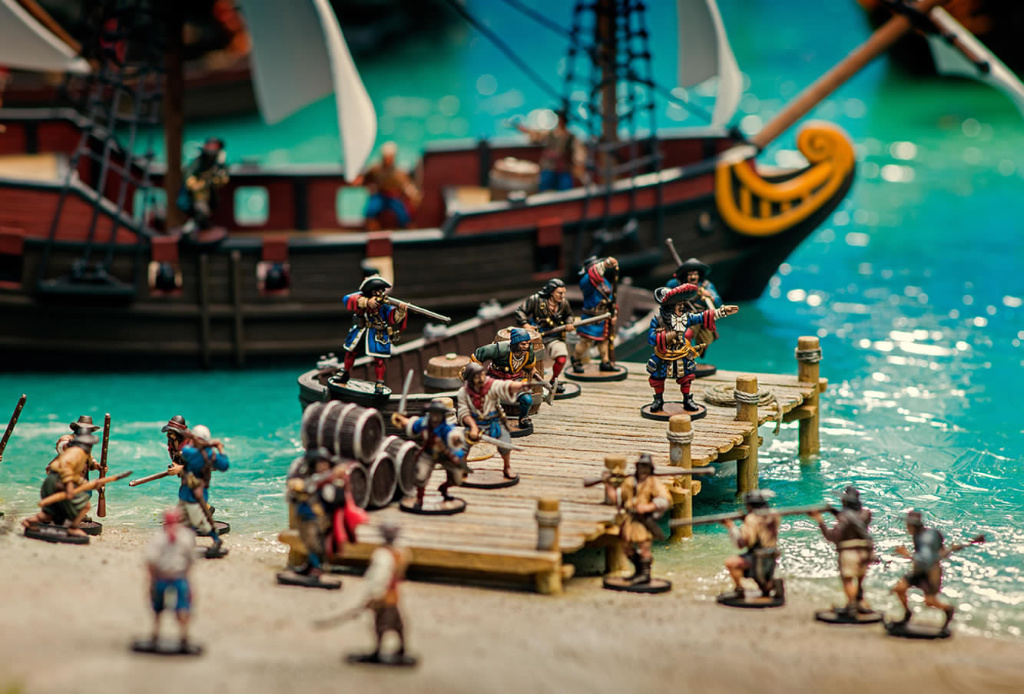 Change in Miniatures – Switch from Metal to a Thermocast Plastic
Firelock will shift to thermocast plastic materials for their miniatures.
This is due to cost changes in metal miniatures.
They will likely start releasing miniatures in this new material near the end of the year.
They will still continue with the metal miniatures until the molds are spent but new miniatures will be made in the new material.
Firelock Plans to Take Blood & Plunder Further
Some of the news about Firelock Games I have heard before. Some of it is new. Regardless, I will share it here as you may not already know about it. For those who thought Raise the Black would be the end of Blood & Plunder, it is not. There is plenty more planned.
A new Fire on the Frontier type expansion is in the works.
It will focus on crews out of New England, New York, and touch on Portugal in the South and the Coast of Africa too.
A light expansion but very character focused with a Merchant faction too. I love the idea of Merchants vs Pirates.
New sculpts are coming for Fire on the Frontier.
A new ship is coming. It is a different type of Bark that you can row and it has chaser cannons out of the front. Good for people who want to board other ships.
Oak & Iron News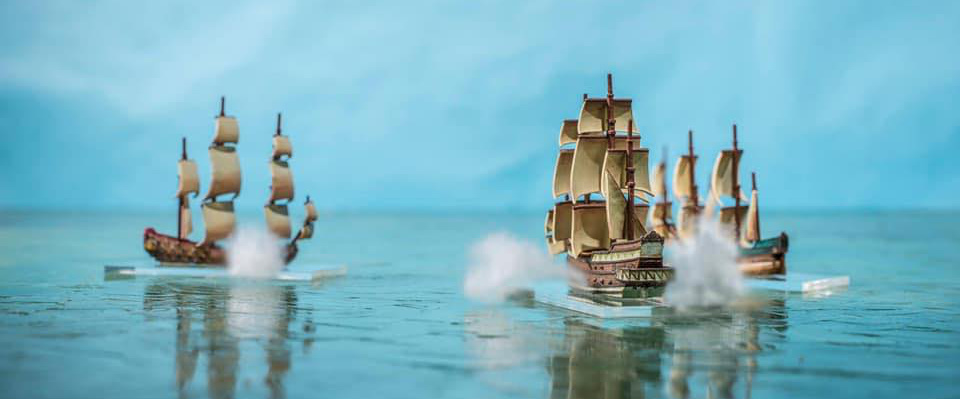 Firelock Games will be releasing the Oak & Iron ships in individual packs.
A bunch of ships (likely 7) were sculpted but never released. They plan to bring those new ships out. Some of these new ships will help pirates stand against ships of the line.
There are some rules updates coming for the game. Perhaps towards the midfall rule updates for Oak and Iron will be released.
The New Publishing Arm of Firelock Games
Firelock Games started a new part of their company that Mike Tunez calls the "publishing arm of Firelok Games." This part of the company releases rulesets that are intended for use with whatever miniatures you may already have. The first of those games was Blood & Valor.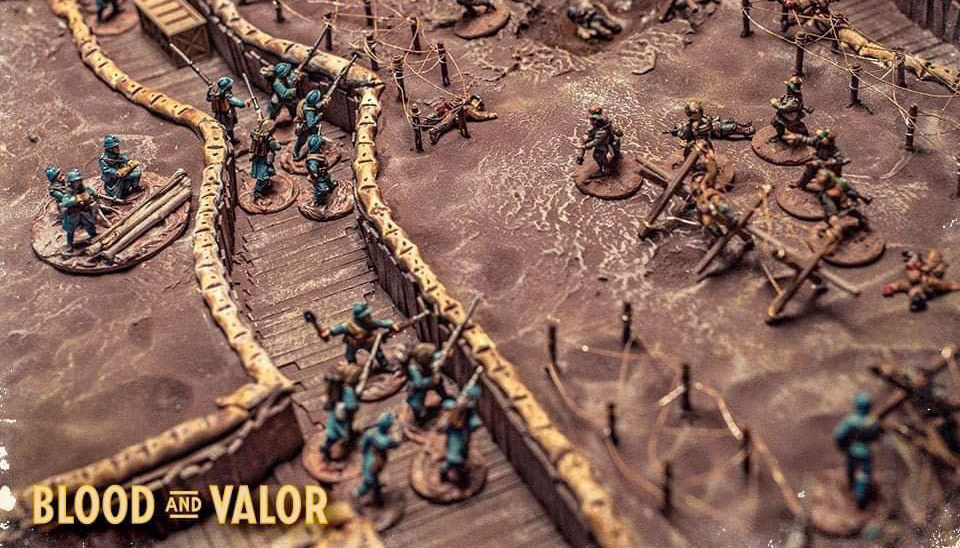 Blood & Steel is now out.
Expansions for Blood & Steel are in the planning stages. Some of the existing lists in the core rulebook may get more in depth details in the expansions.
Blood & Valor's first expansion is currently with the editor and going through corrections and layout work.
That expansion is of same size as No Peace Beyond the Line for Blood & Plunder. That is huge! It is like two expansions in one if it is really the same size.
Around 30 more lists are in that book.
More projects on the way too. The following projects are at various stages of development.
Blood & Crowns is a 100 years war game based on the Blood & Plunder system. This will allow you to play with medieval miniatures using rules similar to Blood & Plunder.
A Dark Age variant of Blood & Plunder is in discussions at Firelock Games. With this ruleset you can play Vikings using the Blood & Plunder rules. This will include ship combat too as you would expect and be a stand alone game.

Role Playing Games
The role playing games at Firelock Games I believe are still a part of their Publishing Arm of the company. Below is the news I heard about this new side of Firelock.
War Stories (a WW2 RPG) will be the first RPG released by Firelock Games.
The design work is done. Editing, images and layout are still in the works right now.
The Quickstart rules are now available for free so you can try the game out right now!
Under the Black Sail is the Blood & Plunder themed RPG that is currently in the works.
It focuses on real world settings, but can be adapted to light fantasy.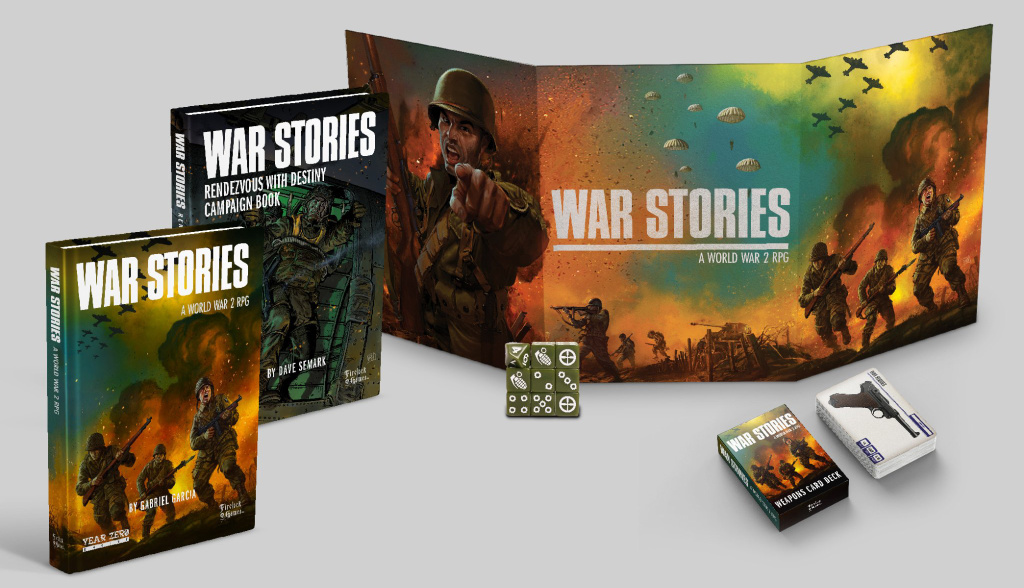 Future Projects – Skirmish Games
Frontiers is a skirmish miniatures game that Mike Tunez is working on. It is based on the Blood & Plunder universe. It even uses all of the same stats as Blood & Plunder but the mechanics are different between the two games.
You would generally take 4 to 10 miniatures per side in this game.
You play on a table as small as 2′ by 2′. Smaller ships like Sloops and Barks are usable in Frontiers.
There is a campaign system to the game planned too. I love campaign games!
A Fantasy version of the Frontier system is also in the planning stages.
The Firelock Q&A Section
The last 35 minutes of the video the Firelock Games Crew gave time for a Q&A section. Below are my notes from this part of the video. Some of these items are just plans and ideas in the heads of the talented individuals at Firelock Games. As such, I am not sure that they will all make it into reality. Fingers crossed though. The crew had a lot of interesting things to say.
Many more ships are planned for Blood & Plunder. Their sculptor is not as available as he once was but they hope to get him doing more. They have enough ideas to do a ship every week if they were able to.
Blood and Crowns will not be a Kickstarter project. It will be the same as Blood & Valor and Blood & Steel. They will do Pre-orders for the game before they release it.
They are thinking of doing a Fantasy version of Blood & Plunder.
The fantasy game will be a skirmish game similar to the Frontiers game talked about earlier.
They are also thinking of using the same system for skirmishes during the Vietnam war.
They want to do a boxed Boucanier game in perhaps 15mm figures. If it does well, that system might be ported over to other settings and periods.
They are in talks with 4Ground and there is a chance that they can continue the Ports of Plunder line of buildings even after the company officially shuts down.
There is another expansion to Blood & Valor planned.
Firelock Games was asked if they were planning a World War 2 Miniatures Game. The answer was a flat, "no, not right now. There are already some popular systems out there."
They plan to take Blood and Plunder into the time of the Conquistadors and Azteks.
First they will get through the American Revolution going forward in time and then look at other regions and further back in the past with the Conquistadors.
There might be some plans that a future Under the Black Sail RPG expansion will allow players to take their characters from the RPG into Blood & Plunder and Frontiers as Captains or Characters in the miniatures games.
You can build all of the units from Beyond the Frontier using the new upcoming hard plastic miniatures box sets. It is just a mater of gluing the right weapons onto the figures.
They have plenty of plans to expand War Stories the WW2 RPG in the future.
The Firelock Update Stream – News from Firelock Games for 2022, 2023 and Beyond!
If the video below does not work, you can also find it with this link here. There is a lot here!
Wrapping it up…
There you have it. That is my comprehensive news about Firelock Games post from their Live Update Stream. This was not a short article at all. The company has so many good ideas on the go!
I really enjoyed hearing about hints of what they have coming down the line.
Do any of the ideas mentioned in this article excite you?
For me, I feel excitement for more Blood & Plunder, and the announcements of Blood & Crowns and Frontiers. I also really like that they are working on a fantasy version of Frontiers. That is so exciting! I wonder what the campaign system will be like.
When they mentioned taking Blood & Plunder into the age of Vikings, I immediately thought of repurposing my SAGA miniatures for their system. The fact that they are in the process of switching over their minis from metal to thermoplastic is exciting. Hopefully I get some of those minis for testing purposes. I've also been excited about Raise the Black for a very long time. I am guessing that the Kickstarter backers will get the boxes first and then they might be available for people like me on the retail market.
Finally, it is great to see movement on Oak & Iron again. I have a feeling we can expect a lot coming from Firelock Games in the near future.
For more about Firelock Games, you can check their website and also their section of stories here on Must Contain Minis.
Until next time, Happy Gaming Everyone!!!