In this post, I give you a very quick review of 28mm WW2 Miniatures by Gaddis Gaming. Are you after some alternative figures for Bolt Action or other WW2 games? Maybe you want to consider Gaddis Gaming.
With this post, you will be better equipped with knowledge of what you get when you buy miniatures from Gaddis Gaming.
Gaddis Gaming was kind enough to send me the products in this review for evaluation purposes. That said, I reserve the right for an honest review. If you have products that you would like me to look at on Must Contain Minis, I have a review submissions page.
Now, let's move on to the review.
What Gaddis Gaming Sent Me
Gaddis Gaming sent me a 10 man squad of WW2 American Airborne Soldiers along with a command unit for them. This is perfect because I have a Bolt Action Airborne (Paratrooper) army sitting unbuilt in the corner of my collection. They also sent me a WW2 American Soldier in Power Armour.
Yes, you read that right. They sent me a WW2 Soldier in Power Armour. They apparently do Weird WW2 in addition to regular WW2 in 28mm. They also happen to cover Weird WW1 and much more for those interested.
For now, I am going to focus on what they sent me.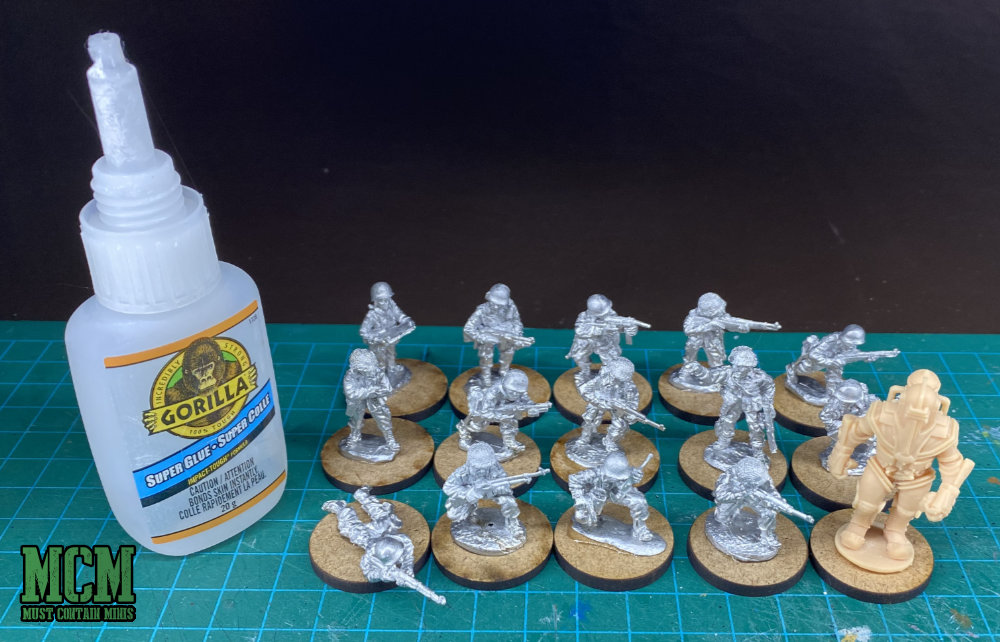 These miniatures did not come with bases (aside from the integrated ones). No big deal. I have a collection of 25mm MDF bases so I just used those.
Before gluing them to the bases though, I gave them a quick bath to make sure that they were clean enough to take paint.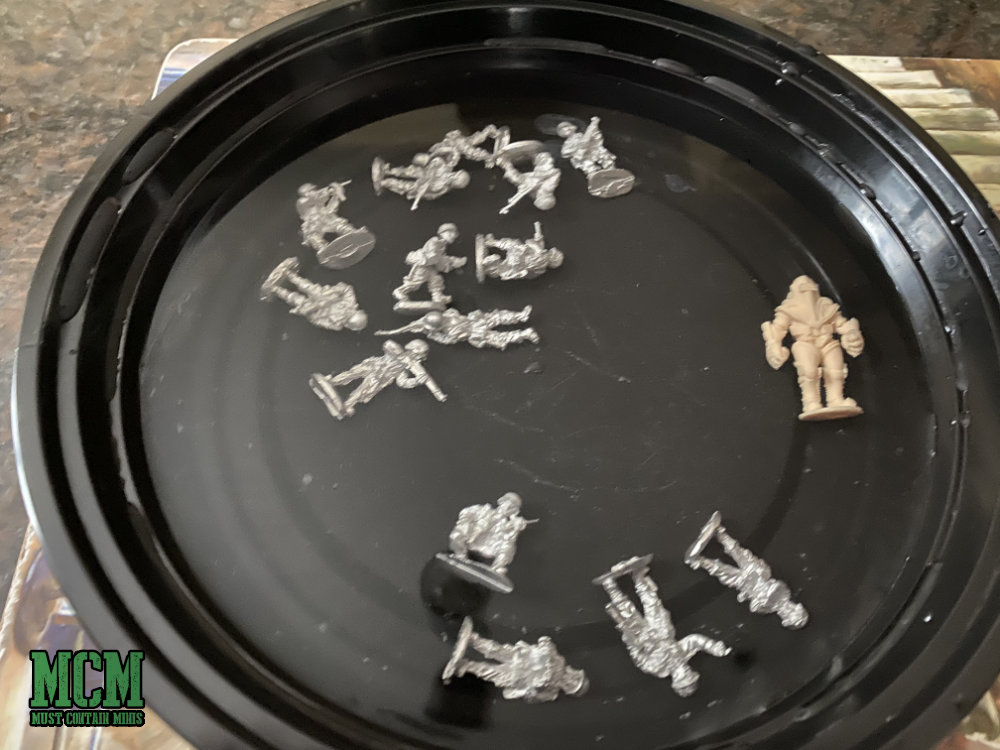 I found a little bit of clean up to do on the miniatures, but not a lot. Mostly filing the bottom of the integrated base to make them more flat. Aside from that, they were mostly ready to go.
Scale Comparison Images
Being that this is a Quick Review, my aim is to introduce you to the miniatures and to give you an idea of their scale. Gaddis Gaming sells these miniatures as 28mm figures. Compared to Warlord Games miniatures, they are small.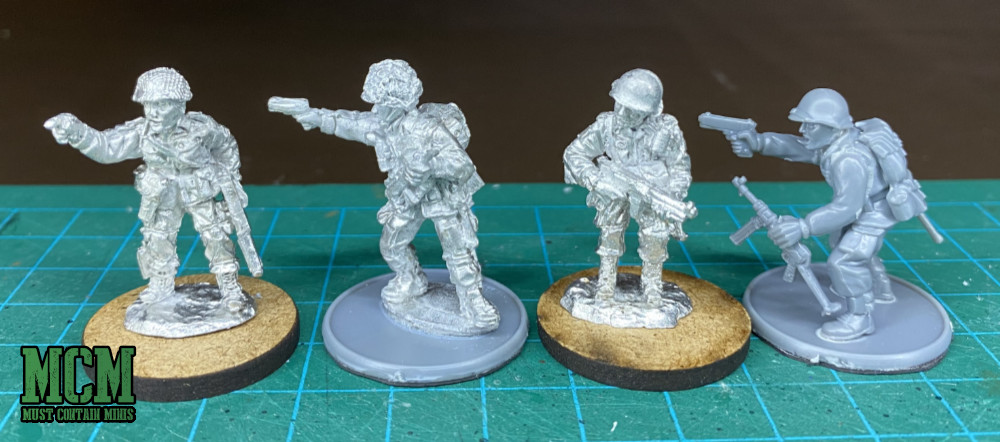 Would I use the miniatures in the same squad? Likely not, but I would have no issue using the issues along side each other in the same force.
Now, how does that power Armour Scale? Here is a scale comparison image between Warlord Games and Gaddis Gaming again. Unfortunately, I do not have any Konflikt '47 Power Armour to use for this image.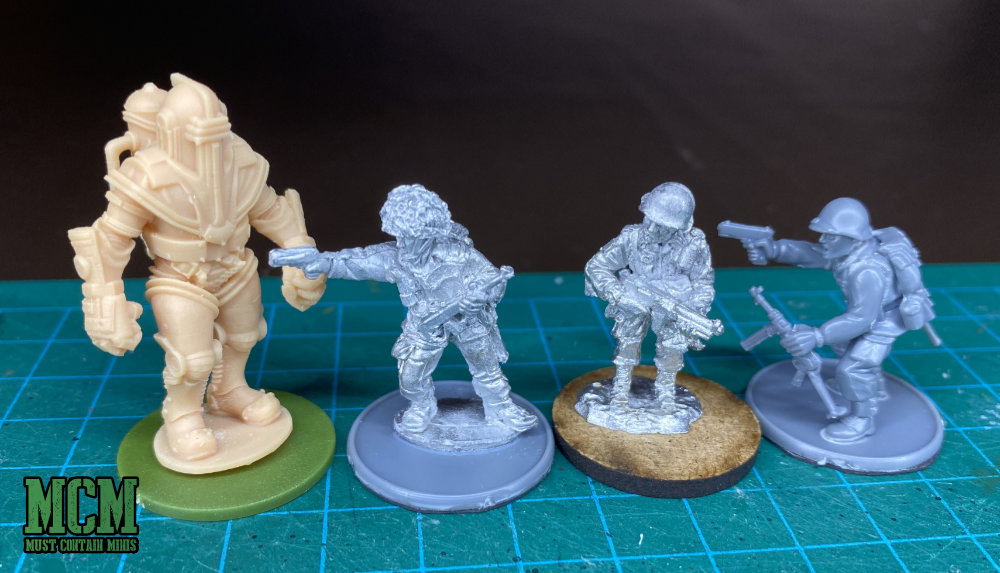 I am going to paint up that Power Armour first.
Wrapping it up…
Do these miniatures by Gaddis Gaming interest you? If so, you can get them off of their 28mm WW2 – Americans page. Lee from Gaddis makes some nice videos too. He has a YouTube Channel that you can check out if you want to learn more about the company and the man behind it.
Finally, I also have a very small Gaddis Gaming Section here on Must Contain Minis. You can find my story about their last Kickstarter project there.
Until next time, Happy Gaming Everyone!!!