As a Content Creator, I really want others to read my articles. One key element of the distribution of my work is through a Social Media Strategy.
In the past, Facebook was the core of my Social Media Strategy and it drove a lot of visitors to this site. In fact, almost half my traffic last year came to this website through a Social Media link.
Facebook brought in most of those Social Media visits. Since then, the algorithm that dictates what Facebook shows its readers has changed. Because of these changes, the number of visits from Facebook has dropped dramatically. Last week just 26% of my visits came from Social Media. Compare that result to 46% in the previous year.
In terms of real numbers, that change represents 53% fewer visitors from Social Media than what I had just over a year ago. Below are some pie charts from my Google Analytics representing the change.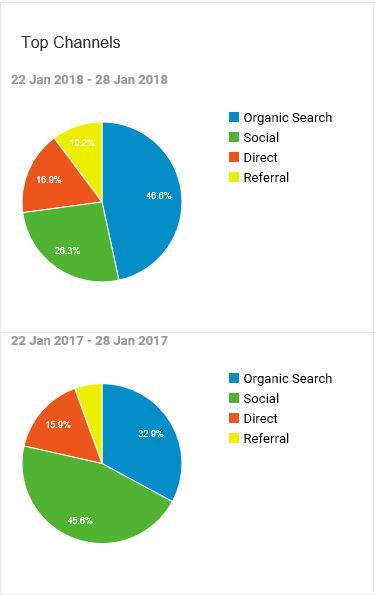 While my visits from Social Media are down, my numbers from Referral Traffic and Google (Organic Search) are up. The increase in those numbers has offset my declining numbers from social media.
The New Challenge
As we constantly want to grow the site (and our audience), the challenge today is to try and figure out how to share our content with more readers.
The old strategy of sharing a post to our Facebook Page followed by sharing that post to various related Facebook Groups is showing diminishing returns. To make things even more difficult, Facebook shares my content with fewer people than it once did and wants me to pay for them to share it with more of my followers and other like-minded individuals.
I do not blame Facebook one bit for wanting to monetize their platform, but it makes it harder for a young website to find new readers and gain more followers.
As a result of these changes, we are investigating other ways to get our content out there.
Future Plan
For the immediate future, we plan to continue to lean heavily on Facebook despite the diminishing numbers while we look at other solutions. We are currently on Reddit, Twitter, Pinterest, and, as of yesterday, Instagram.
For the time being, it is the Instagram account that I want to grow the most. If you are interested and on Instagram, please head on over and follow our profile.
Why focus on Instagram? Because, like most of the posts on this site, Instagram is highly visual and focuses on images. We think there is a good fit there and want to see where it goes. We are also thinking of posting content not seen on our website on Instagram to give it an extra appeal.
Of course, I still plan to continue to heavily engage on Twitter and to continue dabbling in Reddit.
The Social Media Sites
For those interested in the information for their own sites or their personal information, below is my experience with each platform.
Facebook
Facebook was absolutely amazing when I started this site. By sharing a link to an appropriate group, you could easily drive hundreds of visits to your website (or even one or two thousand visits for your really good posts).
At first, the above strategy felt a little "spammy" but I got over it quickly because I actually had group administrators tell me that they liked (and wanted) me sharing my links in their groups as it gave their members content to read.
With the algorithm changes at Facebook, this type of content is now less likely to reach the desired readers.
For those that don't know, the algorithm change makes it more likely that you will see content from your friends and family rather than from the Groups and Business Pages that you have "Liked." It is not a terrible change, but, for those of us that drove high volumes of traffic from the above sources, it is a difficult change.
Currently, my pictures seem to perform better than my links. Because of this difference in performance, I plan to post more pictures to the platform to "tease" about upcoming posts. I also plan to continue posting links to all of my articles on my Facebook Page and various Groups.
Twitter
Twitter is a great platform that I adopted to easily. I like how easy it is to use and that they recently allowed more characters (letters) to your posts. Posts that I add pictures to tend to perform much better than the ones that I don't. I also like that you can tag other users and companies.
As far as driving traffic, it doesn't seem to drive a lot. It does okay, but I still see better numbers from Facebook despite the current changes. When Twitter does drive traffic, it seems to be for just a moment and can often be seen as a "spike" in my statistics.
Twitter is good for traffic in the moment, but it does not last. The upside is that it is very easy to tweet and re-tweet your posts. If you are serious, you can even buy access to programs that can automate the process for you.
Personally, I really enjoy re-tweeting the content that I like from others on Twitter so if you follow me there, you will see much more content and posts than just my own.
Reddit
Reddit is a platform that I have a love-hate relationship towards. It is great for sharing in that it brings in a large number of readers, but the administrators of the site do not want you sharing many links into their groups. The fact that they don't like you sharing links makes it a hard site to gain visits from.
While they don't want you sharing too many links, if you are active in their community and post comments much more than actual posts or links, then they won't mind if you post a link once in a while. I haven't figured out that ratio perfectly yet and I find myself commenting more into groups other than the ones where I want to actually post most of my links.
Please feel free to check out my Reddit Account.
Also, please feel free to leave feedback in the comments section if you have (or haven't) figured out the perfect comments to posts ratio and please let us know of your experience on this platform.
Pinterest
Pinterest is the go-to platform that all of the "Pro-Blogging" websites tell me to go to for promoting my content. For them, this platform drives many more visitors than any of the other Social Media Platforms.
My experience with Pinterest is different. In my experience, it does not drive many visits at all. My guess is that is because of my niche being Games Containing Miniatures. It could also be that I don't have many followers there.
That said, one would think there might be a lot of people on Pinterest looking up miniatures, but I haven't found them yet. Due to a lack of visits, I have not given my Pinterest Account the love it deserves.
If you run a gaming blog and have had success on Pinterest, please let us know the secret of your success in the comments below.
Instagram
This is the newest Social Media Platform for Must Contain Minis. So far we are pleased with the result. It already has plenty more followers than my Pinterest Account and I really like that the platform focuses on pictures.
As an interesting aside, I did not use hashtags on my first posts. I had no idea how to use the platform, but one of my followers did me a huge service and Direct Messaged me the basics on how to use the platform.
You use Hashtags and At-Signs (just like twitter) to get your content out to targeted groups and hopefully that will help extend the reach of your brand and website.
So far I am happy with my Instagram Account and think it will be fun to use regardless of whether it drives more traffic to this site.
There I plan to post more pictures than I do to my Facebook account. I will also post more unique pictures on Instagram simply because of how easy it is to use with an IPad.
Direct Visits
While Social Media is great to reach readers and draw them back to the site, we encourage you to bookmark this site directly and to come by regularly.  We have made a commitment to post content two to three times a week and there is already a good deal of content up on this site.
At the end of the day, it is this site that we hope you will return to the most and the Social Media accounts are all there to help keep you engaged and to bring you back to this site.
Our home page is… https://mustcontainminis.com
Wrapping it up
Must Contain Minis is on a number of Social Platforms to reach and engage its readers. We have found the most success with Facebook, Instagram and Twitter and hope that you will follow us on those platforms.
How about yourself? Do you have a gaming related website? What is your plan for Social Media?
Update (February 3, 2018): Please Read the Comments. There is some great content there in continuation of this subject.
Until Next Time, Happy Gaming Everyone!!!